Late Night Win Online Slot Review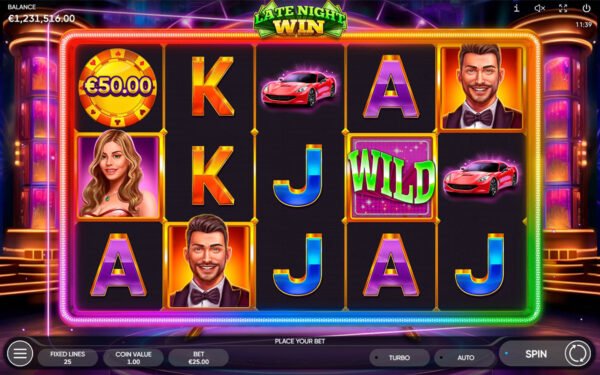 Ever wanted to be a contestant on a late-night TV game show and walk off with a huge prize? Or have you ever dreamed about winning a life-changing online slots jackpot? Now thanks to Endorphina you can play for both at the same time, in Late Night Win!
A slot that puts you front and centre as a game show contestant, Late Night Win does double duty as both a TV show and an online slot. Giving you twice the excitement and twice the thrills. So if that's the energy you're here for, buckle up. There's a wild ride ahead!
Late Night prizes lay right ahead
Set on a TV sound stage similar to what you'd see on an actual game show. The slot takes its vibrant theme through to its symbols as well, featuring a host, his lovely assistant, sports cars, cash, and the regular royal symbols too. Will you win enough cash to buy yourself a sports car in real life? Only time will tell!
Of course while the background may resemble a TV game show. The game area itself is in a format you'll be familiar with, featuring 5×3 reels and 25 paylines. You'll have the potential to win up to 1,500x in the late night base game. But if the stars align and you hit the big time in the bonus features, you could be looking at a much bigger payday. And even more excitement. And speaking of bonus features, aside from simply spinning the reels, you'll have wilds, scatters and a Wheel of Fortune game to look out for as well!
Game show contestants don't usually have to pay to play.
But slots fans do – luckily the minimum bet in Late Night Win is affordable enough to suit every bankroll. Starting at just $0.25. Want to increase it and boost your winnings at the same time? The max bet tops out at $200 which could be pricy if you're trying to manage your money responsibly. But could also pay out hugely if you strike it lucky. It's up to you to decide how much you'll increase your bet by. Just remember to always keep your bankroll in mind, and to make good choices.
Got your bet size set?
Then we're on air in 3, 2, 1! Get the reels spinning and watch out for the late night wilds. Because these aren't just any old wilds, they're expanding symbols on the last 4 reels that could help to boost your winning total considerably. The scatters are just as valuable too. Get 5 of these on the reels at the same time and you'll win 100x your bet, which could prove to be hugely rewarding.
Don't forget about the bonus symbols either. Find 5 of these simultaneously and you'll trigger the Wheel of Fortune bonus game. Based on the Hold & Win respins format. Regular bonus symbols will pay out between 1x and 10x, while Wheel of Fortune bonus symbols will pay out anywhere from 15x all the way up to 300x your bet. And they could reveal one of the fixed jackpots too. Which means if you're lucky, you could win the game show and the top jackpot at the same time!
Are you ready to go on air for a win? Get that TV smile ready – you could soon be needing it!