Let's get the casino party started!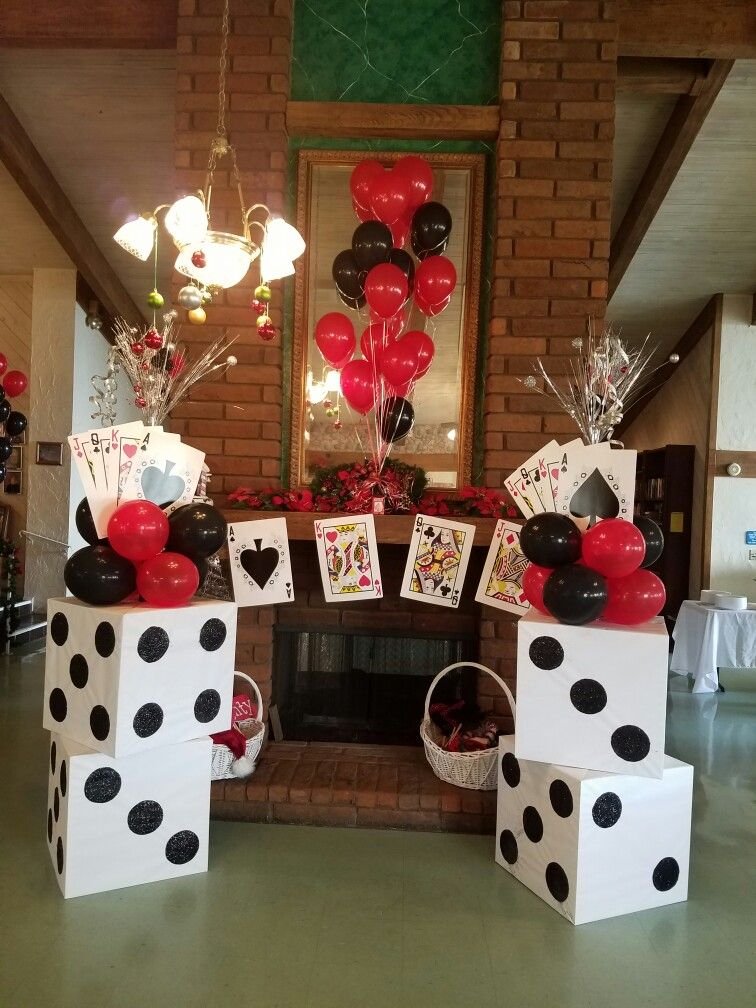 Having a party and want to celebrate in true Vegas style? Then it's time for a casino party, with all the thrills of gaming, and all the glitz and glamour of a truly sophisticated night out at the tables. And best of all, it's not as much work as you might think! Ready to go all in for a night of casino awesomeness? Then let's get started!
1. Get your game on
First things first, you'll need to choose the types of games you'll want to have on offer at your casino party. Obviously games like slots will be a little difficult to have on hand for your guests, unless you've got a vintage slot machine lying around the house somewhere. So your best bet will be table games like Blackjack, Poker, Craps and even Baccarat.
Before you start worrying about how you'll offer these casino favourites, go online first and do a search. You should be able to find classic casino table tops and equipment online, or even rent them out from party stores, more affordably than you might think. Yes, it'll be a small investment, but it'll be better than a sad plastic table with a pack of cards as your Blackjack station. No one wants to go to that party.
Once you've got your games organized, you'll need to think about dealers. Are you going to run the games yourself (not ideal, as you won't be able to enjoy your party)? Or do you have friends who'd like to step in for a small fee instead? It's up to you, just make sure that whoever's running each particular game knows how it's played and paid out, or you could have a few heated arguments coming your way.
Don't forget about casino chips either – you'll need to have a specific amount on hand for each of your guests, so that everyone starts with the same amount. Try to have as few denominations as possible, e.g. three or four, in order to avoid any confusion at the tables. And similarly, it might be a good idea to hand out Poker hand charts, just so that everyone has the information they need readily available. Your friends aren't pro gamblers, and they're at your party to have fun – so make it as easy as possible for them to enjoy themselves!
2. Start a vibe
No one wants to go to a dodgy second-rate casino with no décor and no atmosphere, so it's up to you to create a vibe that people will respond to. And that means going all out on decorations to keep energy levels and enthusiasm high.
The best way to do this? By choosing a particular theme for your casino night, such as James Bond, or the Great Gatsby. That way your guests will enter into the spirit of the occasion by dressing up, and you'll have a theme to match your decorations to.
If you're feeling a little overwhelmed, take a deep breath. There are plenty of party resources online you can use to help you, and plenty of decorations to suit all types of themes. What's more, if you have the budget for it, you can hire a party planner too – or bribe a friend or two with pizza to help you. Just remember, if you're excited about your party, your guests will be too, so stay positive!
3. Serve up a feast
You've got your games, you've got your theme and your decorations – now it's time to think about food and drinks. If your budget will stretch to it, professional catering is the best way to go. Just hire a small company to help out, and everything will be taken care of for you, so that on the night you can relax and enjoy your party along with your guests. You can even enter into the spirit of things by having your food match the casino theme, such as card suit toppers for cupcakes, black and red caviar on top of salmon blinis, and so on. And when it comes to drinks, a bar service is your saving grace. Make sure that you have more than enough on hand to suit everybody's tastes, and maybe even consider a signature cocktail for the evening too. Daniel Craig's James Bond invented the 'Vesper Lynd' in Casino Royale – perhaps there's an opening for you to offer something similar. Cheers!
4. Bring out the entertainment
Yes, we know – the casino games are entertainment themselves. But if you're really wanting to capture that Vegas vibe, it might be worth having an actual act or two on hand as well, just to give your party that casino authenticity you're looking for.
Of course we're not suggesting you hire a troupe of Vegas showgirls (unless you're wanting to be completely extra, then go for it!). Instead perhaps consider making use of a DJ to keep the party going, a magician, or even live musicians so your guests can dance the night away. It may take a bite out of your budget, but it'll ensure that people keep talking about your party long after it's come and gone – and that's really what you're looking for here, isn't it?
5. Keep it tidy
It's all fun and games until someone gets bust for illegal gambling. We know you're only throwing a fun party for your friends, but if you offer real, actual gambling for money, it'll immediately put you on the wrong side of the law – and there's always that one Karen around, just waiting to ruin things for everyone.
To make sure your party stays on the up and up, and that it's packed full of fun too, don't have your guests gamble for money. Rather give them their casino chips for free when they arrive, then offer a prize to the person with the most chips left at the end of the evening. That way everyone still has something to play for, and no laws get broken. But just remember the most important rule of all, no matter what happens. Have fun!