Let's Play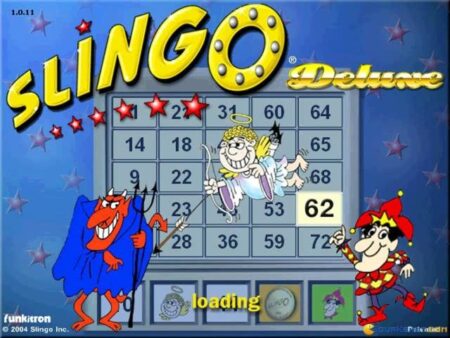 Let's play. Slingo! What do you do when you want to play slots and bingo, but at the same time? You play Slingo! An innovative combination of online slots and online bingo. Slingo is fast becoming one of the most exciting ways to play. And we're here to let you in on all the gaming action, so you can try it for yourself!
What is Slingo?
As the name suggests, Slingo is a unique combination of slots and bingo. With the excitement of two different casino games wrapped up into one thrilling experience. First created by New Jersey real estate developer, Sal Falciglia Sr. in 1994. Today the game boasts more than 50 different exhilarating variations, and is available via laptop, mobile and tablet. Let's play it!
No matter what your personal gaming preferences or likes. You're sure to find the game to suit you, from Rainbow Riches to Super Spin, XXXtreme, Inca Trail, DaVinci Diamonds, Slingo Riches, Carnival, Starburst, and so much more! Just choose the variation that suits you best. And whether you want to stay home and play or enjoy it on the go. Get ready for non-stop gaming adrenaline!
How to play Slingo
Let's play Slingo. If you know how to play slots and how to play bingo, then you're already more than halfway there! Log on to a game of Slingo and you'll see a numbered grid. Usually 5 x 5 as the main game area, with a single horizontal slots reel below it.
To get your game on, simply choose your bet size based on your bankroll and your session limits, and start playing. Each different Slingo variation will give you a certain amount of spins in exchange for your bet. So unlike traditional online slots, you'll have more than one spin per bet. That's because here your bet covers an entire game of Slingo, rather than just one single spin.
What do you think so far?
After each of your spins, you'll see a row of numbers revealed in the slot reel underneath your bingo card. If there's a number on the reel that corresponds with a number on your bingo card, you'll have an instant match. And the more matches you make and the more Slingo lines you complete, the more you'll win. It's that easy! Let's play it!
What's more, to add even more excitement into the mix, you'll also have a number of special symbols that could come your way during your game too. Including wilds, free spins, coins and more. Depending on the symbol that drops, you could need to make a decision about your game. Such as which extra number on your game card to check off for free. And these decisions could help influence the outcome of the game. That's why it's important not to rush your decision, and to always play with a clear head.
All in all though, the aim of the game is simple. Use the bingo card and the slot reel to help make as many matches as possible, and you could be a winner!
How to win at Slingo
First things first, there's no surefire way to win at Slingo. Just like any other online casino game. Slingo is run by an RNG, ensuring that every outcome of every game is always fair and random. What's worth bearing in mind is the RTP though. While every different Slingo variation has a different RTP. From 95.6% for Slingo Rainbow Riches to 96.5% for Slingo Starburst, in general you can expect an RTP of between 90% and 95%. It's up to you as to the amount of risk you assume. So choose a game that you think you can work with, and go from there.
Of course while Slingo is ruled by RTP and an RNG. There are still a few strategies you can use to help influence the outcome in your favour:
1. Know your symbols. As we mentioned, there are a number of special symbols that can help (or in some cases hinder) your game play. It's useful to know what these are, so you can use them to your advantage when and if the time comes. Let's play:
Joker: A wild symbol that will allow you to select any number in the column above
Super Jokers: Wild symbols that will allow you to select any number in the entire grid
3 or more Jokers/Super Jokers: Symbols that will win you an instant cash prize
Free Spin: One free spin
Coin: Instant cash prize
Devil: A symbol that will block any potential matches
Be extra cautious
2. Be careful buying extra spins. At the end of your game, it could turn out that you need only a few more matches to finish lines that could bring you a big win. If this is the case, the game will offer you the opportunity to purchase extra spins with the goal of winning big. Be careful here though. While it might be tempting to want to go for gold. Extra spins are expensive and could cancel out any potential wins you might be going for. If you only need one single number to complete a hugely rewarding board, it might be worth the risk. But if not, rather play it safe and protect your bankroll.
3. Use your wilds wisely. Slingo is a fast-paced action-packed game. So it's natural that when a special symbol comes your way. You might use it quickly without thinking too much about the outcome. Don't fall into this trap. Instead stop, breathe, and slow the game play down. Unlike traditional slots or bingo where there's nothing you can do as a player to influence the outcome.
in Slingo, being able to make the occasional decision could put you on the path to winning. That's why if a Joker or Super Joker lands in your lap, your best move is always to select a number that will help you complete a line as quickly as possible. Which in many cases is often the centre square. Take your time to look at the board, choose your number wisely, and your level-headed decision could soon see you coming out on top! Let's play this fabulous game.
Of course by far the best way to play Slingo is by having fun. So make sure you make your play as soon as possible. Just log onto one of the many variations available, place your bets, and get ready for online casino entertainment at its best!