License to Spin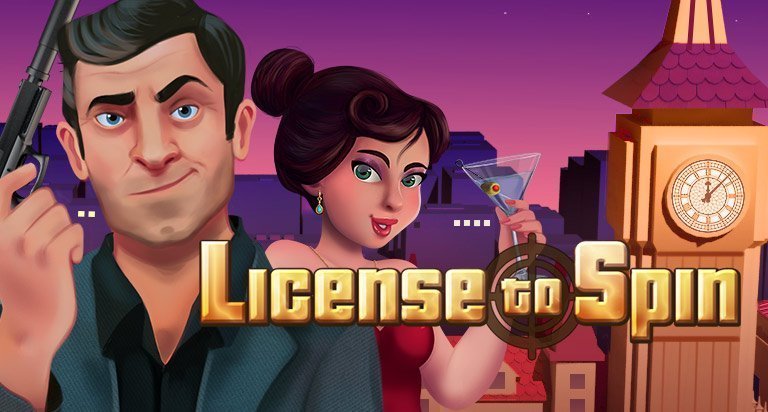 License to Spin
How do you like your winnings – shaken or stirred? In this espionage-themed video slot it's up to you, as License to Spin takes the best from spy movies like James Bond and puts it all on 5 reels and 3 paylines, along with huge progressive jackpots too.
Place your bets and partner up with an MI6-style spy for your winning mission, complete with fast cars and gorgeous women. Like any good secret agent, you'll need to stay alert at all times – in this case for the wild symbol, which takes the form of your British spy partner himself. Get one of the two different wild symbols on the third reel, and you'll instantly be granted two free re-spins. On your first spin, the wild will move to reel two; on the second spin it'll move to reel one – at which point the spy will take his shot at the reels. Depending on his aim, you'll then either move onto the bonus round, or be awarded three more free re-spins (during which the wild will move to the right, and move vertically as well).
If your partner's shot has taken you to the bonus round, you'll be presented with two glasses – appropriate, as the round is named 'Shaken not Stirred'. Choose between the two glasses for a bonus win which you can then either claim, or reject in favour of the win from the second glass. Once you've made your choice, you'll go back to the base game, winnings in hand.
The payouts don't stop there though. That's because not only will you be hunting for the top prize of 1000x your original bet, you'll also need to launch a covert operation for one of the two progressive jackpots also in play. Triggered randomly, the progressives can pay out at any time and after any spin, so if you want to succeed in your mission, you'll have to play for as long as your bankroll will allow. First there's the ever-popular Cash Grab Jackpot, which will pay out when it reaches a range of $2 000 to $5 000; then there's the Super Slots Jackpot, which will trigger when it hits a payout range of $40 000 and $45 000. Remember that you'll need to stay in it to win it, so keep locked and loaded, and ready for thrilling jackpot action at any time!
Happy Spinning 🙂