Luck O' The Irish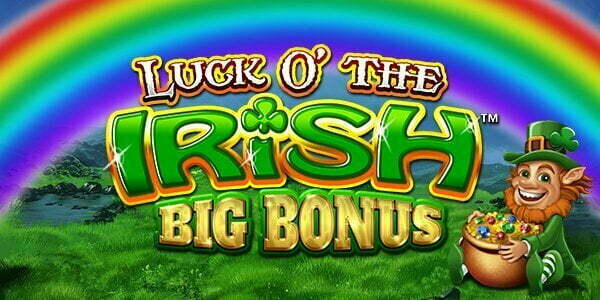 Luck O' The Irish. As a gambling fan you're probably more than familiar with the phrase, "the luck of the Irish". But do you actually know where it comes from? While you might think it's from Ireland itself. In fact the phrase is in reference to Irish Americans who lived in the USA in the latter half of the 19th century.
With the gold and silver rush at its height, many successful miners were Irish and Irish American. Which is how the phrase came to be born. And while it was initially used as a faint insult, praising pure luck over hard work and grit. Today it's come to be known as a positive and optimistic term. Which is why we're so excited to bring you the best of gambling's latest Irish-themed slots. Whether you're of Irish extraction or not. I you spin and win, you'll have the luck of the Irish on your side and then some! Take a look…
Strike it rich with Luck O' The Irish Big Bonus
This new slot from Blueprint Gaming doesn't just borrow from the phrase, it actually takes it for its name as well! Introducing Luck O' The Irish Big Bonus. One of Blueprint's many popular leprechaun-themed slots. As you would expect, the games developer has gone for green. Setting the slot in the rolling hills of Ireland under a bright rainbow. That hopefully has a pot of gold waiting under it.
In fact, that's exactly what you'll find on the reels too – pots of gold. Along with glittering gems and royals as well. Here's hoping they bring winnings just as precious your way too. Game play takes place on a generous 6×4 area with 50 paylines. And a medium volatility with an RTP of 95%. While there's definitely something to be said for the Luck O' The Irish that's in the name, don't forget about the Big Bonus part. Because that's what'll bring you unlimited free spins as you search for the top jackpot of 1,000x your original bet!
Are you convinced this slot is gold yet?
Along the way you'll need to place your bets, which you can do with a surprisingly affordable max bet of $10, or a minimum bet of $0.10 if your budget is feeling the pinch. Once you've chosen your bet size, get spinning. And look out for the clover wilds because these lucky charms will substitute for regular symbols. Helping you complete winning combos whenever they land on a payline.
Remember the Big Bonus we spoke about? Get ready to experience it as soon as you find 3 or more scatters. Once you do, you'll activate a bonus wheel that you'll be able to spin in order to find out how many free spins you qualify for. And how big your bonus will be. And hopefully get the Luck O' The Irish. Once your big bonus amount has been revealed, that's a guaranteed amount you'll win. And if you choose to play in Fortune mode, you'll have 4 x 6 reels to spin at the same time. With any wilds that land being transferred to all sets of symbols at the same time!
Leprechauns are known to be tricksters. But in this case they could be just the creatures to bring huge winnings your way. So go in search of the pot of gold at the rainbow's end. And see just how far Luck O' The Irish Big Bonus takes you to your jackpot dreams!