More golden, more delicious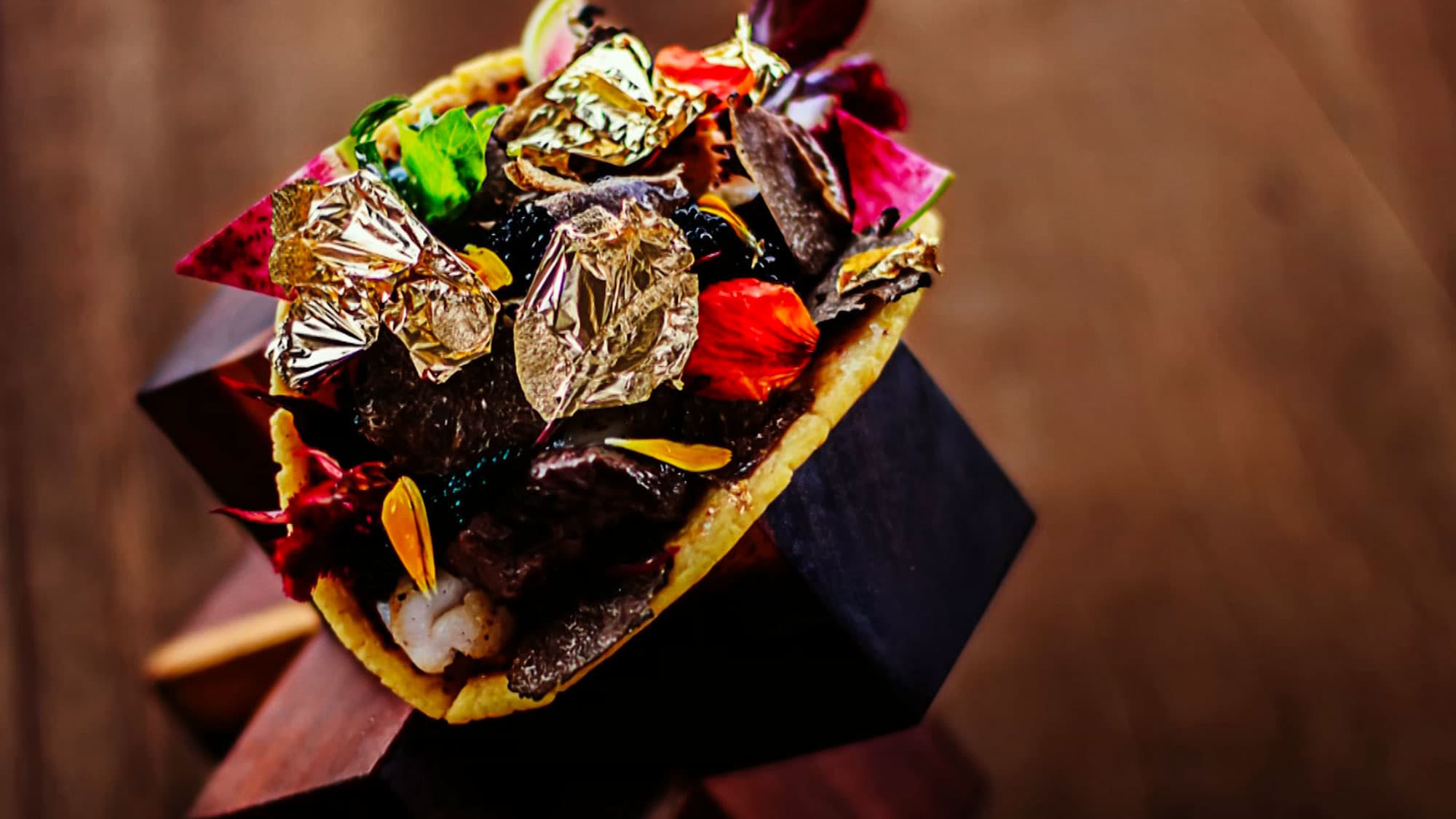 So it turns out you LOVED our look at glittering, golden food – and who can blame you? It's as luxurious as it is delicious, and it's pure opulence in every bite. So with that in mind we rounded up some more golden delicacies for you to take a look at. We hope you're hungry…
Golden Tacos – $25,000
Forget chicken, beef or fish – these tacos are filled with gold leaf and other extravagant delights. No cheap ingredients here – instead you'll be feasting on Kobe beef and lobster, garnished with caviar, black truffles and gold flakes… all for the super affordable (ha ha) price of $25,000! If you're in the Mexican resort of Grand Velas where these unique creations come from, you might as well try one just so you can say you've had the experience. We'll just stick to our regular food trucks though – golden tacos might be a little too rich for our blood, and our pockets.
Decadent Cupcake – $1,300
Now that's what we're talking about – delectable cupcakes, and golden ones at that! Of course, this is no ordinary cupcake – this is one that was created to celebrate National Cupcake Week (probably our favourite holiday) and featured a host of gorgeously exotic and delicious ingredients too. If you're more used to traditional vanilla or chocolate cupcakes, this one could be a real challenge for your palate, featuring Hawaiian tea, peach and champagne jam (uh, YUM!), a gooey chocolate centre, and buttercream frosting infused with Chateau Yquem wine, all sumptuously enrobed in Charbonnel et Walker chocolate fondant. Plus of course, don't forget the pièce de résistance – a gold leaf crown as a lavish cupcake topper. Get in line – this is one golden creation we'll definitely be paying to taste!
Diamond and Gold Lasagne – $100
Everyone has their own lasagne recipe, right? And everyone's mom is a lasagne expert. That could very well be true (we never argue with mothers) but we bet that no one's mom has ever cooked a dish of lasagne like this! Served up at the Mirage Hotel and Casino in Las Vegas in 2014, this was no ordinary lasagne – instead, this was opulence at its most mouthwatering, featuring layer upon layer of Kobe beef, buffalo mozzarella, foie gras, white diamond truffle, and of course, 23-karat gold leaf to top it all off. At $100 a slice, it's no everyday treat, but it's definitely one worth saving up for. No ordinary pasta, no ordinary gourmet experience!
Golden Doughnut – $100
Glazed, jam-filled, covered with chocolate or sprinkles or some other heavenly topping… everyone loves doughnuts, right?! That's what chef Bjorn DelaCruz of the Manila Social Club in Williamsburg was banking on when he created this uniquely dazzling confection. Because this is no humble doughnut – this is pastry elevated to high art. Forget traditional toppings – this doughnut is first encrusted with 24-karat gold, and then generously spread with Cristal champagne icing for the ultimate finishing touch. Gold, champagne, and blissful doughnut goodness – is there anything more amazing to sink your teeth into? Other than the $100 price tag of course…
We're not done yet – we could go on tempting you with talk of golden macarons, bacon (oh yes) and cappuccinos too, but it's time to stop reading and start doing. Get in on the gourmet gold rush and make your play for a casino jackpot today – there could be a sparkling golden menu in your future!