More of the biggest acts in Las Vegas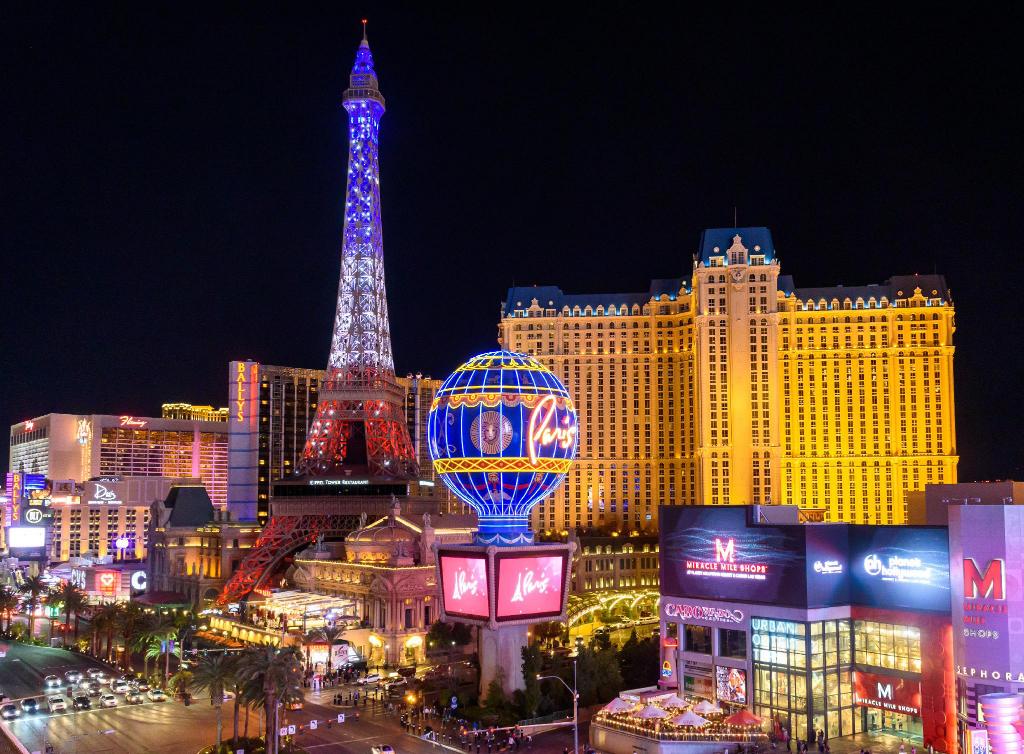 We're not done with our look at the ultimate Las Vegas performers! Get ready for more celebrity, more thrills, and more world-class entertainment!
Sammy Davis Jr.
You can't think Vegas without thinking of the Rat Pack, and Sammy Davis Jr was a key member of this famed collective. Of course, he more than simply part of an ensemble – he was a triple threat entertainer in his own right, singing, dancing and acting his way to huge success. From appearing on Broadway to starring in his own TV show and being a phenomenally popular Vegas headliner, Davis was born to perform, having had an early start in life by taking part in a family act, before going solo. To see Davis in action was to see a star shining brightly – both in Vegas, and around the world.
Charo
Who hasn't heard of Charo – the familiar accent, the sparkly costumes, the irrepressible energy, and of course, the famous catchphrase "cuchi-cuchi". Proving once again that dynamite comes in small packages, Charo left behind her dream of becoming a Flamenco guitarist and took to the stage instead, donning glitzy figure-hugging costumes and enchanting audiences with her unique blend of comedy, dance and physicality. Quickly becoming a must-see in Vegas venues, she moved from small showrooms to big stages, playing the Flamingo Showroom, the Circus Maximus at Caesar's Palace, and the Tiffany Theatre at the Tropicana as well. With regular appearances on a number of TV shows, as well as stage and theatre appearances, Charo was undoubtedly one of the biggest hits in Vegas, and is still charming viewers to this day.
Don Rickles
When you think insult comedian, you immediately think Don Rickles – a master of his craft, and one who made receiving an insult feel like a gift. Captivating audiences with his quick wit and biting barbs, Rickles was beloved by those who saw him, despite his propensity for delivering blistering put-downs and comebacks with lightning speed. Known as 'The Merchant of Venom' and 'Mr Warmth', Rickles began performing in Vegas in 1959, and never looked back. Having graced a multitude of talk shows and made a number of notable TV and film appearances, Rickles was the quintessential performer and Vegas headliner – one who has been sorely missed ever since his passing in 2017.
Cirque de Soleil
It's no wonder Cirque de Soleil is one of Las Vegas's most celebrated acts – this Circus of the Sun has everything needed to delight and excite audiences, from traditional circus acts to innovative storylines, incredible feats of human physicality, and even magic as well. Having grown from small beginnings when it was first founded in Montreal in 1984 by two street performers, today Cirque du Soleil is a Vegas must-see, and one of the biggest theatrical companies across the globe. Having launched its inaugural Vegas show, 'Mystère', at Treasure Island in 1993, today Cirque du Soleil hosts a number of its unique experiences across the Strip at any one time, continuing to spellbind viewers and take them beyond the realm of the ordinary.
Wayne Newton
Tea and coffee, salt and pepper, Wayne Newton and Vegas. Like all good combos, Newton and the Strip are a perfect match, and have been ever since he started performing on the Vegas stage with his brother in 1958. From that initial two-week run, a legend was born, and to date it's estimated that Newton has played more than 30,000 shows, earning him the well-deserved title of 'Mr Las Vegas'. Playing the Vegas showrooms, filling in for performers like Sammy Davis Jr when needed, and keeping an unfailing positive attitude, Newton quickly became a Vegas darling, famous for his showmanship and his boundless energy. For our part, all we have to say is "Danke schoen, darling, danke schoen."
Jubilee
When we go to Vegas, we want to see showgirls and a stage spectacular, and that's exactly the kind of energy that the tribute show 'Jubilee!' brought when it hit the Vegas stage 1981. Think rhinestones, feathers, dancing girls, and everything you love about over-the-top productions, all wrapped up in one burlesque extravaganza. With costumes designed by Bob Mackie (he of Cher fame) and Pete Menefee, Jubilee! featured over 100 male and female dancers, elaborate headdresses weighing 35 pounds, and costumes adorned with more than 2,000 feathers. The very definition of extra, Jubilee! played to packed crowds until its closing in 2016 – one of the Strip's last showgirl spectaculars, and one of the best.
Penn & Teller
Vegas isn't Vegas without magic, and while many magicians have made names for themselves on the Strip, Penn & Teller are by far one of the most outstanding. No flash, no razzle dazzle, no bamboozling – instead this dynamic duo set themselves apart with their suits and their smarts, approaching magic from a different, more intelligent perspective, and gaining millions of fans in the process. First introduced to the world in 1975, just ten years later the two were performing on off-Broadway stages, later appearing in their own television show, and even earning an Emmy too. Following in the footsteps of Houdini who used his skills to debunk psychics and mediums and expose frauds, Penn & Teller now do the same, and challenge the skills of magicians too, in their hugely popular show, Penn & Teller: Fool Us. Having headlined at Vegas since 2001, Penn & Teller show no signs of slowing down, still making magic happen to this day.
Frank Sinatra
We've saved the best till last, because there's only one name that's synonymous with Vegas greatness, and that's Sinatra himself – an entertainer who didn't just perform, he dominated. As one of the shining lights of the Rat Pack, Sinatra WAS Vegas – a headliner, a showstopper and a celebrated performer, all in one. A seasoned artist, Sinatra did more than engage with audiences – he electrified them, and his legacy lives on to this day.
While all these entertainers and more have left their mark on Vegas, there's more still to look forward to, with new acts exploding onto the Strip every year. The only way to stay on top of everything – visit Vegas and take in all the excitement for yourself. Because as Sinatra says, "the best is yet to come."