More of the world's biggest casinos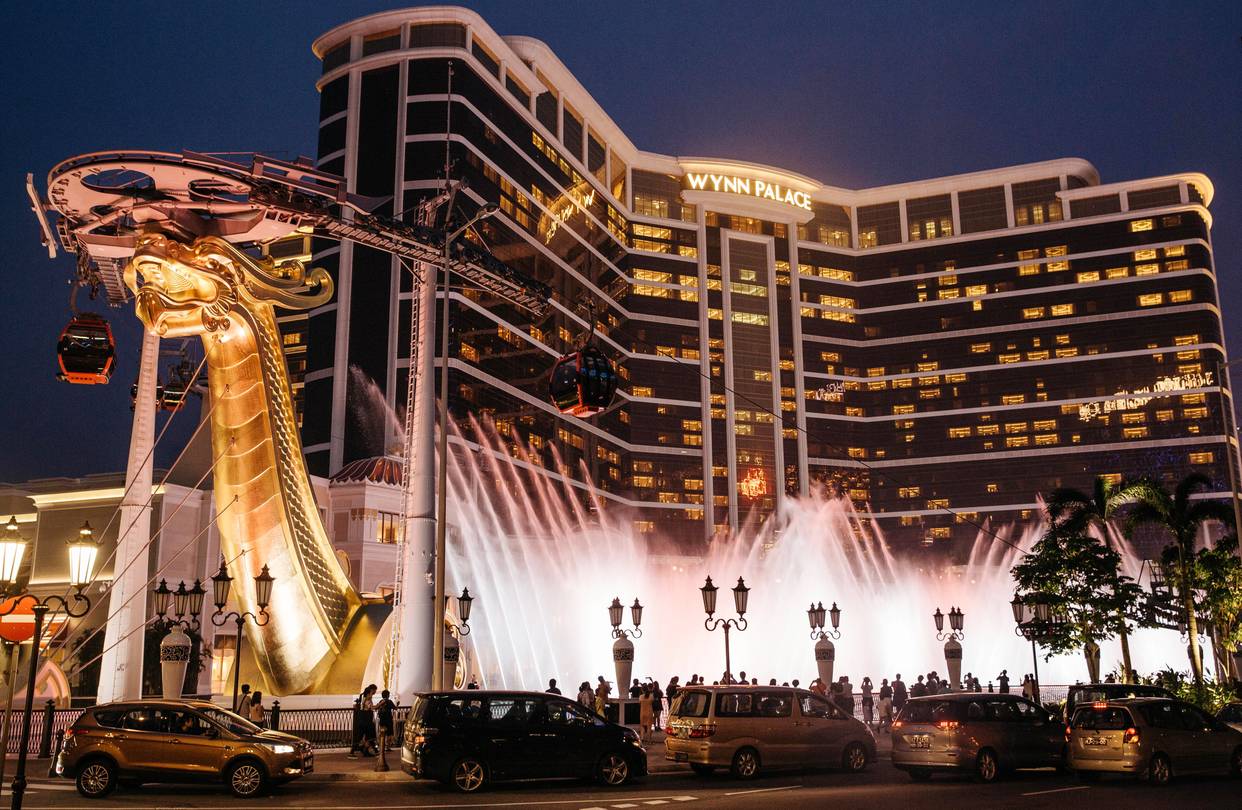 Oh you just know we're not done touring the biggest and best casinos around the world! We're itching for a getaway, and if we can combine it with some gaming and some winning too, then so much the better! Which of the world's casinos will be big enough to meet our many needs? Just take a look!
1. Wynn Macau, Macau, China – 273,000 square feet
Yes ok, we're back in Macau again, but that's just because it's home to so many huge casinos and massive winning potential! This time we're checking out the Wynn Macau – a casino that used to be known as one of the biggest casinos in the world until the Wynn Palace came along and stole its thunder. That doesn't mean the Wynn Macau is anything to be sneezed at though – quite the opposite, especially considering its giant 273,000 square foot gaming area, its designer boutiques, restaurants, day spa and gorgeous pool as well. Plus if you're looking for something a little out of the ordinary, you'll find it in the Wynn Macau's unique art installations – pieces like the Tree of Prosperity, the Dragon of Fortune, and the spectacular show of light and fire that is Performance Lake. It's more than just a casino – it's an entertainment experience all its own!
2. Ponte 16, Macau, China – 270,000 square feet
Before we leave Macau, we thought you'd want to take a look at Ponte 16 first – the sixth largest casino in the world, and one of the most entertaining too! Originally an area dedicated to a fishing port, and later an economic centre in the 70s, today Ponte 16 is one of the world's biggest casino attractions – and when you take a look inside, you'll understand why. It's not just 270,00 square feet of gaming (although with over 100 tables and 300 slot machines, it's pretty impressive on its own). No, it's all about total entertainment and the ultimate in excitement every minute of the day.
Make the most of unusual games like fan tan, 3-card Baccarat and face-up Blackjack, check yourself into the gorgeous French hotel with its own spa and fitness centre, or take in the delights of an international gallery, mouthwatering restaurants and bars, a street performance space, and even an Angry Birds play centre for the kids! It's everything you could ever hope to enjoy on holiday, all accessible from one hugely luxurious space. So with that in mind there's only one question to ask – when are we going?
3. Rio Casino Resort, Klerksdorp, South Africa – 266,330 square feet
Seen enough of Asia for now? Then let's take in the majesty of Africa, at the somewhat curiously named Rio Casino in Klerksdorp, South Africa. While the name of the resort might conjure up images of exotic Brazil, instead the Rio Casino Resort is set squarely in the wilds of Africa – but there's plenty of Brazilian energy to enjoy while you're there!
With its vibrant carnival theme inspired by its namesake, Rio Casino is the largest casino in the entire southern hemisphere, boasting a giant 266,330 square feet of gaming excitement, filled with more than 270 machines, 12 table games, a sea of 24-hour slots, and heart-pounding poker tournaments too. What's more, it's also home to a variety of bars and restaurants, an arcade, a hotel, and an elite Salon Privé for the casino's most high-rolling players. Bring your friends or bring your family and get ready for some huge fun under the African sun!
4. Crown Casino, Melbourne, Australia – 220,000 square feet
Let's stay in the southern hemisphere and move this casino extravaganza to Australia – the south bank of the famous Yarra River, to be exact. Here you'll find the sprawling expanse of Oz's famed Crown Casino, a gaming getaway covering 220,000 square feet and filled with all the gaming excitement you love, from 500 table games to 2,500 poker machines, and an endless supply of jackpot opportunities! Since opening its doors in 1994, the Crown Casino has been one of Australia's most popular gaming venues, and it's just as well-loved to this day. So if you want to take your gaming down under, we've got the crown jewel of casinos right here!
5. MGM Grand, Las Vegas, Nevada, USA – 170,000 square feet
The Bellagio, the Mirage, and the MGM Grand. Not only does the MGM Grand have the honour of being one of the three casinos robbed in the heist movie Ocean's Eleven, it's also part of the illustrious group of the world's biggest casinos, measuring a spectacular 170,000 square feet.
So what exactly can you look forward to once you're inside? Firstly, the ultimate in style and class, because no one does suave casino like a Vegas casino. Monaco has its royalty; Vegas has its Rat Pack. Then once you're done soaking up the ambience, it's time to get down to business – and with more than 3,000 slot machines, 200 table games and a poker room, you'll have plenty of opportunity. We haven't even mentioned the 15 restaurants, 25 shops, two theatres, private high-roller lounge, spa, nightclub, arena and pool complex. That's not a casino, it's a small town! And let's not even get started on the more than 5,000 rooms available for when you're looking to put your feet up and relax. This isn't just grand, it's MGM Grand, and it's exactly the kind of casino holiday you deserve to enjoy!
6. Casino Lisboa, Lisbon, Portugal – 165,000 square feet
All good things must come to an end, and so must our tour of the world's biggest casinos. Although don't be too sad, because we're ending it in what's said to be the largest casino in Europe – the Casino Lisboa in Portugal. Since 2006 this luxurious resort has welcomed thousands through its doors, all entranced by its 165,000 square feet of gaming space, filled with more than 1,000 slot machines and 26 table games, spread out over two full storeys of casino grandeur. That's not all you'll find in Casino Lisboa though – prepare to be entertained at its 600-seat theatre and three-ring rotating stage, get ready to be wined and dined at its three restaurants, and look forward to taking in some culture in its modern art gallery. It's European gaming at its finest, and no one does it bigger or better than Casino Lisboa!
Happy Spinning 🙂