More of the world's most expensive handbags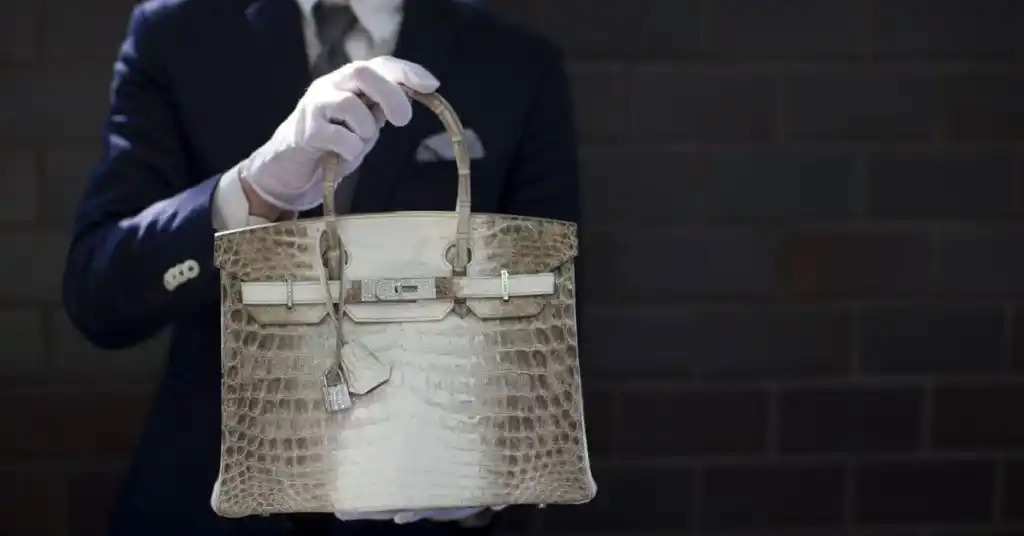 More expensive handbags. We're back with more bags – just as expensive, just as extravagant, and just as lust-worthy as last time. Will you win the casino jackpot that'll allow you to swan off with one of these designer creations? Only time and Lady Luck will tell!
1. Niloticus Crocodile Himalaya Birkin – $379,000
We've already mentioned just how coveted Hèrmes Birkin bags are. And none more so than the singular Himalaya range. Created from the skin of Niloticus (Nile) crocodiles. Dyed to represent the landscape of the Himalayas themselves. Each of these bags are a masterpiece of colour and craftsmanship. With brown mountains, snow-topped peaks and grey skies. The Niloticus Crocodile Himalaya Birkin is picture perfect in every way. All thanks to an elaborate and time-consuming dyeing process that gives the bag its unique look.
More money more problems
Of course there's more to this Birkin than simply unusual colours. There's plenty of bling too. In the form of over 240 diamonds and leather set on top of genuine 18-karat gold. Small wonder then that a bag from the range recently sold for $379,000 at a Christie's auction in Hong Kong. Complete with glittering diamonds and white gold. There's no way we could ever afford a bag like this with our current bank balance. But trust us, if we had the funds, that Birkin would be going, going, sold!
2. Chanel "Diamond Forever" Handbag – $261,000
Think of the designer brand Chanel and you'll probably instantly think of fragrances or timeless suits. But in fact Chanel makes handbags as well. Most notably the 'Diamond Forever' handbag. With a suitably eye-catching price tag to match.
Designed in 2008 as part of a 13-piece limited collection, the Diamond Forever handbag is an evolution of Chanel's classically shaped flap bag. Although this time crafted from finest matte white crocodile leather. Featuring the iconic Chanel 'C' as an interlocking clasp of 18-karat white gold and diamonds. In fact, the entire bag features no less than 334 diamonds. With a combined weight of 3.56 carats. As well as an 18-karat gold detachable strap as well. We're starting to see the logic behind its $261,000 asking price…
More Handbags please
3. Fuchsia Diamond-Studded Hèrmes Birkin – $222,000
More crocodile leather. However this time in fuchsia, just for a change. It's the Fuchsia Diamond-Studded Hèrmes Birkin. It's a showstopper just for the colour alone. Of course, because it's Hèrmes, the luxury doesn't stop there. In addition to its bold colour and fine leather, the Birkin also features 10.87 carats of diamonds and 18-karat white gold. Both of which helped the bag secure the title of the most expensive handbag ever sold. Back when it was purchased at an auction at Christie's in Hong Kong in 2015, for $220,000.
These days there are more expensive handbags on the market. But you'd be hard-pressed to find one more vibrant. And even though its colour may not be to everyone's taste, extravagance goes with everything, doesn't it?
Diamonds are a girl's best friend
4. Hèrmes Exceptional Collection Shiny Rouge H Porosus Crocodile 30cm Birkin Bag – $203,150
We're staying with Hèrmes and crocodile leather but this time we're moving to what was once the most expensive handbag in the world when it sold at auction in Dallas for over $203,000. It's the Hèrmes Exceptional Collection Shiny Rouge H Porosus Crocodile 30cm Birkin Bag. It's one that's designed not only from the finest crocodile leather. But from 18-karat white gold and diamonds as well. You don't need to be going to a special occasion to take this bag out with you. That's because every day you own it is one worth celebrating!
5. Louis Vuitton Urban Satchel – $150,000
From crocodile skin to trash, and a bag that literally makes a statement. But perhaps not in the way you might think. We know that littering and environmental damage are ever-present issues and that we need to do more for our planet. Louis Vuitton went one step further to show everyone just how pressing pollution really is. Crafting a bag from finest leather with their customary attention to detail. The designer brand made jaws drop by attaching actual trash to it too. Everything from chewing gum wrappers and cigarette packets to coffee cups and plastic bottles. Because fashion isn't just about creating wearable art. It's about making you think too.
Trash is the new luxe
6. Kusama Pumpkin Minaudière Jewel Bag – $133,400
Another notable Louis Vuitton piece. Its collaboration with Japanese contemporary artist, Yayoi Kusama, A creative partnership that resulted in the singular Kusama Pumpkin Minaudière Jewel Bag. With only five of these ever made. The Jewel Bag is a study in style and sophistication, designed in the shape of a small pumpkin. Crafted from black resin and precious metals. Studded with the artist's favourite polka dots, and featuring a gorgeous gold chain. The Jewel Bag is the perfect accessory to every outfit. Although coming in at $133,400, it's a purchase that you might want to crowdfund first.
7. Leiber Precious Rose – $92,000
If you're a fan of the show 'Sex and the City', you'll know that in one episode, Big gifts Carrie a unique bag. A Judith Lieber purse shaped like a swan. It's not to Carrie's taste at all. Which is where the friction in the episode comes from. Here she's in the minority, as the late Judith Lieber was renowned for her unusual, quirky clutches.
Trash and now quirky clutches
It's in this same spirit of fun that Lieber brought the Precious Rose bag to life. A creation literally shaped like a rose. And bejewelled with over 1,000 diamonds, more than 1,100 pink sapphires, and 800 tourmalines as well. Crafted from 18-karat white gold. Only one Precious Rose was ever made, and was sold for an amazing $92,000 to an anonymous buyer. We don't think it was Big. Because if he'd given this to Carrie instead of a swan, the episode would have taken a very different turn. Mental note: rewatch Sex and the City, and save up for a rose-shaped bag…
Inspired to start putting money towards an extravagant bag of your own? Then add it as an item to your jackpot list, and if luck should come your way, you'll know exactly what to do with your payout!