More of the world's most expensive hotel suites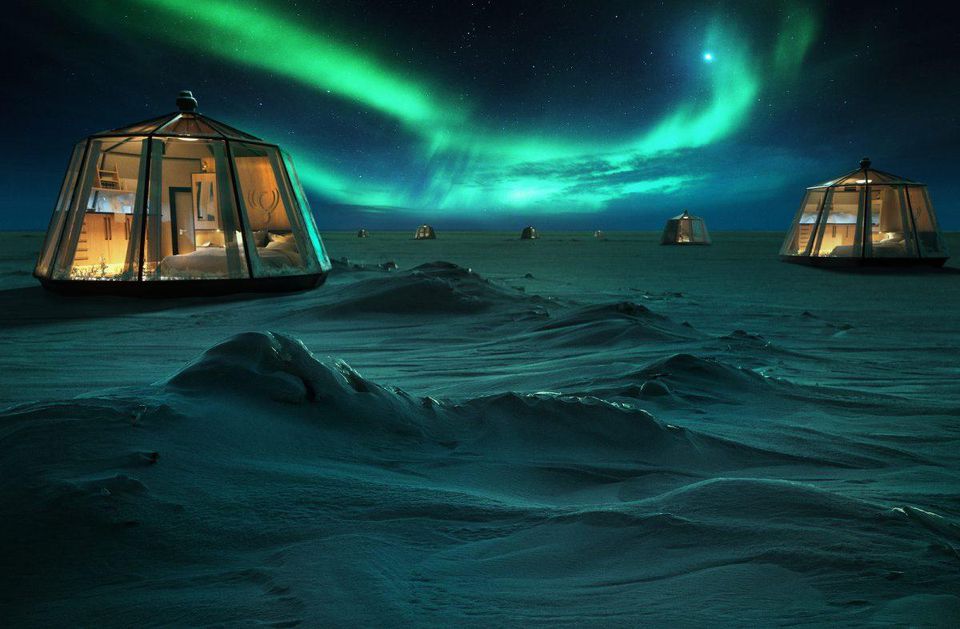 We have to tell you, we had so much fun looking into the world's most expensive hotel suites last time, we couldn't stop – so now we're bringing you even more of the same, and even more getaway inspiration! Start taking notes because once all the travel bans are lifted, you'll have plenty of luxurious locations to spend your casino jackpot, and plenty of glamorous overnight stays to look forward to! Plus if you wanted to take us along for the ride, we wouldn't say no…
North Pole Igloos — $105,000
Want to boast dramatically that you've been to the northernmost hotel in the world? Then now's your chance! Take a trip to the North Pole, and while we can't promise you Santa, we can promise you a stay in an actual igloo, along with gourmet meals, a secure location, and a guide to the surrounding arctic wilderness. And yes, while the $105,000 price tag is a little eye-watering, you'll be glad to know that it covers your transport costs too – with two nights in Svalbard, Norway included, as well as your flights between Svalbard and the North Pole itself. Now you just have to get to Norway, along with a load of fuzzy socks and sweaters, and you'll be set!
Ty Warner Penthouse, Four Seasons — $50,000 per night
If you're looking for something a little warmer, and something a little easier to get to instead, try the Ty Warner Penthouse at the Four Seasons Hotel in New York City – the epitome of opulent urban living. At $50,000 a night, it's half the price of the North Pole Igloos, but it has just as much to recommend it, even to the most jaded traveller. Step out onto any of the penthouse's FOUR (yes, four) glass balconies, and you'll have a complete 360-degree view of the city to indulge in – no trips to the Empire State or the Statue of Liberty needed. Venture back inside and you'll have a gorgeous private spa at your disposal, as well as a rock crystal bathroom adjoining your superb master suite. Add to that massages, a chauffeured Rolls Royce service, and your very own Guest Relations manager, and you'll have a sense of why the suite costs $50,000 a night – and why you should make a booking as soon as you're able!
The Muraka at The Conrad Maldives — $50,000
Another $50,000 a night suite, another unbelievable location. This time we're in the Maldives, but even more unusually, we're also underwater as well! Welcome to the Muraka suite, a world first, with two storeys of grandeur and 16 feet of the living space housed completely underwater! Of course, that's not all there is to enjoy – you'll also have your own infinity pool, bar and gym, plus a private staff too, including a chef and butler on hand to tend to your every need. And if you ever want to leave the luxury of your suite, you'll be able to hop into your very own boat for a jaunt.
It's worth noting that while the suite has a price tag of $50,000 a night, it also comes with a four-night minimum stay requirement, which puts the total bill at a massive $200,000! But with so many luxuries on hand, and an ultra-unique view to enjoy, we're sure you'll agree it's more than worth it.
The Hilltop Villa — $45,000 per night
Just as unique and a teeny bit more affordable as well is the Hilltop Villa – a $45,000-a-night fantasy stay in a sprawling hilltop villa on Laucala Island in Fiji. Not only does the villa span four whole acres, it's also split into three individual villas, perfect for you and your loved ones to stay together, while still enjoying the privacy of your own separate suites.
First up is the Delana, and if you're footing the bill for the stay, then this is the one you need to choose. Not only does it offer a lavish master suite, it also includes luxurious extras like a living room, library, hot tub, and a gorgeous private pool with its own waterfall! If you're bringing another couple along, the two-person Dua would be perfect for them – or if there's a crowd along for the ride, the 8-person Rua with its private pool and separate living area is the ideal holiday space. Even better, the entire estate comes with its own private chef, chauffeur, and nanny too – so even if you decide to bring the kids, you can still sit back, relax, and enjoy being waited on hand and foot. Absolute bliss!
The Penthouse Suite, Hotel Cala di Volpe — $41,177 per night
Anyone for a glorious summer holiday in Italy? Then come with us to the Hotel Cala di Volpe on the Costa Smerelda, the most expensive location in all of Europe. For just $41,177 a night, you'll have full access to the ultra-extravagant penthouse, a multi-level living space boasting 2,690 square feet of opulence. With its own private rooftop terrace looking over the breathtaking seascapes below, the penthouse is filled to the brim with the ultimate in luxury amenities, from a swimming pool and dining room to a wine cellar and fitness centre too – as well as three generous bedrooms, each fitted with a king-size bed, bath, jacuzzi and oversized shower. Everything you need for the perfect getaway, without ever having to leave your suite. Bellissimo!
Penthouse Suite, Grand Hyatt Cannes — $41,000
Staying with penthouses but moving from Italy to France, if you've ever wanted to be part of the Cannes Film Festival, now you can at the penthouse suite in the Grand Hyatt Cannes. Ok, so you can't actually join in the festival unless you're invited, but given that the Grand Hyatt Cannes is a hugely popular celeb hangout during the event, it's pretty much the same thing.
Reserve the $41,000-a-night penthouse and you'll have 17,976 square feet of luxury to enjoy, including your very own terrace with expansive views of the bay below, as well as a king-size bed in your master suite, and a living and dining room too. With first-class amenities throughout, and access to the hotel's private beach as well, you'll know exactly what it feels like to be a big Hollywood star – and if you happen to bump into one of them during your stay, so much the better!