More of the world's most expensive perfumes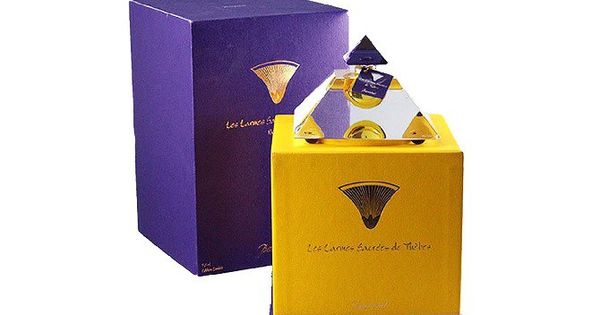 There's something in the air, can you smell that? It's you, telling us you want to hear about more of the world's most expensive perfumes! Breathe deep and let's have at it!
Baccarat Les Larmes Sacrées De Thebes – $6,800 per ounce
We've already run through the two most expensive perfumes ever made, so why don't we take a whiff of the world's third-most expensive fragrance – Les Larmes Sacrées de Thèbes, by Baccarat. One of three limited edition fragrances (known collectively as Les Contes d'Ailleurs trilogy, or Tales from Faraway Lands), Les Larmes Sacrées de Thèbes takes its inspiration from Egypt, and takes its price tag from the very top shelf.
Presented in a pyramid-shaped bottle topped with an amethyst crystal and featuring amethyst cushions on each of its edges, Les Larmes Sacrées de Thèbes commands an unbelievably extravagant price of $6,800 per ounce – a pharaoh's ransom! Continuing the Egyptian theme on the inside as well as the outside, Les Larmes Sacrées de Thèbes is redolent with the exotic notes of the Nile, featuring both frankincense and myrrh, as well as jasmine, geranium, ylang ylang and more. One spritz and you're back in ancient Egypt, staring at the pyramids by the light of the full moon. The romance, the mystery, and the sheer gorgeousness of it all! Unfortunately Les Larmes Sacrées de Thèbes is so limited edition that since being released in 1998 it's completely sold out. But we can still dream!
Hermès 24 Faubourg – $1,500 per ounce
Looking for something a little more 'affordable'? We're laughing, because at $1,500, this spectacular fragrance is anything but affordable – and since only 1,000 bottles were ever created, it's a perfume that's long gone the way of memory. But that doesn't mean we can't still celebrate Hermès 24 Faubourg – a wonderfully complex combination of scents with hints of jasmine, patchouli, ylang ylang, orange blossom, sandalwood, and a bouquet of other evocative fragrances. If only there were a few bottles left – and if only we could afford them in the first place!
Gardenia Les Exclusifs de Chanel, Parfum Grand Extrait – $3,800.00
How about a little spritz of Chanel? But not just any old Chanel – the Gardenia Les Exclusifs de Chanel from the fashion house's Parfum Grand Extrait collection. Picture it – the iconic Chanel bottle reimagined and oversized, filled with fresh florals and sweet scented tones. No need to wait for a special occasion – if you can afford this, every day is a celebration!
Amorem Rose Parfum by Shalini Parfum – $3,000.00
Lalique means crystal and master perfumer Maurice Roucel means a scent of unforgettable proportions – like Amorem Rose from Shalini Parfum. Featuring lavish notes of Bulgarian rose, Baltic amber and saffron flowers, this exquisite fragrance is lovingly housed in a flawless Lalique crystal flacon, featuring a flight of swallows overhead. A visual representation of love, with each spritz a kiss of perfection.
Ready to choose your own signature scent? We've given you plenty of delicately fragrant ideas. Now all you need to do is get your casino jackpot ready and make your selection. It's the sweet smell of success!
Happy Spinning 🙂