Naughty or Nice III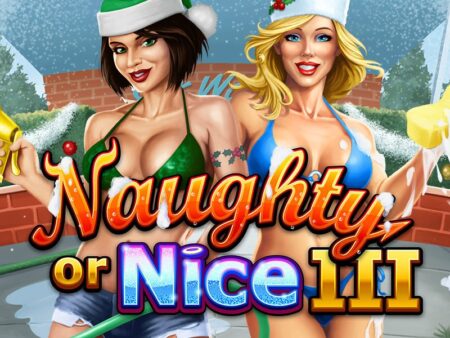 Ok ok, we'll stop with the Christmas-themed slots soon, we promise. But this one was just too cheeky to resist! Rather than going with the same old traditional Santa look and feel, Naughty and Nice III is a sexier type of slot – literally. That's right – Mrs Claus takes a back seat while two gorgeous gals take centre stage instead, one naughty, and one (you guessed it) nice. So if you've been either naughty or nice yourself this year, you know who you'll be rooting for!
Who's behind this sassy seasonal slot? Only RTG, throwing a not-too-impressed Mrs Claus, a car wash sign, and a box full of cash into the slot symbol mix as well. Following on from the other titles in their collection, Naughty or Nice III promises to be a whole lot of festive fun, and then some!
Naughty or nice – which list are you on?If you want to find some spectacular payouts in your stocking this Christmas, you'll have to place your bets – and with 5 x 3 reels and 30 paylines, there are plenty of ways to go about it. Choose a bet amount of between $0.01 and $0.25 and you'll have a total wager of $0.30 to $7.50 with each round – so even if you bet max to win max, you won't blow your whole bankroll in just a few spins. What you will do is hopefully start kicking off some winning combinations, and with payouts ranging from $125 for a winning combo to a top jackpot of 50 000x or $12,500, you're in for a merry little Christmas indeed!
Of course, Christmas is all about gifts, so let's talk features. Obviously the biggest and best of these are the wild Naughty and Nice girl symbols, with Naughty appearing on reels 1 and 2, and Nice showing up on reels 4 and 5. Both wilds work as substitutes and can complete any winning combinations with regular symbols, excluding scatters.
If it's scatters you're after though, you'll find them in the form of the slot's logo, and if you happen upon 3, 4 or 5 of them, you'll win a multiplier of 2x, 10x or 100x respectively. What's more, as soon as you collect 3 or more scatters, you'll instantly be awarded 7 free spins, and you'll have the chance to play one of two bonus games by choosing between either Naughty or Nice as well. Make your choice and you'll double your wins on your free spins, plus you'll activate one of two bonus features too. Go Naughty, and reel 1 will be completely wild, or count as a scatter should any appear. Go Nice instead, and reel 5 will be completely wild – or both reels 4 and 5 if you're even luckier.
Plus if you're looking for even more Christmas cheer, look out for the Lucky Feature – a random bonus that could trigger at any time, giving you from 5 to 10 free spins, and even more back in your bankroll. Doesn't matter whether you've been naughty or nice this year it seems – Santa has plenty of gifts in his sack for you, and plenty of winning opportunities too!
Happy Spinning 🙂