Online or land-based casinos – which is better?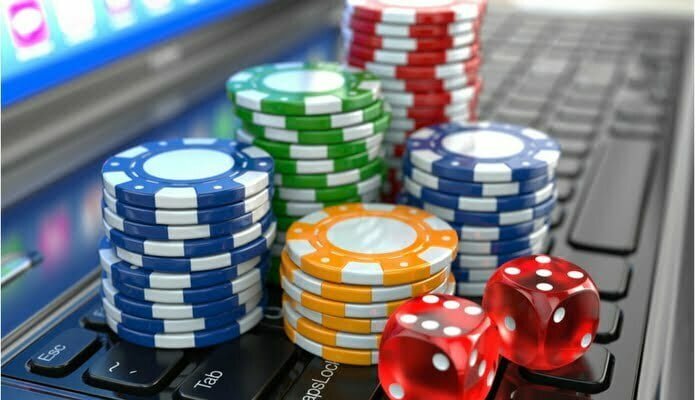 You're in the mood for a spin on the slots or a wager at the tables – but where to place your bets? Do you play online, or do you go to a land-based casino instead? Which is better?
It's a fair question to ask, and one that doesn't have a definitive answer. Because when it comes to playing at a virtual casino or a real-life one, the answer as to which is better depends very much on the type of experience you're looking for. So what exactly are you after?
A fun night out
Well obviously land-based wins here. If you're looking for a night out on the town, getting all glammed up and hitting the casino for some gambling and some sophistication too, it's land-based all the way. You'll have all the lights, the sounds, the flashing games, and adrenaline so palpable you can almost taste it. Not to mention the bars, restaurants and other entertainment venues on offer too. Land-based gambling is an experience all its own, and if you're looking for that as part and parcel of your gaming, then a trip to your casino is most definitely in order. If, however, all you want to do is put on your pyjamas and sink into the couch with your favourite slots and blissful solitude, it's online gambling all the way.
Convenience
If it's 24/7 gambling you're after, online wins hands down. That's not to say you can't play 24/7 at a land-based casino – there are many casinos that do offer round-the-clock play. But what could be more convenient than being able to gamble wherever you are, whenever you like? No dress code needed, and no trip to the actual casino either. In fact, you don't even have to get out of bed. No matter where you are, you'll be able to log onto your online casino and place your bets in minutes. It's like having your very own casino at your side 24 hours a day, 7 days a week – and you're always the VIP.
Flexibility
Again, online takes the win. Not only can you play from home, on holiday, or via mobile, you can pop in for as little or as long as you like. So as we said previously, there's no need for a big mission to the casino and hours of time dedicated to the pursuit. If you've got 5 minutes free, then you've got a casino ready and waiting when you are. Now you can turn anything into a casino – your living room, your back yard, the beach, even your commute. So much flexibility, so many ways to win!
Rewards
Both are pretty evenly matched here, so when it comes to rewards, it just depends on what type you're looking for. Join the loyalty program at your nearest casino and you'll have access to monthly promotions where you could often win amazing prizes like cars, holidays or cash. You'll also qualify for regular monthly discounts off meals, shows and other events, depending on your loyalty status, and you could even get cash back too.
Play online and you'll also qualify for loyalty rewards depending on your player status, plus you'll have the chance to take part in monthly promotions, giveaways and tournaments as well. Keep an eye on your inbox, and you'll also find invitations to claim various offers, like reload, referral, birthday and banking bonuses, and a whole lot more.
The only difference between the two is that when you're at a land-based casino, you have to actively sign up to be a rewards member, whereas when you play online, you'll automatically become a rewards member at most casinos as soon as you open your real money account. But essentially, whether you're at a land-based or an online casino, it always pays to play.
Affordability
You've got your gambling budget all planned out – well done you! Now, which type of gambling is going to give you more bang for your buck – online or land-based? The good news? Both! Whether you're playing at a real-life or a virtual casino, you'll always have a decent betting range to choose from, no matter what type of game you're playing. Just take a few minutes to calculate how much you can afford to spend, and you'll know whether to go minimum or maximum with your bet.
The only difference in affordability between the two are the related costs you'll incur at physically going to a land-based casino, such as transport, parking, drinks, meals and so on – which means budgeting more for these extras. If you have the cash, then go for it, but if placing bets is all you're interested in spending money on, then stick to online and make the most out of your budget.
Game variety
You know what you want out of your casino experience – you want games and lots of them! While land-based casinos do offer a very decent range, usually with hundreds of slots and 20 to 30 tables, they're limited by their physical size, so they're only able to house a finite amount of games. When it comes to online casinos, however, there's no such limitation – which means your choices are going to go from the hundreds to the thousands. Get ready for every type of game you can think of, with more being added on a daily basis. Even better, there's no need to queue for a particular slot or table game, because as soon as log on, you'll have instant access to the best seat in the house. Winning!
Entertainment
It's a dead heat – there are no outright winners here. Whether you're playing at a brick and mortar casino or a virtual one, you'll have the best in gambling entertainment to look forward to, and the ultimate in excitement too. Maybe you prefer one over the other, or maybe you're a fan of both – it's up to you to decide which pros outweigh which cons. However you choose to play though, you're assured of a cracking good time whenever you place your bets!