Ozzy Osbourne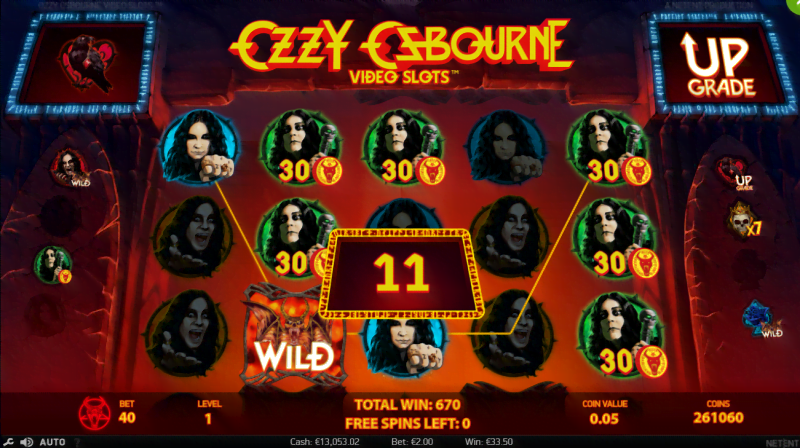 If you're looking for an exciting game with some killer music, NetEnt has you covered. Ozzy Osbourne is a 5-reel and 20 payline game that's going to get you in the mood for rocking out. Be careful to set 'Autospin' either on or off with this game because, you better believe you'll get right into this game and forget to later on! For those of you new to online gaming, the 'Autospin' button will continuously spin those reels for you. This is great if you're just looking to sit back and enjoy the show. If you want to get a little more involved, make sure to turn this button off so you can control when you wish to spin the reels.
Let's just set the record straight right now – the most valuable symbol in the game, is none other than Ozzy Osbourne himself. When you land on 3, 4 or 5 on a payline, you can earn 5, 15 or 50 times your wager.
Ozzy Osbourne also has a traditional free spins feature which is activated by landing on X number of scatter symbols. If you're playing in the base game, you will get 4 free spins. If you are playing the bonus bet game, you will get one extra spin for a total of 5 free spins. The unusual thing about this game is that before free spins are awarded, the 'Symbol Charge Up' is activated before every spin. This Symbol Spinner actually determines which symbol you'll get and then the Feature Spinner chooses which feature your symbol will get. Are you still with me? Basically, you can get varying combinations of symbols and features, which is kind of neat.
On a side note, any symbol and feature combination with the exception of the wild symbol can show up on this Symbol Spinner.
Who here is ready to rock out to some Ozzy?
Happy Spinning 🙂