Penalty Shoot-Out!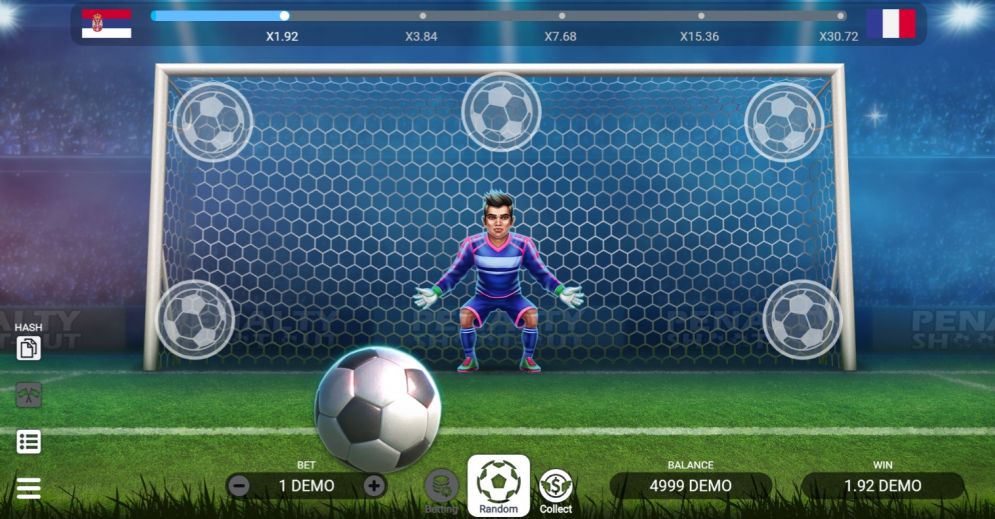 While we are all dying for sports to come back – Evoplay has your back with Penalty Shoot-Out. This is a very unique slot to play since it has no reels AND no paylines. That's right, none. It will draw you in with the crisp graphics and quick-spinning reels.
Since Penalty Shoot-Out has no reels or paylines, its bonus features are rather limited. This game relies solely on the fact that your one job, is to beat the goalkeeper 'goalie'.
You will play 'shoot-outs' that go in rounds of 5. For every goal that you score, you will get a little reward. Please keep an eye on the shoot meter which lays above the reels. If you are lucky enough to get all 5 shots in a row, you will win 30.72x your wager and a new round of shots begin.
You can either collect your winnings after each shot or collect them after the entire cycle. It's definitely nice to have the choice. The goal scoring goes as such:
1st shot: you win 1,92x your wager
2nd shot: you win 3.84x your wager
3rd shot: you win 7.68x your wager
4th shot: you win 15.36x your wager
Are you ready to play this instant cash slot?
Happy Spinning 🙂