Pig Winner!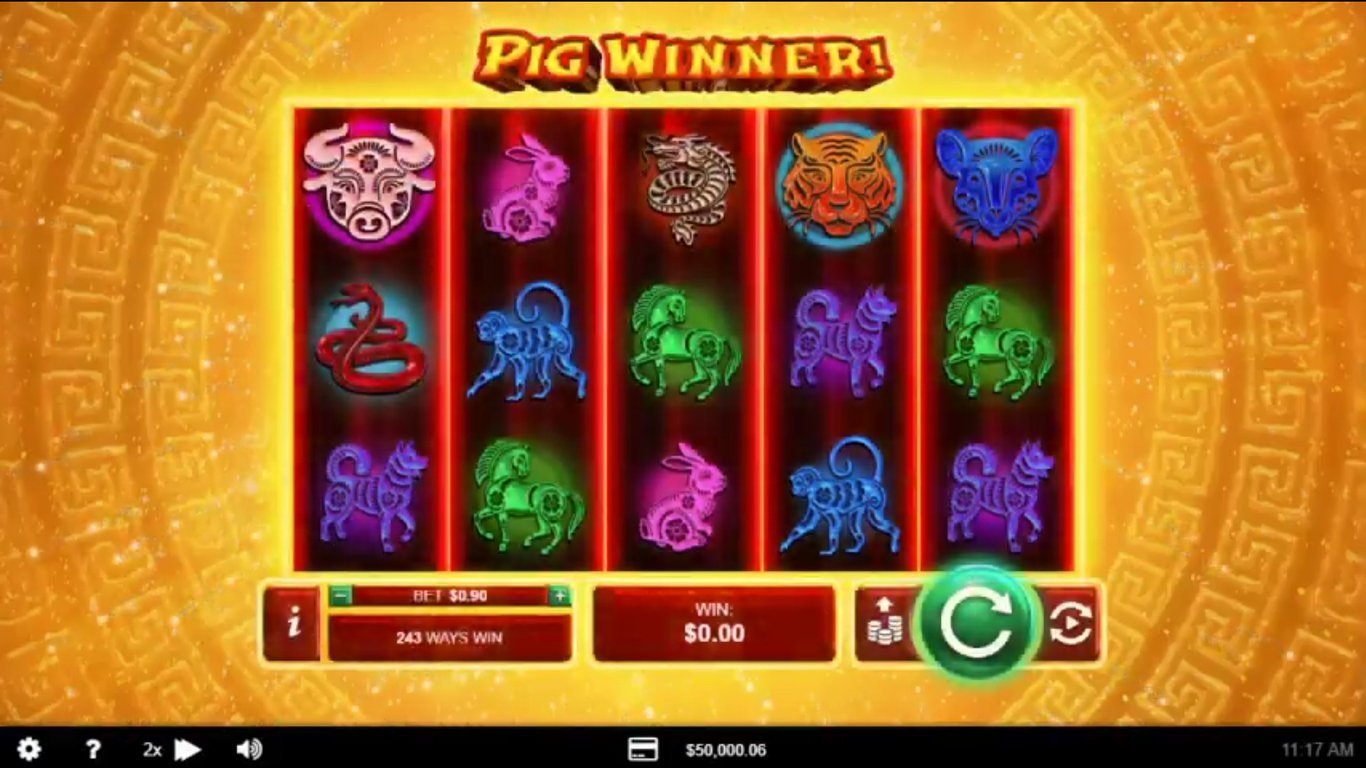 Year of the Pig online slot reviews
In case you weren't aware, 2019 is the year of the pig in the Chinese zodiac – and before you dismiss astrology as a load of claptrap, get a load of this. According to its Chinese heritage, the pig is a symbol of wealth, riches, abundance, luck, prosperity and good fortune – which means if you're an online casino player in search of a huge jackpot (and we're pretty sure you are) then the pig is one animal you'll want to see a lot of this year.
So with that in mind, why don't we take a look at a couple of pig-themed online slots games, and see if they can lead you to the fame and fortune you're no doubt after? Because one thing's for sure – you won't win if you don't play!
Feel like number one with Pig Winner
This year RTG doesn't want you to be just a big winner – they want you to be a pig winner! That is, if their online slot of the same name is anything to go by. Introducing Pig Winner, released in January 2019, and hopefully the answer we all need to a month with 97 days in it (approximately).
As you'd expect from a slot designed to fit in with the Year of the Pig, Pig Winner is an abundance of Chinese themes and imagery, featuring zodiac signs and a yin yang as well. The pig is the centre of attention and the star of the show however, and it's this, the wild pig symbol, that you'll want to keep an eye out for.
Something else you'll want to look out for is a winning combination – and with 243 ways to win, there's no shortage of rewarding opportunities. The Year of the Pig is all about abundance, and with five reels and hundreds of ways to bring jackpots rolling in, abundance is exactly what Pig Winner has in store for you – so get ready to start reaping the benefits!
First things first, you'll need to place your bets, which you can do from as little as $0.30 per coin, with 30 coins needed per spin to activate the 243 ways to win. Obviously the more you can afford to bet, the more you'll ultimately win – and with payouts of 200x your original wager, plus multipliers of 2x and 3x, with scatters and free spins too, there's plenty to be won with every roll of the reels!
As we already mentioned, with it being the Year of the Pig, you'll want to look out for the actual pig symbol in Pig Winner. As a wild symbol, it'll substitute for any other symbol, completing winning combinations as it goes. What's more, it'll add a 2x multiplier to any win it helps create, giving you double the winning opportunity with every paid spin.
Looking for even more riches? Then look out for the yin yang scatter, which will trigger eight free spins for you as soon as three scatters appear on the reels. Even better, find another three scatters during your free spins round, and you'll be able to re-trigger the feature, while any wilds you find along the way will bring a 3x multiplier with them. Talk about rewards!
The Year of the Pig is here, and so is the good fortune it seems – that is, if Pig Winner has anything to do with it. So go ahead – spin the reels, wait for the winning symbols, and get ready to live your most abundant year yet!
Play Lucky Pig for the ultimate in winning excitement
They say that our future is written in the stars – and if this year's Chinese zodiac is anything to go by, your future could be a winning one with the Lucky Pig online slot. Developed by Aristocrat, Lucky Pig is a five-reel, three-row slots games that's packed with winning opportunities. And with 243 ways to strike it rich, every spin of the reels could see your dreams of luxury becoming a bigger reality!
The minute you sit down to a game of Lucky Pig, you'll know you're in it to win it. Not only will you be facing a Chinese-style red and gold game packed with pigs, coins, fireworks and other lucky symbols, you'll have a Jackpot Reel Power system to look forward to as well – one that ramps up the action and then some. What's more, every time you form a big winning combination (easier than ever with Jackpot Reel Power), you'll be treated to a spray of gold coins, celebrating the riches coming your way.
Oh, did we forget to mention? Lucky Pig is a progressive slot, which means you'll have not one, but three ample jackpots to play for – the minor, major and grand payouts. And thanks to Jackpot Reel Power, you'll have plenty of ways to claim them! Firstly, look out for a jackpot on a normal spin, as one could come your way when you least expect it. Then there's the five of a kind – lining up identical symbols with the jackpot symbol on the middle reel. Get this combination and the jackpot reel will expand outwards, covering the entire reel with crowns, and spinning to unlock 10x multipliers and other fantastic bonuses. Don't worry, you won't miss out on your jackpot win – because once you hit it, the jackpot banner will unfurl and gold coins will stream down in celebration!
If you don't manage to hit the jackpot though, don't worry – there are plenty of other ways to be a winner. Find three or more door knocker scatters, and you'll trigger a bonus free spins round – or get a wild symbol on the reels and it'll help you form winning combinations, one of which could be the ultimate jackpot combo!
So if you're feeling lucky, then you know what to do. Take a look at your bankroll, log onto Lucky Pig, and get those reels spinning. The year of wealth and abundance is here – take advantage of every opportunity you can and turn your luck into golden glimmering riches!
Happy Spinning 🙂