Plinko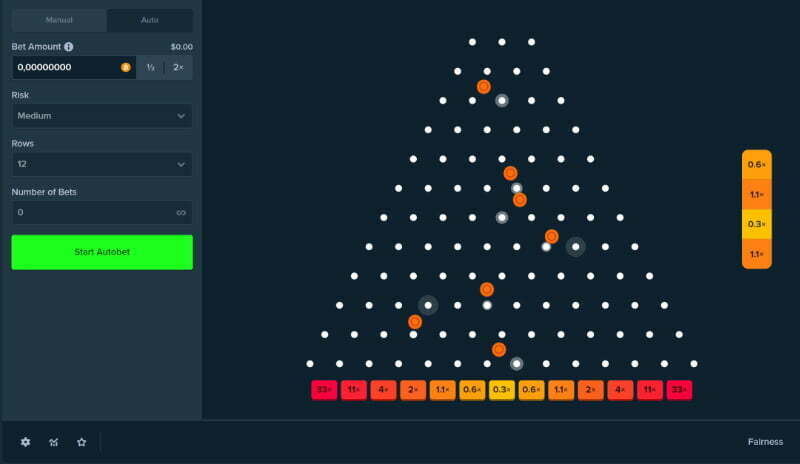 Plinko! Let's play.
Looking for something a little different from your casino experience? Want to try your hand at something new and fresh? Then let's play Plinko. The game that's gone from TV to casino and turned hundreds of players into winners in the process!
If the name Plinko sounds familiar, that's probably because you recognise it from the popular TV show, The Price is Right. On the game show, Plinko consisted of a board of pegs, with chips ricocheting down. Finding their place into slots on the board at random. If a player found the highest-paying slot, they'd win $25,000 in cash! It was fun, it was easy to play, and it was thrilling right from the very first drop. And that's exactly what you'll find when you play Plinko online too!
Let's find out more!
Of course, there are some changes to the game between TV and casino. Log onto a game of Plinko and you'll see that instead of chips, you'll have a ball that will drop from the top of the game area, down into a pyramid of pegs. The ball will bounce off the different pegs at random. Coming to rest at the bottom in one of a range of payout values. Depending on which value it lands on, that's the payout you'll receive. With the higher values on the edges of the pyramid and the lower (or even minus) ones in the middle, where your Plinko ball lands is hugely important. However like all casino games, it's completely random. Which is what makes the game so endlessly engaging!
Want to try your luck? Then you'll be glad to know that you can play anywhere from 8 to 16 lines with a wide range of betting options to suit every bankroll. Plus if you want to give it a try for free first. You can hone your skills on the demo version. Then upgrade to real play once you're confident in your ability. Play on your laptop, your cellphone or your mobile device, whichever works for you best, and take Plinko with you wherever you go!
Who wants to check out this game?
With variable volatility and an RTP of 99%, Plinko has good odds for every skill level. And you can keep track of your winnings by following the table on the side of the game area as you play. Just choose a risk level from low to medium to high, choose how many lines you want to play, then let your Plinko ball fall where it may! And if you ever have any questions about the fairness of a particular Plinko drop. You can use the built-in provability fairness feature to check that everything's working the way it should.
There aren't a lot of bells and whistles to Plinko. What you see is what you get. But it's that same simplicity that makes it so fun to play and so engaging too. So if you've played enough slots, progressives and table games for now, and want to give something else a shot, try a few rounds of Plinko and see if it's the game for you. We promise you won't be sorry!