Shopping in the Hills!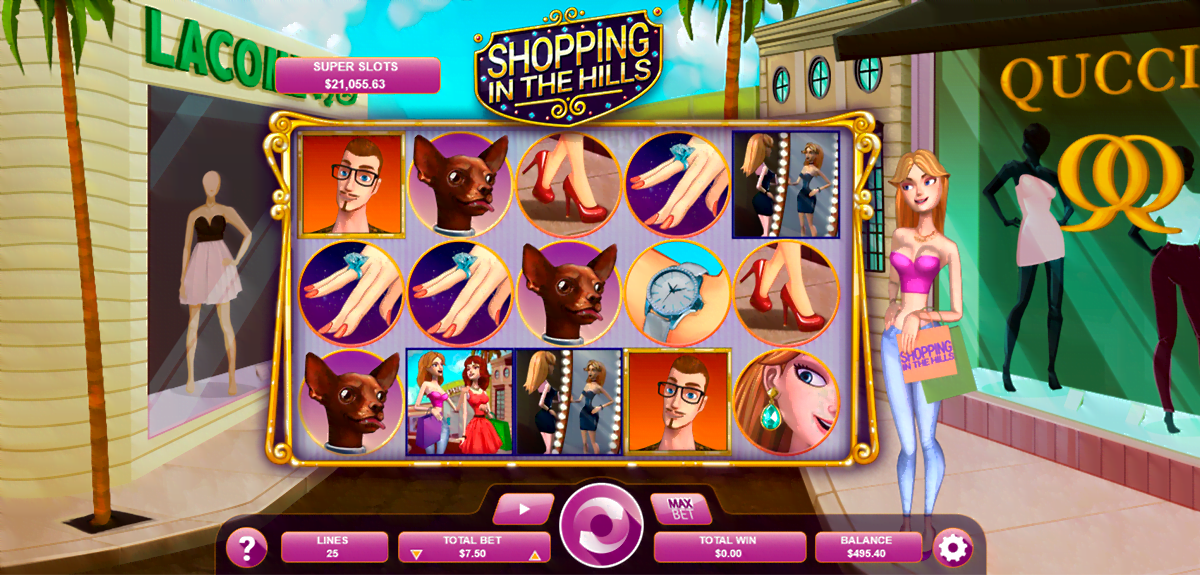 How does a bit of retail therapy sound? Even better, what about a bit of retail therapy plus a bit of winning? If you're up for both, then it's time to go Shopping in the Hills, courtesy of Arrow's Edge – one of the most glamorous ways to play slots, and one of the most luxurious too.
Where are you off to? Beverly Hills of course, one of the most elite suburbs in the United States – and one of the most expensive as well. Don't worry, you won't be alone though, you'll be with your pals Brittney, Alicia and Stephan. Because shopping on your own is just SO boring after all! Fill your shopping bags with huge cash prizes, and you could soon be filling real shopping bags with luxury designer purchases – just wait and see!
Spin till you win, shop till you drop
We hope you've got some comfy shoes on, because it's time for you and your friends to hit the shops – and with 5 reels and 25 paylines, there's plenty to browse, and plenty to come home with as well. Think wild symbols, bonuses, free spins and more, and you'll have plenty to feast your eyes on when you're done for the day – no buyer's remorse here!
Get ready to place those bets and get those reels rolling – because as soon as you find the wild shopping bag, you'll be in the money. Every time you see it spin onto the reels, it'll trigger a bonus for you, giving you a free respin and moving one reel to the left at the same time. The more it's able to stay on the reels before it gets all the way to the left, the more respins you'll be awarded, and the more free cash could be coming your way. Even better, you could find more than one wild at the same time, which means even more winnings for you – especially as each winning combo that's formed brings with it a 3x multiplier as well. Now that's a successful shopping trip!
Of course it wouldn't be a fabulous day out without more than one thing to look forward to. While you're browsing the reels, look out for the scatter symbol – because as soon as you find three, you'll win 10 free spins instantly. These aren't regular free spins though – this is Beverly Hills, which means everything is bigger and better. Get a credit card symbol on reel five, and you'll have either stacked or expanding wilds for even more rewarding payouts. And since the shopping bag wilds will still be in play, you'll be able to trigger more re-spins for yourself too, giving you almost unlimited winning potential. You won't want any refunds or exchanges here!
Finally, what's a shopping trip without some incredible finds along the way – like the chance to double your payouts after every winning spin. Select the double up feature, choose which side the spinning coin will land on, and you could double your winnings all the way up to $25 000! Be careful though, as one wrong choice could lose you everything, so keep your wits about you. Last, but certainly not least, there's the random progressive jackpot to play for as well – a huge pot that could be yours at any time during your session. Will you win it? Will you lay claim to the top jackpot? Will you have the chance to hit the stores of Beverly Hills for real? You'll have to go Shopping in the Hills with Arrow's Edge to find out. Good luck!
Happy Spinning 🙂