The best of Las Vegas – the ultimate casino resorts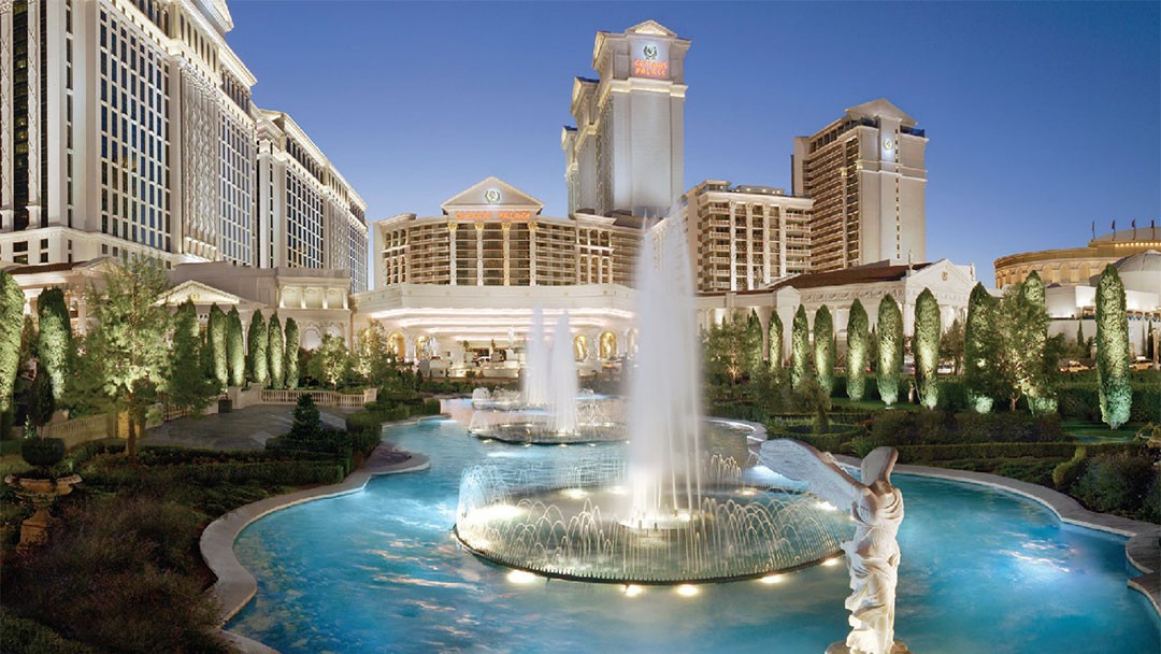 How much would you give to visit Las Vegas right now and just let loose in the ultimate playground paradise? No lockdown, no stress, no worries, just non-stop fun and entertainment from morning till night!
Hopefully that day will soon be here, but till then, how about we take a look at the best casino resorts Vegas has to offer instead? Make a note of your favourites, and put them at the top of your post-lockdown bucket list!
Caesars Palace
It's where all the drama of The Hangover took place, and it's synonymous with Vegas and all its excess. It's Caesars Palace of course, and if you don't visit it at least once on your Vegas vacation, you're missing out. What makes this casino landmark so iconic? Well, first of all its history. Having opened its doors as far back as 1966, Caesars Palace is one of the oldest casinos on the strip, which is why it's also one of the most well-known as well – it's been around for decades!
In that time, it's seen some real star power walk through its doors, from motorcycle daredevil Evil Knievel and his death-defying leap in 1967, to epic performances by superstars Celine Dion, Rod Stewart, Elton John, and many more. Not only that, it's known for its sports betting too, with massive crowds gathering to enjoy its sportsbook gaming space, complete with a bar, food, chairs, and an electrifying tailgating atmosphere during big games.
But of course the pièce de résistance is the actual casino gaming at Caesars Palace – 130,000 square feet of space housing more than 1,300 slots, video slots, video poker and progressives. Not to mention a 16-table poker room with regular tournaments, and a new interactive poker experience too. Plus if you want to take a break from your gaming, you'll have a 4,100-seater area to visit, as well as an actual shopping centre, and a wide variety of restaurants as well. It's entertainment that's as legendary as Caesar himself, and it's a gaming experience that's not to be missed!
The Venetian
Why go all the way to Venice when you can simply go to the Venetian and enjoy world-class gaming at the same time? Designed to resemble one of Italy's most famous cities, the Venetian is everything you love about Venice, and about gaming, all combined into one irresistible resort experience.
In conjunction with its sister establishment, The Palazzo, The Venetian is a casino unlike any other, complete with authentic outdoor and indoor gondola rides, and singing gondoliers as well! It's an attraction that's made The Venetian famous, and if it's not at the top of your to-do list, it needs to be.
Of course you'll be at The Venetian for more than gondola rides – you'll be there for the gaming too. And what a casino experience you'll have, with more than 1,000 slots, hundreds of table games and poker games, and even novelty games too, all spread out over a massive 125,000 square foot gambling area. Even better, you'll also be able to indulge in poolside gaming at The Palazzo, and mobile sportsbook gaming at The Venetian too – every kind of gaming convenience you could think of!
And let's not forget the shows, nightclubs, restaurants, cocktail bars, lounges, pool decks and indulgent day spa on offer as well! It's not just a space inspired by Italy – it's one inspired by the ultimate in comfort and relaxation too. Want to leave all your cares behind while being serenaded by a gondolier and playing for huge jackpots at the same time? Then The Venetian is where you need to be, and the sooner, the better!
Palms Casino Resort
You can't talk Vegas without talking about The Palms, especially now that it's undergone a significant renovation, and reinvented itself (yet again) as a resort that's effortlessly stylish. Always a popular hangout for celebs, The Palms is even more of a draw card since its refurbishment, thanks in no small part to its claim to offering the loosest slots in town. Do the slots at The Palms pay out more often than at other Vegas casinos? We're not sure – and you'll have to try them for yourself to find out.
When you do, you'll have plenty to choose from thanks to their staggering selection of more than 1,500 slot machines – more of a small town than a gaming suite! You'll also have your fill of table games, poker games, and high-stakes games too, all within in an environment that's super hip, super cool, and super trendy too. Just remember, if you see a celebrity, be cool, but if you hit the jackpot, go crazy – you've earned it!
Aria Resort
You may be more familiar with Vegas casinos like the Bellagio or the MGM Grand, but the Aria Resort is one that's not to be missed! With one of the largest slot machine spaces on the Strip, the Aria's suite of gaming tables and machines spreads out over more than 150,000 square feet, and boasts an insane 1,940 slots and 145 table games! What's more, it also offers an amazing 24-table poker room, as well as a race and sportsbook as well, showing up to 200 live events at a time.
But the real jewel in the Aria's sparkling crown is its high-limit slots room, known as SPIN. With machines on offer that can command up to $5,000 a spin, it's the ultimate VIP space for high-rolling slots players, and it's complete with private restrooms, a dining area, and butlers as well, on hand to fulfil your every desire. Almost 2,000 slots, and an elite high-stakes slots room as well? The Aria is everything slots lovers could hope for and more! So if you've been itching to give the reels a spin, then give the Aria a try and see how close you come to that life-changing jackpot. Win or lose, you'll have the entertainment experience of a lifetime, and that's what matters most!
Ready to hit the bright lights of Vegas and start cruising the Strip? You'll be spoiled for choice, so no matter which resort you ultimately settle on, you'll have the time of your life. It's the city that makes magic happen – now it's your chance to enjoy some of that same gaming magic for yourself!
Happy Spinning 🙂