The best of live online casino gaming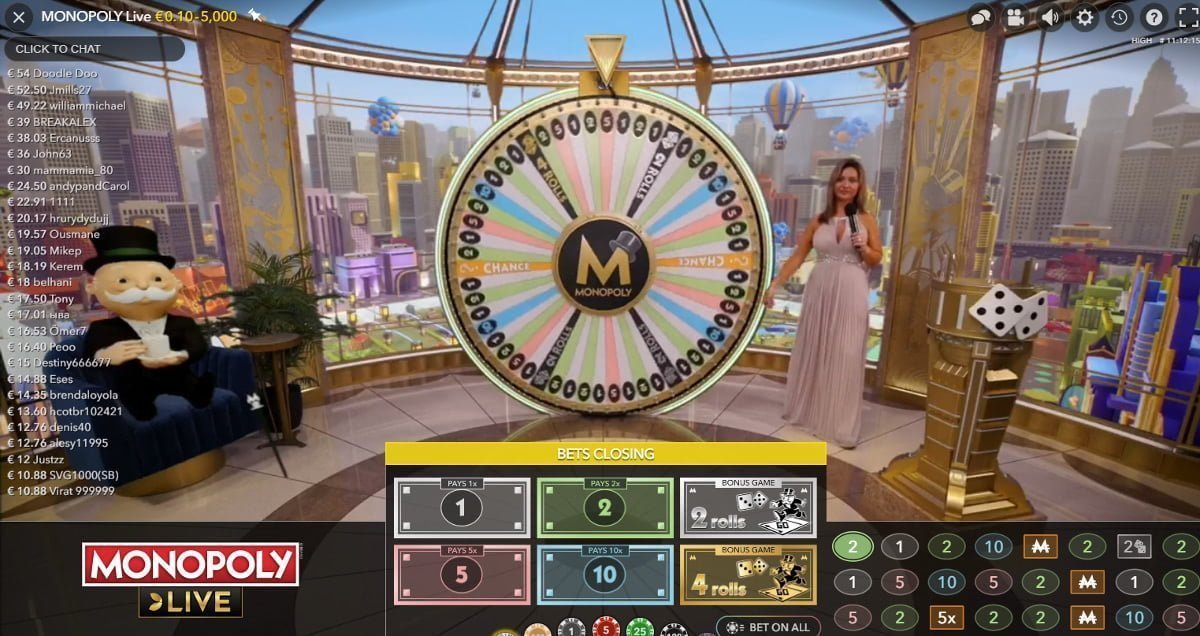 Looking for something a little different to spice up your online casino gaming? Then put live play at the top of your to-do list the next time you log on. Not only is it the hottest ticket in online gambling right now, it's thrill-a-minute stuff – and if you miss it, you're missing out. Take a look at two of our top live gaming picks right now, and start making your jackpot dreams come true in real life, and real time!
Own the town with Monopoly Live
You've played Monopoly for houses and hotels – now play it for real live winnings! One of Evolution's most valuable properties (in collaboration with Hasbro), Monopoly Live combines everything you love about one of the world's most famous board games with everything you love about gambling online. It's fast-paced, it's quality entertainment, and it features augmented reality elements too – a definite change from your usual online gambling, and an exhilarating one at that!
So how exactly does Monopoly Live work? Well, if you've ever played Evolution's live Dream Catcher game before, you'll be familiar with the mechanics. Simply log on to Monopoly Live, and you'll see a live host, and a giant Monopoly game wheel. You predict which segment the wheel will stop on after being spun, and the host will spin the wheel, while the virtual Mr Monopoly sits on the side, watching the action take place.
When it comes to making bets, you'll have a range of possibilities available to you. Simply bet on the number you think the wheel is most likely to land on, and choose from 1, 2, 5, 10, '2 ROLLS' or '4 ROLLS'. Correctly predict the outcome, and you'll win a payout in line with your bet, e.g. 1 to 1, 2 to 1, 5 to 1, and so on. Even better, land on a 'CHANCE', '2 ROLLS' or '4 ROLLS' segment, and you'll kick the augmented reality feature, and the winnings into high gear!
If you're lucky enough to land on 'CHANCE' you'll be given a Chance card by Mr Monopoly himself – one that'll entitle you to either a cash prize or a multiplier bonus. Get the bonus, and the wheel will spin again with all existing bets locked into place. The multiplier will then multiply the winnings for the extra spin – with the multiplier itself being multiplied if the same pattern is repeated!
We mentioned the innovative augmented reality feature – and that's one you'll trigger as soon as you land on either '2 ROLLS' or '4 ROLLS'. Once you do, you'll activate the 3D bonus game, where Mr Monopoly will get up and walk around, collecting prizes and multipliers as he goes. If you're one of the lucky players who selected either '2 ROLLS' or '4 ROLLS', you'll be able to participate in the game – if you're not, you'll still be able to watch. Will it be worth making a '2 ROLLS' or '4 ROLLS' bet in the future? You'll have to see just how rewarding the 3D bonus round can be, and decide from there!
As well as the 'CHANCE' feature and the bonus round, you'll also have other popular Monopoly elements like Go and Community Chest to watch out for as well, along with other traditional features like Jail and Super Tax too. It's the thrill of Monopoly in an online casino environment, along with 3D features and exhilarating betting too. So if you're ready to start owning the town like a real property magnate, make your play with Monopoly Live today!
Go jackpot mad with Crazy Time!
Staying with Evolution and another game built on their Dream Catcher model, it's time to go wild for Crazy Time! Log onto this action-packed live online casino game, and Crazy Time will have you playing for massive multipliers of up to 25,000x, while betting for insane winnings at the same time!
Set off on your quest for crazy prizes and you'll join your host in studio with a giant money wheel, a Top Slot above the wheel, and four bonus games to play too – with the opportunity to win HUGE multipliers if the games go your way.
To get started, just place your bets on any of the numbers 1, 2, 5 or 10, and/or the bonus games. At the beginning of the round, the money wheel and the Top Slot above it will spin at the same time. While the Top Slot spins, it'll generate a random multiplier to match with a random spot on the wheel – either one of the numbers, or one of the four bonus games. If the random multiplier and the random spot match up once the wheel has spun, the multiplier will be added to it, either multiplying the bet on the number, or multiplying the multipliers in the bonus game. If the random spot happens to be one that you've bet on, you'll be able to take part – if not, you'll be able to watch the action from your front row seat.
With four bonus games available, you'll be in for a wild ride no matter which one the Top Slot selects:
Cash Hunt Bonus Game: Take part in a shooting gallery with 108 random multipliers. Just take aim, shoot for a multiplier, and you'll win whichever one your shot lands on!
Coin Flip Bonus Game: Take a coin with one red side, one blue side, and a multiplier for each. Bet on which side the coin will land, and you'll win that multiplier – easy!
Pachinko Bonus Game: A Pachinko wall full of pegs, and a puck to play with. Wherever the puck lands after the host drops it, that's the multiplier you'll win!
Crazy Time Bonus Game: Choose a blue, green or yellow flapper and watch as the virtual money wheel spins. Wherever your flapper lands, that's the multiplier you'll win – up to a max of 20,000x!
With so many winnings to play for, you won't just have an awesome time, you'll have a crazy time! So what are you waiting for? Log on, place your bets, and get ready to go wild for real winnings in real time!
Happy Spinning 🙂