The biggest treasure hoards ever found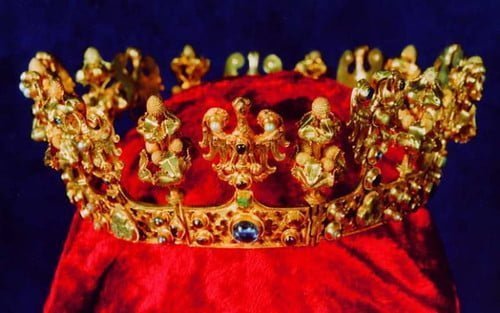 Hitting a casino jackpot can be like finding buried treasure – unexpectedly discovering riches you've only ever thought about in your wildest dreams. But what about finding ACTUAL buried treasure – what was that like for the people who stumbled across it, and what came of their historic finds? Take a look at some of the world's biggest treasure hoards, and use the inspiration to go after your own casino jackpot wealth!
1. The Cuerdale Hoard – $3.2 million
You go to work in the morning expecting a normal day with nothing much out of the ordinary. What you absolutely don't expect is to dig up a hoard of buried treasure – but that's exactly what happened to a group of workmen repairing the embankment of the River Ribble in Cuerdale, England. One minute they were working hard, they next they'd dug up a curious lead box, and discovered one of the largest collections of Viking artefacts ever found.
That fateful May morning in 1840 was the day the Cuerdale Hoard was unearthed – a treasure trove of over 8,600 items including jewellery, silver coins and silver ingots worth approximately $3.2 million in value. With the items traced back to Viking settlements in eastern England, as well as far-flung regions such as Scandinavia, Italy, and Byzantium, the trove was a historic find, and was presented to Queen Victoria, with some items still on display in the British Museum today. For their efforts, the workmen of Cuerdale took a coin each. We hope they also took a well-deserved day off too – we know we would!
2. The Le Catillon II Hoard – £10 million
If you have a metal detector and a LOT of patience, you'll want to sit up and take note of this story. In the 1980s, friends and metal detector fans Reg Mead and Richard Miles began searching a farm on the island of Jersey in the English Channel, following a chance encounter with the farmer's daughter who revealed that her father had found some silver coins on his field in the past.
After receiving permission from the farmer to search his fields with their metal detector, the friends began their quest – however as they only had the go-ahead to conduct their pursuit for just 10 to 15 hours after the fields were harvested, the search took some time. Thirty years, to be exact. That's right, thirty years after beginning their treasure hunt, the friends finally struck gold (literally) in 2012, when they finally spotted a cache of coins. Those few coins turned out to be thousands upon thousands, as eventually more than 68,000 coins made their way out of the earth. In addition, the hoard also included gold jewellery and glass beads, bringing the total value of the treasure to a mind-blowing £10 million!
According to archaeologists, the treasure was most likely buried during the 30 to 40BC time period by French Celts fleeing a Roman invasion led by Julius Caesar. As the largest collection of gold jewellery and Celtic coins ever found, the Le Catillon II Hoard is a treasure of legendary proportions – and it just goes to show the rewards that patience and determination can ultimately bring!
3. The Hoxne Hoard – $3.8 million
Back to the metal detectors again (we SERIOUSLY need to invest in one!) and this time to tenant farmer Peter Whatling in Hoxne, a village in Suffolk, England. In November 1992, having annoyingly lost his hammer in a field, Whatling asked his friend Eric Lawes to bring his metal detector along and help him find it. Of course, spoiler alert, they found far more than a simple hammer – instead, they stumbled upon an oak chest filled with coins, jewellery and silver spoons, dating back to 4 or 5AD.
With the help of archaeologists, other artefacts such as bowls and ladles were also found and excavated, and with more than 560 gold coins, 14,200 silver coins and 24 bronze coins eventually unearthed, the Hoxne Hoard was declared the biggest collection of Roman gold and silver ever discovered in Britain.
Bought and displayed by the British Museum (who had to find sponsorship to be able to afford the treasure), the hoard was valued at £1.75 million in 1993, a sum that was paid to Whatling and Lawes for their part in the discovery. And the errant hammer? It's on display in the British Museum too – possibly the most valuable hammer ever made, lost, and found.
4. St. Albans Hoard – £100,000
Literally we are just giving up and going and buying a metal detector now. Because that's what
Westley Carrington did in 2012 (ok, not the giving up part) when he bought a beginner's metal detector from a shop in Berkhamsted, England. Taking his new purchase with him, he went to a nearby farm field and tried his luck searching for coins on the grounds.
Well, turns out Westley brought more than just beginner's luck with him, as not only did he find a few coins, he found one of the largest hoards of Roman gold coins in Britain, dating back to 4AD and the end of Britain's occupation by the Romans. Valued at £100,000 and including 159 Roman Solidi, the collection is now on display at the Verulamium Museum in St Albans (previously known as Verulamium in Roman times). Well done to Westley, and please excuse us while we go buy a metal detector and hop on a plane to England.
5. The Środa Treasure – $120 million
Last but nowhere NEAR least on our list is the Środa Treasure, uncovered in 1985 in the Polish town of Środa Śląska. Just as in the case of the Cuerdale Hoard, the Środa Treasure was discovered by a team of workmen during the demolishment of an old building. While working in the building, they came across an old vase, filled with more than 3,000 silver coins from the 14th century. Even more shocking was the discovery of a second treasure a few years later, when another nearby building was in the process of being destroyed. This time, more silver and gold coins were found, as well as various precious jewellery pieces too, today owned by the National Museum in Wrocław, Poland, and on display in the Regional Museum of Środa Śląska.
While an approximate value of $120 million has been assigned to the collection, given its uniqueness it's difficult to gauge just how valuable it really is. One thing's for sure though, we're seriously considering quitting our jobs and becoming part of a demo team in Europe!