The history of online gambling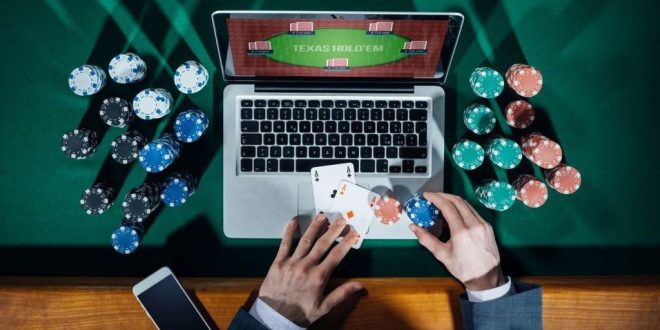 With so many thousands of players enjoying virtual casino and poker play all round the world, it's easy to forget that online gambling is a relatively new innovation, compared to the more traditional brick and mortar casino play. So how did online gambling actually begin, and what does the future hold for the industry? Let's take a look.
Online casino gambling – the early years
It's safe to say that the introduction of online gambling is as a direct result of a single event – the passing of the Free Trade & Processing Act in Antigua and Barbuda in 1994. Following this, the small Caribbean nation was able to offer licenses to those interested in operating online casinos, one of which was a new company established on the Isle of Man, known as Microgaming.
While today Microgaming is a powerhouse in the industry, in 1994 it was a small company with a small budget to match – however that didn't stop it from having big ambitions and even bigger dreams. Armed with a vision for the future of online gambling, Microgaming set about creating the world's very first online casino, The Gaming Club – and so the online gambling industry was born.
At a time when most people were still struggling to understand the internet at all, the launch of The Gaming Club was a completely new innovation in gambling – a way for players to enjoy their favourite casino games without having to leave their homes. It was a convenience most players had never even considered, and it revolutionised the industry, paving the way for many other gaming operators to follow.
Shortly after The Gaming Club made its auspicious debut, another company, CryptoLogic, launched their own online gambling offering – InterCasino, a gaming venue still in operation to this day. With two successful online casinos now taking bets, the online gambling industry was firmly established, and a series of important developments followed to further strengthen its position. The first of these was the formation of the Mohawk Territory Kahnawake Gaming Commission in 1996, an authority formed to oversee the licensing and regulation of online casinos and poker rooms. In the same year, a Swedish operator known as NetEnt also rose to prominence, offering a selection of new online games and establishing itself as a leader in the field alongside Microgaming.
A new era in online casino play
With online casinos now legal, licensed and regulated, their popularity spread like wildfire among players, with gambling now more convenient and accessible than ever. More and more online casinos began opening their doors to take advantage of a new and enthusiastic player base, and operators competed amongst themselves to continually develop the newest and most exciting games for players to enjoy.
Alongside the development of new games, casinos had to find ingenious ways of incentivising players to sign up with them rather than with their competitors – and so the concept of the sign-up bonus was born. With generous bonuses on offer to new real money players, sign-ups grew and the online casino business was booming. By 1998, reports showed that the industry was worth an amazing $834 million, and its popularity was showing no signs of slowing down.
Innovation in the industry continued at a rapid pace, with new concepts such as multiplayer games being introduced, along with the smash hit progressive jackpots. Building on its reputation of technological advances, Microgaming launched the very first progressive slot, CashSplash, in 1998, cementing its position as a global leader in online gambling, and again leading the way for other operators to follow.
Dealing online poker into the game
With the popularity of online casinos firmly established, operators had to look to different avenues to stay ahead of the pack – and in 1998, the first online poker room was established, created by Planet Poker. Unfortunately, while the site attracted a number of enthusiastic players, it experienced a number of technical difficulties and glitches that made playing a challenge – most notably the slow speeds and issues associated with dial-up internet.
The following year in 1999, Paradise Poker launched its own online poker room, and the site was an instant success. Offering games like Texas Hold-em, Omaha and Stud variations on a more technologically advanced platform, Paradise Poker was able to accommodate thousands of players, and allowed similar competitors like PartyPoker (now known as partypoker) and PokerStars to build on its achievements. In fact, the explosion of online poker's popularity can be traced back to a PokerStars tournament – one that allowed a player called Chris Moneymaker to qualify for the World Series of Poker in 2003, a championship that he ultimately won, taking home a prize of $2.5 million! It was an unprecedented event, and it cemented the reputation of online poker like none other.
Getting sports betting off the starting blocks
With online casinos and poker rooms in play, the next step was sports betting, with the first online sportsbook, InterTops, launching in 1996. This led to other popular bookmakers like William Hill and Ladbrokes soon following suit, and entering the marketplace with their own online offerings. Giving players the same access to welcome bonuses and other exclusive offers, as well as the chance to enjoy live betting during real time sporting events, sports betting quickly became as popular as its casino and poker counterparts, giving players a bigger choice of online gambling opportunities than ever before.
The future of online gambling
Thanks to continued innovations such as live dealer casino play and mobile gaming, online gambling is still as popular and as cutting-edge today as it was when it first began – and with the market worth nearly $46 billion in 2019, it's clear that its player base is as steadfastly loyal as ever.
So what can we expect going forward? Certainly more technological developments in the area of virtual casino gaming, with SlotsMillion, the world's first virtual reality casino having already launched in 2016. Blockchain technology and bitcoin casinos could also increase in popularity thanks to their speed and security measures, giving players more online safety and more peace of mind. But whatever the future might be for online gambling, one thing's for sure – it's guaranteed to be an exciting one!
Happy Spinning 🙂