The world's most exclusive underwater hotels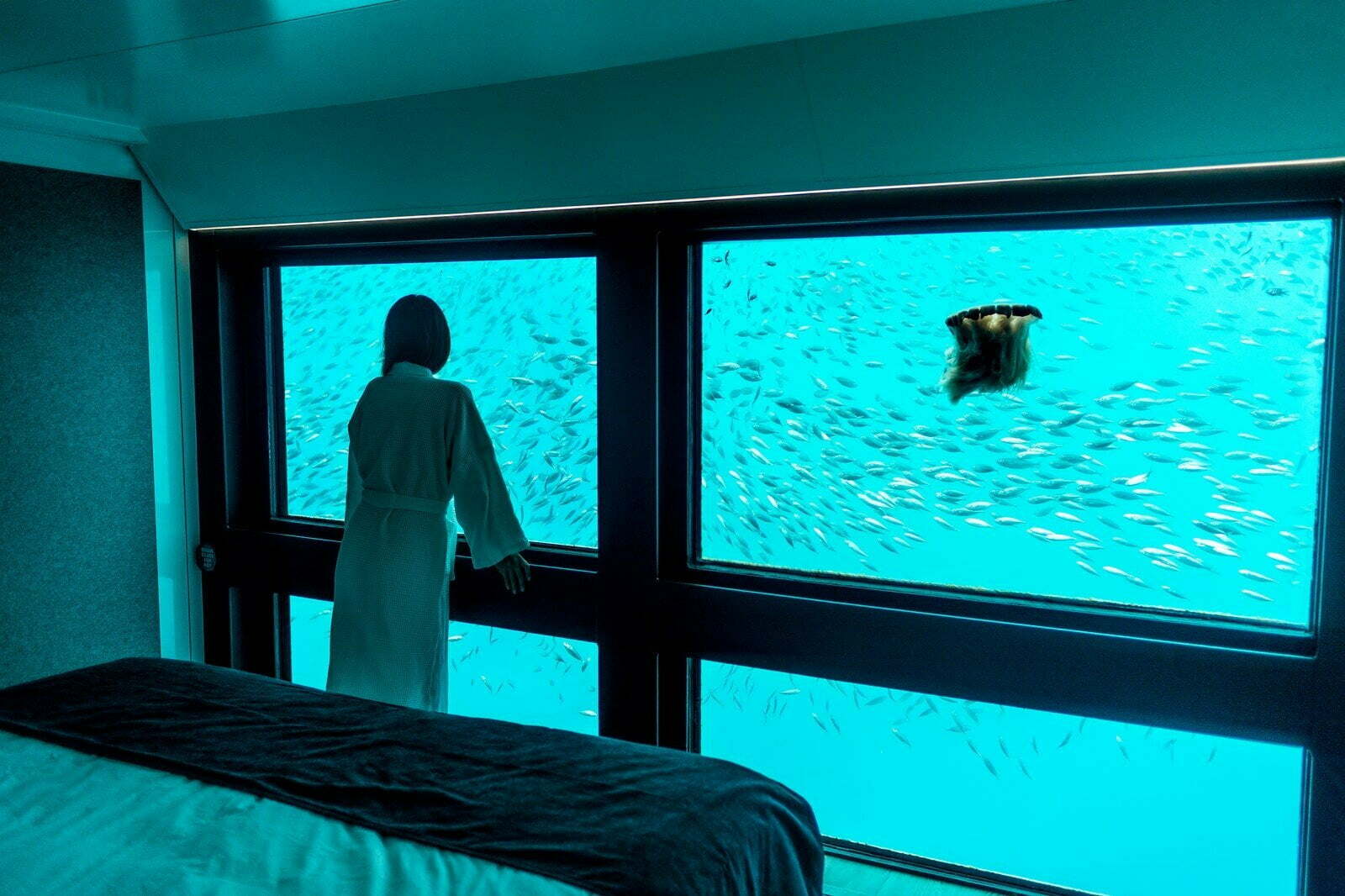 Want to go on holiday and still stay safe by social distancing? Then why not choose an underwater hotel – far from crowds of people and pandemics, and close to blissful solitude and the beauty of nature. All you need is a casino jackpot to tide you through a stay at one of the world's most exclusive underwater hotels, and you'll soon be sleeping with the fishes. But, not literally…
The Reefsuites – Australia
Ever wanted an up close and personal experience with Australia's Great Barrier Reef? Then a stay at the Reefsuites, through Cruise Whitsundays, is exactly what you need. No traditional hotel room here – instead you'll be treated to a stay in a completely submerged room, with an unparalleled view of the Great Barrier Reef, and its gorgeous, teeming marine life. Now that's worth taking scuba lessons for! (Not that you'd actually need them…)
So what exactly does the Cruise Whitsundays experience involve? Well, first you'll take a scenic three-hour ferry from the coastal town of Airlie Beach all the way out to Reefworld, a floating pontoon 40 nautical miles away. Once you get to Reefworld, you'll be able to snorkel, swim, and check into the Reefsuites overnight – for a stay that involves you sleeping 10 feet under the sea!
Not only will you be accommodated in one of two lavish underwater suites, you'll also be treated to five-star service and luxury all round. And let's not forget the pièce de résistance – floor-to-ceiling windows giving you a view of the Great Barrier Reef like nothing you'll ever have seen before. And when you feel like stepping out of your own private aquarium, you'll have delectable cuisine to enjoy too, amidst a romantic moonlight setting (not under the sea, in case you were wondering).
Another ferry will take you home the next day, but you'll be back – because it's an experience you'll want to relive not just in memory, but in person.
Atlantis The Palm – Dubai
You may have heard of Dubai's famed Atlantis The Palm before – it's the hotel situated on the palm-shaped, man-made island that's one of the iconic landmarks of the city. What you may not have heard about this one-of-a-kind venue is that it boasts two underwater suites as well. Like the Reefsuites, it features floor-to-ceiling windows to give you the best view possible – and here that's a view that includes more than 65,000 creatures roaming their undersea home.
However, Atlantis The Palm isn't just about the underwater view, glorious though that may be. It's also about sheer opulence and luxury, with lavish furnishings, and a 24-hour butler service to see to your every need, day and night. We're starting to understand the $8,200 a night price tag – and more than that, we're willing to pay it!
Lovers Deep Submarine – the Caribbean
Forget staying in an underwater hotel – if you've got a taste for adventure, book your holiday in a submarine instead! And yes, this submarine is completely underwater, so you'll be social distancing like an absolute champ. Run by luxury rental agency, Oliver's Travels, this one-of-a-kind stay is a Caribbean dream come true, complete with your own private butler and personal chef, and a romantic tasting menu including mouth-watering oysters and caviar. Also, maybe drink a lot of champagne before you look at the bill, because at $215,000 a night, this submarine holiday doesn't come cheap.
The Manta Resort – Zanzibar
Sign us up for a tropical island holiday because we are in! And if it includes an underwater stay, so much the better! Well, that's exactly what's on offer at Zanzibar's Manta Resort – a three-level underwater suite submerged 13 feet below the surface of the sea. What's more, it's completely private too, and only accessible by boat – so if you want to sunbathe in peace on the upstairs deck, then you'll have all the sun, space and solitude you need.
It's worth mentioning that only the bottom floor of the suite is completely submerged, so don't worry, you won't drown while suntanning – but you will have magnificent views of the coastline and the Indian Ocean. Go down to the lower level and you'll see the ocean from a completely different perspective, with a 360-degree underwater view, and the chance to view the splendour of marine life in its natural habitat. Throw in a cocktail or two and we're there – cheers!
Conrad Rangali Island – the Maldives
From the island of Zanzibar to the Maldives, and yet more exotic underwater escapism. Set in this famed island chain within the north-central Indian Ocean, Conrad Rangali Island boasts not just luxury suites and stays, but a villa with an underwater bedroom too! It's called the Muraka, and along with sleeping nine people in comfort, it offers lavish amenities like a gym, a personal butler, kitchen, bar, and a private deck too.
But let's not forget about the underwater room, because of course, that's why we've come here. In true five-star style, it's so much more than just a room – it's a whole underwater suite, featuring a bedroom, bathroom and a lounge on the lower floor, 16 feet below the surface of the ocean. And when you've had your fill of taking in the spectacular marine life from the privacy of your underwater room, do the same from the island's unique 12-seater underwater restaurant – although this time with food and drinks. You may never want to set foot on dry land again!
InterContinental Shimao Wonderland – China
There's a resort out there called Wonderland? Sign us up! At first glance, InterContinental Shimao Wonderland might not seem so wonderful, what with its location being inside an abandoned quarry and all. But you'll soon let go of that preconceived notion when you see this luxury resort for yourself, because a wonderland is exactly what it is!
Just 30 miles from Shanghai, and set against a stunning natural backdrop, this resort boasts not one, but two underwater floors filled with guest suites and a restaurant too – so you'll be able to eat, sleep and live within a splendid underwater setting. There's also an artificial waterfall to enjoy, and a huge sports centre for you to take part in your choice of water sports too. Might be worth a trip to China, and might be worth taking your swimsuit along as well. Wonderland, here we come!