The world's most expensive desserts!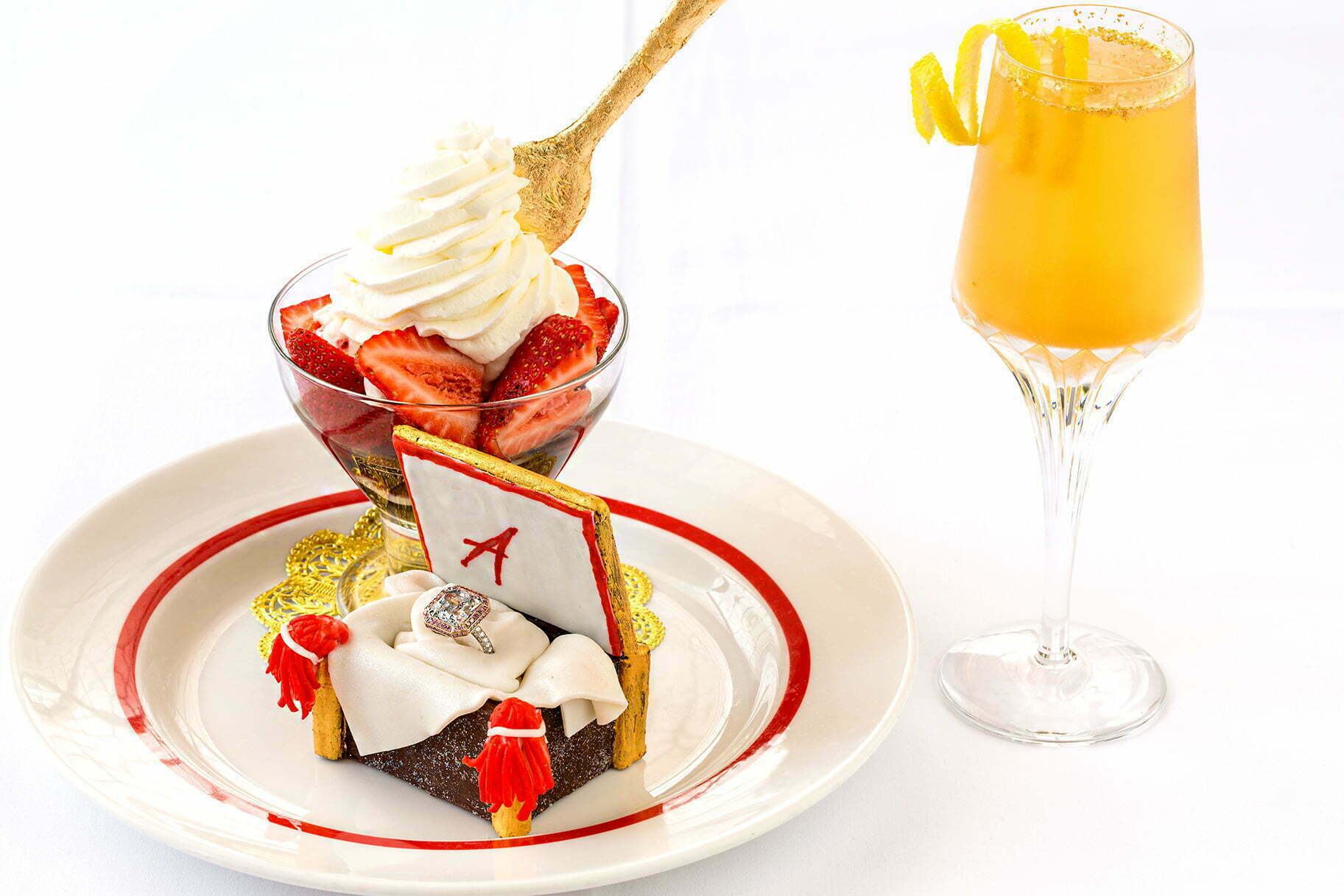 If you're under lockdown and somehow mysteriously your pants don't fit anymore, you're not alone. Snacking has become a global pastime, because literally other than watching series all day, what is there to do? We can't help with your waistline, but we can help make snack time an even more indulgent time with a look at the world's most expensive desserts. And maybe if you're handy in the kitchen, you can stop making banana bread for a second and whip up one of these (or as close as you can get) instead. Then as soon as you're allowed out, you can take your casino jackpot with you and go try the real thing in all its delectable glory. We'll have seconds please!
1. Strawberries Arnaud – $9.85 million
A plate of strawberries for OVER NINE MILLION DOLLARS?? You must be absolutely joking. But no, that's exactly what a dish of Strawberries Arnaud goes for at Arnaud's Restaurant in New Orleans. At that price it'll need a defibrillator on standby as well, just to restart the heart of anyone who collapses when they get the bill.
So what exactly goes into a $9.85 million dessert? Well, first there are the strawberries (obviously), soaked in a ruby port sauce. Then they're topped with 24-karat gold flakes, clouds of whipped cream, scoops of vanilla ice cream, and dusted with cinnamon. Finally, the dish is served with champagne, and the restaurant's signature French 75 cocktail. Voila! All of which comes to a whopping $9. So WHERE does the other $9 million and change come from?
Well, that would be the price of the 10.06-carat royal blue diamond engagement ring served alongside the plate of strawberries, from MS Rau Antiques. Because of course this is no ordinary dessert – this is one that was originally created by Arnaud's Restaurant for Valentine's Day in 2016, and was designed to incorporate the perfect proposal, with jewellery, sweet treats and all. We don't know how successful it was at the time, but if we're being served up strawberries and a diamond ring, we are here for all of it – and seconds too, if they're being served!
2. Diamond Fruitcake – $1.72 million
Come Christmas time you can find a decent fruitcake at just about every store – and you can bake your own for even less as well. So what's so great about this fruitcake, and WHY is it a whopping $1.72 million?
Well, the clue's in the name – DIAMOND fruitcake. That's exactly what the Takashimaya Department Store in Tokyo ordered when they commissioned this one-of-a-kind cake, and that's exactly what they got – a fruitcake embellished with an unbelievable 223 diamonds, for a total of 170 carats! Talk about a showstopper! As the cake was designed to be for display only, no one knows for sure exactly how it tasted, but with six months taken to design it, and one month taken to create it, an enormous amount of work (and diamonds!) went into it regardless. We're not overly partial to fruitcake ourselves, but serve it up with a diamond frosting and we'll definitely be going back for more!
3. Platinum Wedding Cake – $130,000
With the wedding industry worth billions upon billions, it's no surprise that wedding cakes are on the pricy side. But a platinum wedding cake for $130,000? Isn't that a little over the top?
The answer is yes, a platinum wedding cake is unbelievably extravagant, as is its matching price tag. But it turns out that was the whole point to begin with. When pastry chef Nobue Ikara set out to create his platinum delicacy in 2007, he did so in order to showcase the precious metal to maximum effect, and tempt women into buying and wearing more of it. Dedicated to his favourite Japanese actresses and models, the luscious creation took the form of a simple white cake, adorned with sparkling platinum necklaces, pendants, and other jewellery, and topped with platinum flakes as well. A feast for the eyes, and the palate – and although we're not exactly sure what it ended up tasting like, we can imagine it was worth every last bite.
4. The Absurdity Sundae – $60,000
It's right there in the name. Absurd. Because it's completely absurd that a simple ice cream sundae would cost anywhere near $60,000. But it turns out that that's the actual price tag, and that's what you'd have to shell out if you wanted to share in this opulent creation.
So what's it all about, and is the ice cream actually made from solid gold? Actually no, but it is ice cream made from glacial ice at the summit of Mount Kilimanjaro in Tanzania. So, same thing.
Turns out that the Absurdity Sundae isn't just a dessert – it's an experience. In this case, a sundae served at the pinnacle of Africa's highest peak, after you've climbed to the top with a tour guide, and Three Twins ice cream creator Neil Gottlieb, the brains behind this completely unique (and absurd) adventure. Get all the way to the summit, and your ice cream sundae will be created for you from scratch, served over a banana and drizzled with three different syrups made from rare dessert wines. You'll also get a special spoon to eat it with, one made in the 1850s, and you can request the services of a cellist to play for you as you eat up your delicious sundae. Because a cellist on top of Mount Kilimanjaro is completely normal, and not absurd at all.
While the trip includes first class travel and five star accommodation (as well as space for a friend if you have an extra $25,000 to spare) no one has yet ordered a $60,000 Absurdity Sundae – but hey, if you're keen to stretch your legs and spread your wings once lockdown comes to an end, you could be the very first to try one. Besides, climbing one of the world's famed seven peaks – not absurd at all.
5. Frrrozen Haute Chocolate Sundae – $25,000

We're not done with sundaes yet, although we are done with climbing mountains to eat one! Introducing the Frrrozen Haute Chocolate ice cream sundae – and while it might not be quite as pricy as the Absurdity Sundae, at $25,000 it's still a very decent chunk of change.
Created by New York's famed Serendipity 3 restaurant, the Frrrozen Haute Chocolate sundae has been wowing patrons since 2007 with its utter deliciousness and sinful opulence. So why the giant price tag? Firstly, when you order a Frrrozen Haute Chocolate for yourself, don't expect it to be served in a normal, run-of-the-mill sundae glass. Oh no, this overindulgent creation will come to your table served in a goblet with a gold crown, featuring an 18-karat gold bracelet at its base, studded with 1 carat's worth of white diamonds. Not only that, you'll also be given a special gold spoon to eat your sundae with, one embellished with more white diamonds and chocolate-coloured diamonds too. Because why be normal when you can be completely extra?
With so much dazzle on the table, you might forget about the sundae altogether – but focus, because this is an experience beyond any other. Created from a blend of 28 of the world's finest cocoas, the Frrrozen Haute Chocolate sundae is the ultimate indulgence for dessert lovers, topped with 5g of edible 23-karat gold and delivering deliciousness with every mouthful. And the best part? You get to keep the spoon! We don't know if we'd order a $25,000 sundae every time we visited Serendipity, but as a once-off if we had the casino jackpot to play with? Abso-frozen-lutely!
6. The Fortress Stilt Fisherman Indulgence – $14,500
The name's a mouthful and so is the dessert – it's the Fortress Stilt Fisherman Indulgence, and it's yours for the (low?) price of $14,500! More of an artwork than an actual sweet, this unique piece is inspired by the fishermen of Sri Lanka, and features Irish cream, Dom Perignon, a gorgeous carving of a fisherman created entirely from chocolate, and – the pièce de résistance – an 80-carat aquamarine, to represent the deep blue sea. Eat it, wear it, enjoy it – all at the Fortress Resort & Spa in Sri Lanka, which should make for an unforgettable trip once we're allowed out past our back yards!
7. Macaron Haute Couture – $7,500
Who doesn't love macarons? Gorgeous pillows of almondy fabulousness, with delicious fillings to delight every palate. But since they're so widely available (if you can get that tricky baking technique down) are they really that expensive? They are if they're the creation of French pastry chef, Pierre Herme, who has taken this global delight to the next level by incorporating innovative and extravagant ingredients into his signature range. Because these aren't just any macarons – these are haute couture macarons, with a price tag of $7,500 to match. Top tip – if you're shelling out thousands for a box of 20, don't share a single one. Keep them all to yourself and enjoy every last indulgent bite. Money well spent!
Feeling peckish yet? Then see which of these creations you can replicate with your ingredients at home – minus all the gold and jewels, of course. Your waistline might not thank you but your tastebuds will!