The world's most extravagant hotel rooms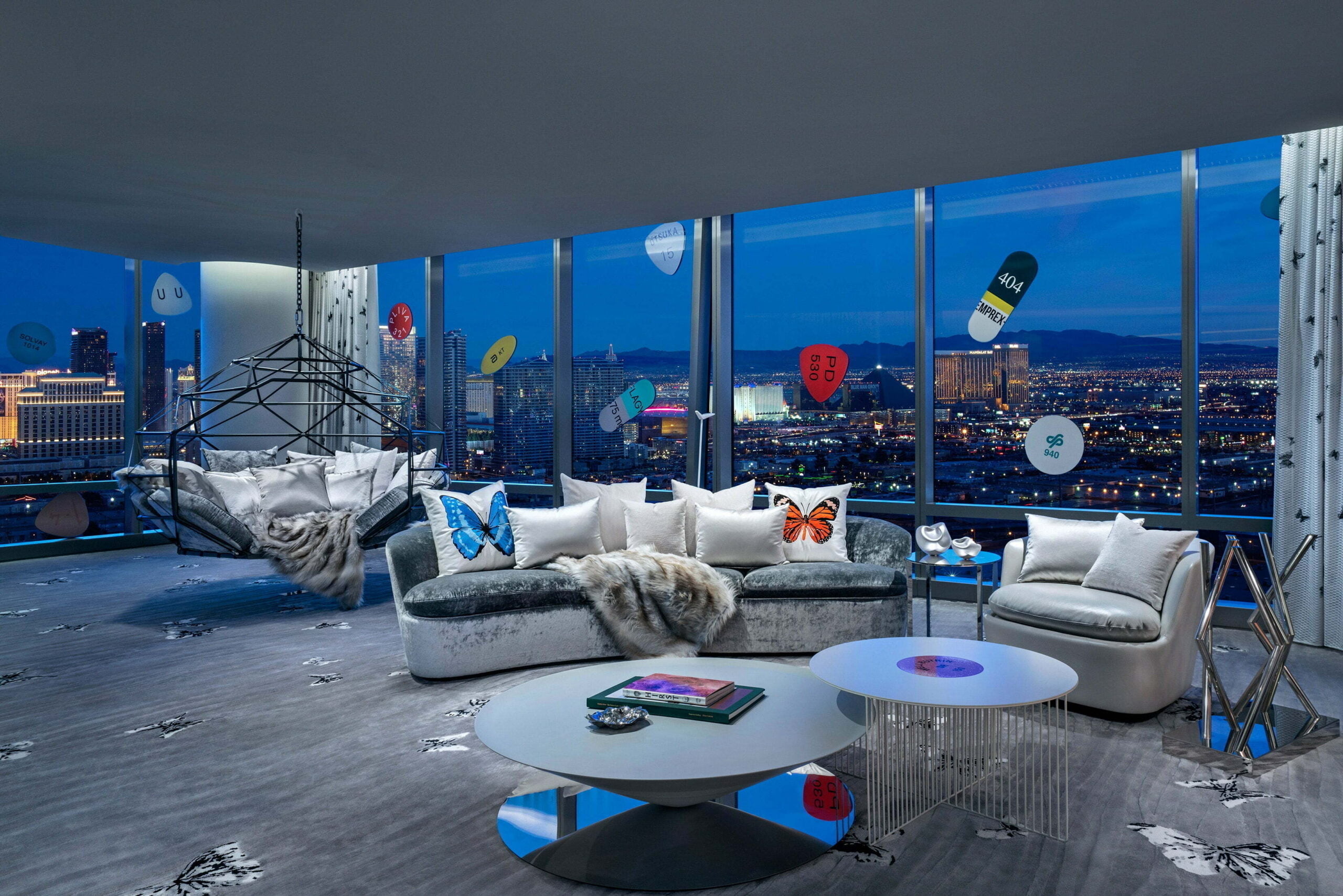 We know lockdown is still in full effect in many places, and international travel is mostly still a no-go – but that doesn't mean we can't dream about jetsetting, globetrotting, and seeing as many sights as possible. And not even in the cities we visit – sometimes just in the hotel rooms themselves. Obviously the more expensive a hotel suite, the more opulent and extravagant it is as well – which is why we've done a little research into the most elaborate and indulgent hotel suites the world has to offer. All we need now is an online casino jackpot and the ability to actually travel again. Which will come first? Only time will tell…
The Palms Empathy Suite in Las Vegas — $100,000
Prepare to have your mind blown. Right at the top of the list is the most expensive hotel room in America, if not the world. It's the Empathy Suite at the Palms Hotel in Las Vegas, and it goes for an eye-watering $100,000 a night. Actually to be more precise, it goes for $200,000, as it has a two-night stay minimum – although it also comes with a $10,000 line of credit for the casino, so there's that.
What makes this suite so unbelievably expensive? Well, mostly the fact that it's been designed by famed British modern artist Damien Hirst, and features original works and custom-made furniture throughout the living space – one that's spread over two stories and sleeps four. So if you have a few friends you want to bring with you for an all-glam, all-luxe weekend in Vegas, you now know exactly where to stay.
With 9,000 square feet of space the suite is the epitome of luxury, filled with famed Hirst works like the 60-foot 'Demon with Bowl', his 'Winner/Loser' piece featuring two sharks in formaldehyde, and his aptly titled 'Here for a Good Time, Not a Long Time' piece, hanging above the bar and showcasing a marlin skeleton and a stuffed (taxidermy) marlin.
You might need a drink after taking all of that in, so it's lucky that the built-in bar is more than big enough, with 13 seats on hand and a counter filled with medical waste (we thought it best not to ask). There's also a medicine cabinet called 'Vegas' filled with diamonds, and other signature Hirst motifs throughout, such as laser-cut butterflies.
And let's not forget all the first-class amenities that take the suite to a level above luxury, like 24-hour butler service, a chauffeur service, A-list nightclub access, a jacuzzi overlooking the Strip, massage tables, a private property tour, and two master bedrooms. Small wonder that the General Manager of the Palms, Jon Gray, dubbed it a "once-in-a-lifetime Las Vegas stay." We'll definitely have to start saving to afford the $200,000 minimum charge, but once we get there we know it'll be worth every cent. Cheers to that!
The Royal Penthouse Suite at Hotel President Wilson in Geneva — $80,000
Not wanting to shell out $100,000 or $200,000 for a stay in a hotel suite? We totally understand – that's why we've found a suite far more cost-effective, at just $80,000 a night. Yes, obviously that's only cost-effective when compared with the price of the Palms suite; any other time it would be hellishly expensive. However when you consider that this suite in Geneva's Hotel President Wilson sleeps 24 (24??) and spans the entire eighth floor of the hotel, it works out to being fairly affordable, especially if you split the cost between you and 23 of your nearest and dearest.
Of course if you're not overly keen on bringing a small town of people on holiday with you, you can foot the bill yourself – and it's probably worth it when you see exactly what comes with the price tag. There's a private butler, a chef, a personal assistant, a gym and a lift too – not to mention a rare book collection, billiards table, a Hermès-filled bathroom, a grand piano, and a jacuzzi with a breathtaking view of Lake Geneva below. If it's good enough for Bill Clinton and Bill Gates, it's good enough for you. So start saving.
Mark Penthouse Suite at The Mark Hotel in New York City — $75,000
The Mark Penthouse at The Mark Hotel has something of a score to settle with the Palms – as before the Vegas hotel and casino unveiled its incredible Empathy Suite, the Mark Penthouse previously held the title of the most expensive hotel suite in America. We're not exactly going to call its $75,000-a-night price tag cheap though – but then with over 10,000 square feet of space within its doors, it was never going to be a $500-a-night-type venue to begin with.
So aside from enough space to hold a baseball match (we're assuming, we know nothing about baseball) what else does The Mark Penthouse have to offer its lucky occupants? Firstly, five bedrooms and 6 bathrooms set out over the top two floors of the hotel – along with two wet bars, and a living room that can also be transformed into an actual Grand Ballroom. Not to mention a 2,500 foot terrace overlooking Central Park, private 24/7 access to Bergdorf Goodman, and private dining courtesy of Michelin-star chef, Jean-Georges Vongerichten. Provided you can afford the $75,000 daily fee, there's no reason to ever leave the suite again! (Although for the sake of your bank balance, we wouldn't recommend it.)
The Penthouse Suite, Hôtel Martinez — $53,200 per night
Back to Europe, and this time to Cannes, and the Hôtel Martinez, where a stay will set you back an unbelievable $53,200 a night. Of course, you can expect the ultimate in extravagance in return, like a 1,000 square foot terrace with breathtaking ocean views, a bedroom with a king-size bed, a living room, dining room, and all the luxurious amenities to be expected from a first-class hotel. Book your stay during the Cannes Film Festival and you could be rubbing shoulders with the international film elite as well – that's worth the price of admission right there!
As you can see, if you're looking for glitz and glam when it comes to hotel suites, you won't have to look far – but what you will have to do is find the necessary funds first. Luckily that's where online casino gaming comes in – one spin of the reels, one deal of the cards and you could soon be out of your humble abode and living large in a hotel suite in Las Vegas, Cannes, New York City, or anywhere else in between.
Good luck!