The world's most luxurious remote hotels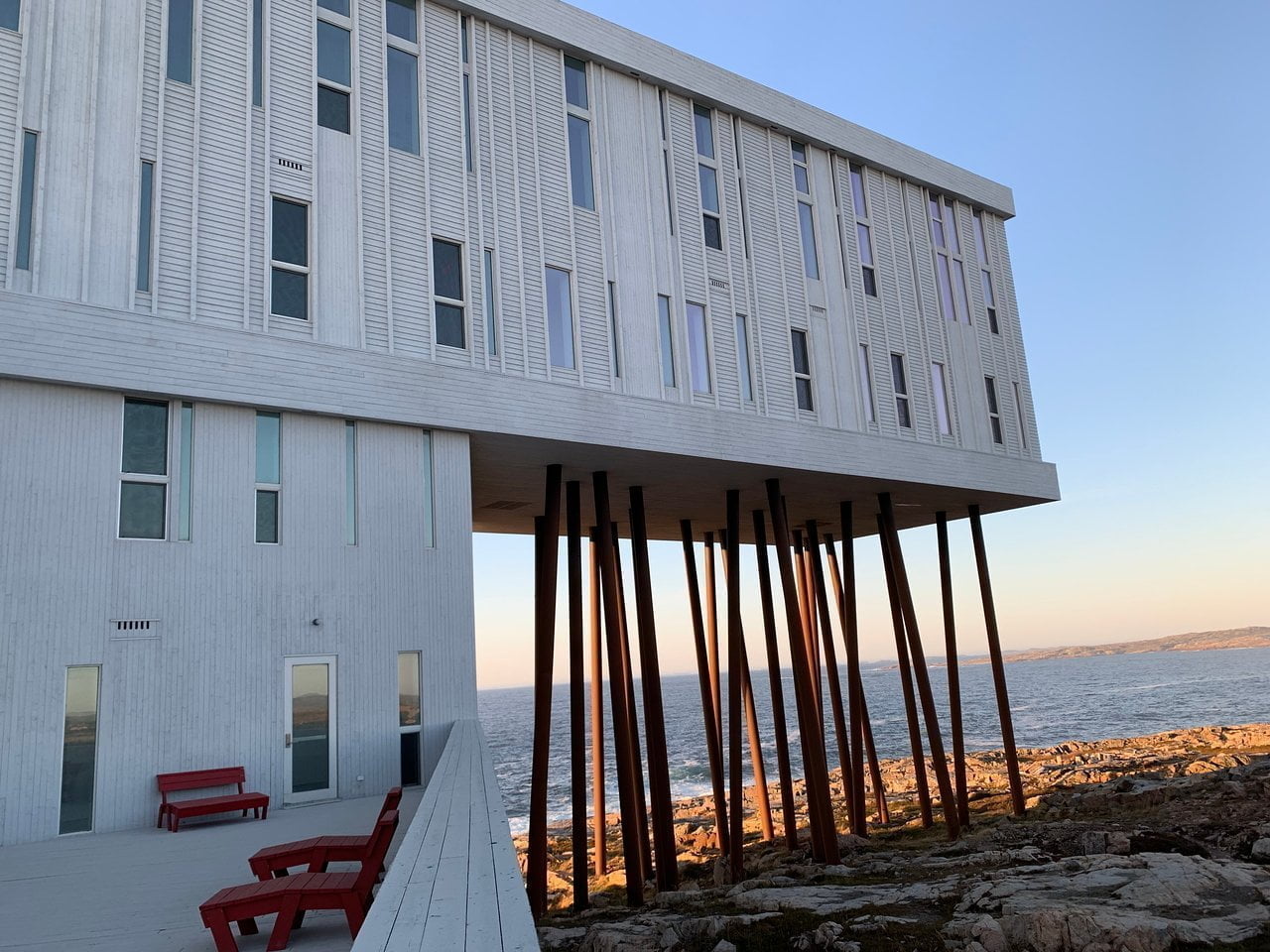 Some people are all about getaways – taking a break from their everyday lives, relaxing in some exotic location, and letting the cares of the world melt away, preferably with a Mai Tai or Tequila Sunrise on hand.
Then there are those who are all about GETAWAYS – literally getting away from it all and holidaying in completely remote locations, away from civilisation and stress and sometimes other people altogether. If you fall into this group, then we've got some prime holiday spots lined up for you – remote, luxurious, and guaranteed to put your online casino jackpot to the best use possible.
1. Fogo Island Inn
Let's go remote! Let's go to… Canada? Oh yes, if you're looking to literally get away from it all, then you're looking for Fogo Island Inn on the coast of Newfoundland, on the North Atlantic Ocean. Perched on stilts against a rugged landscape battered by the elements, Fogo Island Inn may not be everybody's first vacation pick – but if you're looking for a holiday experience that's completely unique, it needs to be at the top of your list.
With 29 luxuriously appointed suites, the inn has everything you need in a lavish living space, from floor to ceiling views in each room, to its own saunas and outdoor bath tubs, a library, art gallery, gym, cinema, and tea room too. And if you're feeling brave enough to venture outdoors, you'll have the stark beauty of the wilderness to explore, with caribou, foxes and even whales to spot too, if you're lucky. Walk the trails, take a hike, explore your surroundings, and pick a few of the area's famed berries – or watch the icebergs as they float down Newfoundland's renowned Iceberg Alley. In this isolated location, every experience is a memory worth making, one that'll live on longer than any Instagram shout-out ever could.
2. Pikaia Lodge
From eastern Canada to the Galápagos Islands – more specifically, Santa Cruz Island, and its remote Pikaia Lodge, nestling on a plateau between two extinct volcanic craters. That's right – volcanoes. No normal boring ground level hotels here, instead we're going to volcano villas, although thankfully without the searing hot lava part. With 14 gorgeous villas set against the volcanic backdrop and breathtaking views of the surrounding landscapes, Pikaia Lodge has to be seen to be believed. But it's not all volcanic ash and steam – instead it's lush forests, savannahs, and the ultimate in relaxation, with a blissful infinity pool and a 100-foot private yacht too. Take the yacht out for a snorkelling adventure and lose yourself in the tranquillity of it all – no hordes of people to contend with, just marine life swimming past and all your troubles floating away.
3. White Desert Camp, Antarctica
We've done fire, now let's do ice – at the White Desert Camp in Antarctica of all places. Choose your adventure during the day, sleep in a sumptuous pod at night – it's the ultimate combination of glamping and exploration, and it's a holiday opportunity that's not to be missed!
Just five hours' flight from Cape Town, South Africa, Antarctica's White Desert Camp offers four different adventures for intrepid explorers, each one designed to showcase the frozen beauty of the South Pole. Ready to get started? Then you'll set off from White Desert's Whichaway camp, an ultra-luxurious eco-camp with six state-of-the-art sleeping pods, a kitchen, shower pod, lounge and dining room, with space in the camp for just 12 guests in total – so it's not only glamorous, it's wonderfully exclusive as well. Although you'll have one of the world's toughest climates to contend with outside, you'll have one of the most luxurious interiors to enjoy inside, along with gourmet meals prepared by an award-winning chef as well. So if it's a once-in-a-lifetime experience you're after, White Desert Camp is where you'll find it. Just take some very warm clothes and a sense of adventure!
4. Awasi Patagonia, Chile
Let's get out of the cold and back somewhere a little warmer, shall we? How about Awasi Patagonia – a hotel made up of 14 villas, located in the Patagonian region of Chile. If you were keen on Fogo Island Inn's stilts set-up, but not so keen on the wilderness location, then this could be a better fit for you – as not only is it also built on stilts, it's set within a lush natural reserve, surrounded by forests and a glittering turquoise lake.
Given its remote location, the hotel doesn't offer Wi-Fi in its suites, but when you have your own hot tub and wood burning stove to enjoy, as well as your own luxurious living space, Wi-Fi will be the last thing on your mind. Even better, you'll be able to get back to nature with your own private guide and 4WD vehicle, so you can explore the surrounding terrain either in your vehicle or while on a hike, with a pro by your side at all times. And when you've had your fill of the outdoors, you can venture back indoors to a delicious meal, featuring local seasonal produce and mouthwatering flavours. It's not just a holiday – it's a celebration of all things natural, and all things luxurious too!
5. Singita Lebombo Lodge
We mentioned South Africa before briefly – now let's take a proper look at it with the Singita Lebombo Lodge, located in the country's famed Kruger National Park. With 13 suites built to feel like eagle's nests, the lodge has a unique treehouse feel, suspended dramatically above the N'wanetsi River, and including a roof terrace, library, multimedia room, private pool, espresso bar, and deli. Take in the views from your elegant glass-walled suite, spend a night under the stars on your private wooden deck, and luxuriate in the beauty of your surroundings morning, noon and night.
Of course, what's an African adventure without a game drive – which you'll be able to enjoy at your leisure, along with safari walks, spa treatments, visits to the lodge's boutique, gallery and fitness centre, and a stargazing experience too. One remote wilderness adventure – a lifetime of memories to look back on.