The world's most luxurious train journeys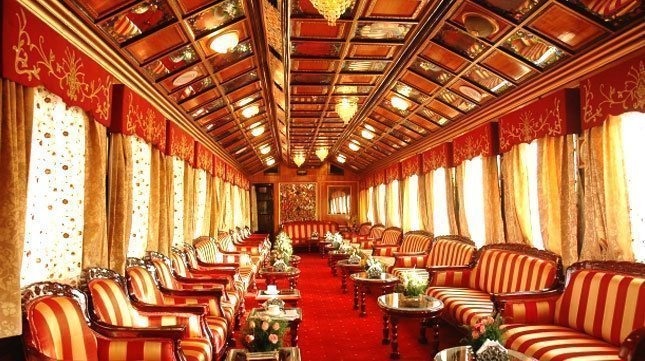 What a YEAR 2021 has been – and it's not over yet. If you feel like you could use a holiday, you're not alone. At this point we could all use a little R&R – and the more luxurious, the better. But why go the traditional route of flying to your destination when you could make the journey part of your holiday as well? That's what travelling by train is all about, and that's why we've found you some of the world's most extravagant train journeys – to make every minute of your vacation as relaxing as possible, from beginning to end. Choo choo.
Palace on Wheels – India
We're done – the name's already sold it for us. The Palace of Wheels is one of India's most luxurious trains, and we are here for it! With 23 coaches, 14 saloons (yes please!) and a spa as well, this is more than a palace on wheels – it's heaven on earth!
Leaving from New Delhi and passing through cities such as Jaipur, Udaipur, Agra and more, the Palace on Wheels is a seven-night, eight-day journey of sheer extravagance in every way. Get ready for a visit to the famed Taj Mahal, the Ranthambore National Park, and the Bharatpur Bird Sanctuary, to name a few highlights – and if you're feeling adventurous, a tiger safari too!
Of course, while there's plenty to excite and delight when you disembark, there's just as much to keep you captivated on board the train as well – it's not called the Palace on Wheels for nothing. Think super plush, comfortable furnishings in your deluxe master suite and lounge, fully kitted out with modern must-haves like satellite TV, Wi-Fi and air-con too. Feast on tantalisingly delicious gourmet meals, and indulge in sheer relaxation with a wide variety of spa treatments to choose from. It's everything you need to pamper mind, body, and soul, all wrapped up in the romance of luxury train travel. Your palace has arrived – all you need to do is come on board!
Seven Stars – Japan
Want to travel through the Japanese island of Kyushu and indulge your love of gaming at the same time? Then you want to book a trip on Japan's opulent Seven Stars train… but it's not quite as easy as you might think. That's because demand for bookings on this 28-seater train is so high, that a lottery has to be held in order to allocate rooms fairly. Put your name in for consideration, and if you're chosen as one of the winners, you'll then be able to officially book and purchase your space aboard what many call 'the world's most luxurious train'.
Why the title? Well, thanks to its gorgeously appointed carriages inlaid with wood panelling, handmade porcelain in the bathrooms, and meals that look more like art than food, it's a reputation that's well-deserved. But don't take our word for it – enter the lottery to book either a two-day, one night trip, or a four-day, three-night trip, and you'll be able to explore Kyushu in all its volcanic landscape glory, with national parks and hot springs to delight in as well. Seven Stars train, five-star service, Japan here we come!
Belmond Andean Explorer – Peru
Here's a country you may not have thought of visiting by train – Peru. And yet if you missed it, you'd be missing out on a once-in-a-lifetime voyage aboard its Belmond Andean Explorer, one that travels the historic 600-year-old Inca Road System.
Of course, this is no stuffy, old-fashioned journey – instead it's a party right from the word go, with a welcome band, traditional dancers, and 50 members of staff on hand to bring you a glass of bubbly whenever you like! (They'll bring you tea or coffee too, but we're just here for the bubbly, let's be honest.)
It's not just one of the liveliest train journeys, it's one of the highest as well, departing from Cusco and journeying through the Andean Plains, on an elevation that feels as if it might lead up through the clouds themselves. So if you need to be brought back down to earth, just visit the Piano Car Bar for a drink, take in some entertainment, or sip a divine Pisco Sour from the train's observation car. Whether you choose a one or two-night stay aboard this one-of-a-kind luxury train, it's a journey you'll remember for a lifetime to come. Cheers to that!
Rovos Rail Pride of Africa – South Africa
From South America to South Africa, and one of the most magnificent trains on the continent – Rovos Rail. Book your suite aboard this luxurious locomotive, and you'll travel from Pretoria to Cape Town on a three-day journey that'll leave you wanting to return again and again. Travel from the Highveld through the deserts of the Karoo, all the way to the forests, beaches and famous mountain of Cape Town. Take in the scenery and the winelands, then finish your journey at Cape Town station, and enjoy a holiday of your own making in South Africa's most diverse and cosmopolitan city.
It's not all about the scenery and the destination though, it's about the journey too, and with Rovos Rail, it's one that'll exceed all your expectations of luxury. Step on board and step back through time, in a Pullman-style carriage designed with the 1920s in mind. Think gorgeous Edwardian furnishings and modern conveniences – the best of both worlds in one. So if South Africa has always been on your bucket list, tick it off in sumptuous style aboard Rovos Rail, and enjoy every minute of your superb African adventure.
Ready to leave reality behind and take a train journey through luxury and lavishness? Then start planning your holiday and make sure it's one that'll live in on in your memory for years to come. Be warned though, extravagant train holidays don't come cheap, so you'll need to start saving. Of course, if you've got a casino jackpot in your back pocket, so much the better. Because if you've been wondering what to spend it on, we have only three words for you: "Your carriage awaits!"