The world's most romantic casino destinations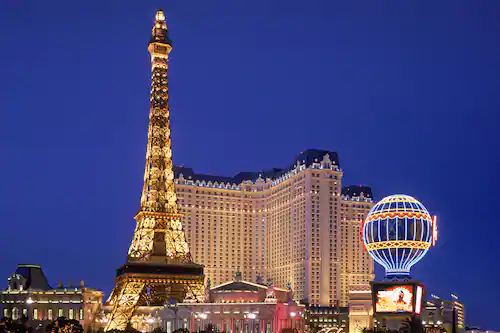 Casino's are just romantic. Let's round out the month with a look at some of the world's most romantic casino resort destinations. Of course you're too late for Valentine's Day this year. But why not get a jump-start on 2023 and start planning the ultimate getaway in advance! You could soon find yourself racking up some serious brownie points as a result.
1. Paris Las Vegas, Las Vegas, USA
No that's not a typo. Because while the French capital of Paris is widely considered to be the world's most romantic city, there's something extra that Paris Las Vegas adds on top of that. Gambling!
Located conveniently on the brightly lit Strip, the Paris Las Vegas Hotel & Casino is the best of both worlds. A themed French experience with all the sights you've always wanted to see. All the gambling games you've wanted to play… with that sensual French atmosphere thrown in for good measure. Featuring an actual replica of the famed Eiffel Tower and endless photo opportunities. It's almost as good as being there in person, and perhaps less crowded too.
Romantic delights are what we're about
But the romantic delights don't end there. Once you've had your fill of the games on offer, you can fill up in a different, more delicious way with a candlelit dinner for two at the hotel's exceptional Gordon Ramsay steakhouse. And if you're looking for a little entertainment after that, head over to Le Théâtre des Arts and take in a show. Or shake your groove thang at the Chateau nightclub and dance the night away!
Of course, if you're looking for the most memorable Vegas experience of all, you can even choose to get hitched. Nothing says romance like getting married by an Elvis impersonator at one of the many, many chapels dotted throughout Vegas. But at just $50 for a drive-thru ceremony, it's value for money. And, it's something you'll have for the rest of your life!
Make it memorable!
So, will you take a gamble on happily ever after in Vegas? Or will you stick to the sights and sounds of the Paris Las Vegas Hotel & Casino instead? Either way, it's sure to be a trip you'll remember for years to come!
2. Atlantis Paradise Island, the Bahamas
From the bright lights of Vegas to the beaches of the Bahamas – you can't deny that an exotic island holiday isn't a hugely romantic getaway. But this isn't any casino resort we're going to. It's Atlantis Paradise Island. And it's an adventure in water features and attractions. From waterslides to lagoons to pools and so much more. Because there's nothing like being in swimming gear all day to spice up the romance!
If Atlantis Paradise Island sounds slightly familiar, it's because we've featured this resort before. But for a different reason. That's because not only is it big on romance, it's big on deliciousness too. Thanks to its famous restaurant, Café Martinique. We've already highlighted this gourmet eatery in our look at the world's best casino restaurants. But it's worth another mention, especially where romantic mini-breaks are concerned.
Paradise? yes please!
Let's not forget why we're here though! Because in addition to spectacular water attractions and mouthwatering delicacies, Atlantis Paradise Island also features an unbelievable 100,000 square feet of entertainment space. Packed with venues for concerts, basketball games, golf, a dolphin habitat, an aqua centre and even underwater tunnels too. Plus, don't forget about the 1,000 slot machines on-site too. Everything you need to have the romantic getaway of a lifetime, and perhaps even hit a life-changing jackpot as well!
3. Venice Casino, Venice, Italy
If you're going for romance then you have to go to Venice – quite simply one of the world's most passionate cities. With a wealth of history, food, architecture, culture, and of course gaming, to make the holiday a truly unforgettable one.
Picture it: what could be more romantic than taking a gondola ride for two at sunset through the winding canals of Venice while being serenaded at every turn? It's right out of a Hollywood movie. It's an experience you could soon be having for yourself. If Venice happens to be on your bucket list of must-see destinations.
Venice is a dream!
Of course there's more to Venice than canals and gondolas. There's world-famous gaming too! Once you're done with your magical movie moment, make sure you visit the Venice Casino for a gambling experience unlike any other. From slots to table games to poker, the casino offers all the games you love. And all from a three-storey building that holds the title of being the oldest casino in the world! That's more than a casino experience. It's a pilgrimage that every player should make at least once in their lifetime. Romance, gaming, and hundreds of years of history too. What more could you want from a casino holiday?!
4. Fallsview Casino, Niagara Falls, Canada
Island waterfalls always feature heavily in romantic beach getaways. But what about one of the most famous waterfalls of them all – Niagara Falls! True, it might not be your first thought when deciding on a romantic holiday away. But in fact the falls have been promoted as the 'Honeymoon Capital of the World' for more than 100 years. They obviously have something going for them.
If you want to find out what that something is, you'll be spoiled for choice when it comes to selecting a casino to stay at. You'll find not one, but three in the close vicinity. For uninterrupted views of the falls, try Fallsview Casino (it's literally right there in the name) and get ready to snuggle up for warmth. Since the temperature can drop as low as 34F in winter. Now if that's not an opportunity for romance, we don't know what is!
Romance is money
We expect you'll want to enjoy the warm beverages and blankets for as long as possible. But if ever you want a change of scenery, you'll find plenty to see and do outside your bedroom door. More specifically, within the gigantic 200,000 square feet of casino floor that Fallsview Casino offers. With more than 3,000 slot machines and 130 table games to choose from, you'll find everything you need to satisfy your love for gaming. If you're lucky, you could even find that top payout too.
So if it's romance and gaming you're after, head to Niagara Falls in Canada – you could soon be enjoying a torrent of both!
5. Tahoe Biltmore, Nevada, USA
Staying with areas of spectacular natural beauty, we're going to remain in North America. This time, move to the Nevada side of Lake Tahoe, and the Tahoe Biltmore. If you're a nature lover, the scenery alone will seduce you. With gorgeous mountain views and a spectacular lake, all brimming with countless opportunities for outdoor adventures. You'll find sporting activities and some cool, crisp, fresh air.
Talk about romantic!
Then when you've had your fill of the great outdoors, move indoors and enjoy the charming nostalgia of the Tahoe Biltmore's interior. With a room or a cottage overlooking the lake. And if you're looking to get your game on, you'll have plenty of opportunities at the resort's casino. With more than 200 slots, a selection of popular table games, and a full service sportsbook as well. So whether you're more about the indoors or the outdoors, you'll find everything you need for the ideal romantic casino getaway, along with breathtaking views as well.
6. Casino de Monte-Carlo, Monaco
From super rustic to super sophisticated, and the home of elite gaming – Monte Carlo. We don't have to sell the romance of this destination for you – just watching movies or the annual Grand Prix is enough. Think glittering white beaches, gorgeous aqua seas, gleaming yachts and the ultimate in luxurious architecture and panoramic views.
Take me to the beach.
Then there's the casino itself – the ultra-elite Casino de Monte-Carlo, open since 1863 and the epitome of gaming glamour. No T-shirts and jeans here, instead you'll need to dress up for the experience in high style, so make sure you pack appropriately! From its elegant chandeliers to its stained glass windows, private gaming rooms and even an opera house too, the Casino de Monte-Carlo is the most exclusive gaming experience of them all, and it's one that marks the pinnacle of romantic casino getaways. Pull this off and you probably won't ever have to organise another Valentine's Day again – which makes this the gift that keeps on giving!
7. Casino Du Palais De La Méditerranée, Nice, France
No need to even leave the continent to head to this next locale – in fact thanks to highways, railways and helicopter flights, Nice is less than an hour away from Monaco, and offers just as many opportunities for romance and thrilling gaming too. Plus who could ever say no to a getaway on the French Riviera?
French Riviera? Yes please!
One of the world's most decadent holiday destinations, Nice is everything that a romantic break should be – full of sun, surf, sublime food and superior sightseeing too. Take a stroll on the beach, delight in the flavours of one of the many restaurants, and find the ultimate Instagram photo op at every turn. Then once you're done with the tourist attractions, it's time to head to the gaming attractions, served up in superb style at the Casino Du Palais De La Méditerranée.
As a five-star establishment, it's not just a casino – it's opulence in its purest form. Enjoy the ultimate in world-class gambling and service too, with every game you could possibly need, and all the adrenaline you've been searching for.
8. The Renaissance Aruba, Aruba
Time to head back to the islands – this time to Aruba, one of the jewels of the Caribbean Sea. If February falls in winter for you, then a trip to a balmy island could be just what you need to spice up your relationship and rediscover your red hot passion for your partner and for life.
Of course if you're wanting to combine your steamy getaway with an equally sizzling gambling experience, you'll want to head to a casino – and given that Aruba is home to the most casinos in the Caribbean, you've come to the right place! Our pick is the Renaissance Aruba, equally situated between the natural beauty of the beach and the electric buzz of town. What's more, the resort also has access to a private island just 8 minutes away, which you'll be able to reach via water taxi for an even more exclusive holiday experience.
VIP is always romantic
With so much to see, do and take in, don't forget about the gaming while you're there – because the resort's Crystal Casino offers everything you could possibly want from an island gaming establishment. Choose from over 400 slot machines and a huge variety of table games, plus if you're lucky enough, you might also walk off with one of their regular raffle prizes too.
It's all happening at the Renaissance Aruba, and you don't want to miss out! So make a date to head to the islands for Valentine's Day, and enjoy a couple's retreat unlike any other.
9. Borgata Hotel, Casino, and Spa, Atlantic City, USA
For our final destination we're off to Atlantic City, but don't let the location fool you – the Borgata Hotel, Casino, & Spa is the last word in luxury, and ideal for a romantic gaming mini-break. And if you're thinking this resort also sounds familiar, you're not wrong – that's because its on-site restaurant, Bobby Flay Steak, was also featured in our look at the world's best casino restaurants, just like Café Martinique previously. Which means you already know the food is good, so what about the rest of the experience?
Casinos, beach and romance
Well, if players are to be believed, it's one of the best casinos in the city – particularly if you're a poker player. But don't take everyone else's word for it – sit down at the tables and see for yourself. Then when you're done, head off to the restaurant for an intimate evening together filled with delicious delicacies, and toast to a Valentine's event that neither of you will ever forget!