True Heroes!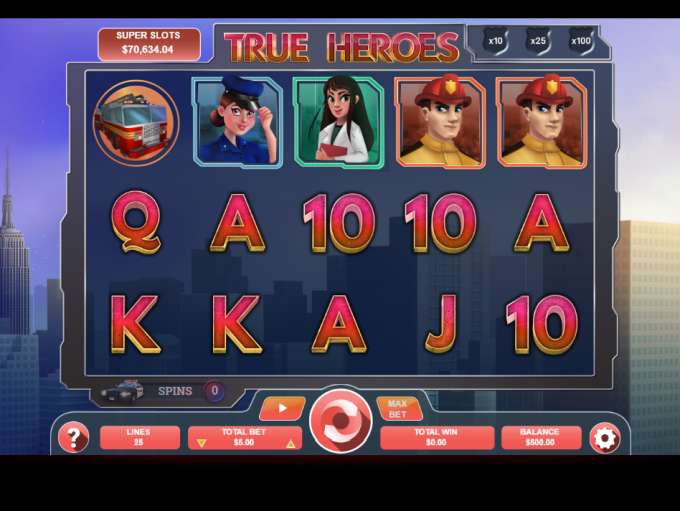 Sure we turn out in droves to watch superhero movies (thank you Marvel Cinematic Universe) but there are just as many real-life heroes working alongside us every day. It's these legends that Arrow's Edge pays tribute to in its True Heroes online slot – the police, doctors and firefighters who look after us and protect us, and could even help trigger huge jackpots too!
If you always wanted to drive a police car or ride in an ambulance as a kid, now's your chance with this fast-paced slot. With 5 reels, 3 rows and 25 paylines of pure action, you're in the driver's seat as one of our everyday heroes. Look out for multipliers, wilds and a progressive jackpot too, and you could soon be saving the day while reaping huge rewards at the same time.
Get that siren ready because you're about to give chase in your very own police car – if you find the police car on the third reel, that is. Once you do, you'll trigger the bonus feature, with three levels of winning to look forward to. In the first round, you'll win a 10x multiplier and 25 free spins. Find the police car symbol on the third reel again during your spins, and you'll move onto the second round, where you'll have a 25x multiplier and 25 more free spins waiting for you. Get the police car symbol to make an appearance again, and you'll progress to the third round, where you'll have another 25 free spins, plus a gigantic 100x multiplier too! 75 free spins and three multipliers – that's a bonus round we want to chase!
It's not just the police car you'll want to look out for though – the ambulance is every bit as exciting, as you'll soon find. Watch it pull up on the third reel, and when it does, it'll duplicate itself across the reels in one of 39 winning combinations! Even better, if you find the ambulance during the first round of your bonus round police car chase, it'll give you a multiplier of between 1x and 3x, and if you find it on the second round, it'll bring you a multiplier of between 4x and 6x! More heroes on the way to help, more winnings on their way to your bank account!
Don't forget about the firefighters in all of this! Get one firefighter symbol on each of the five reels in a winning combination, and you'll land the top jackpot of all – 5 000x your original bet! Not only that, once the Super Slots progressive jackpot hits between $40 000 and $45 000, it could trigger randomly at any time, which means once it's in the win zone, you're only ever one spin away from huge potential winnings!
Life is so much easier with true heroes taking care of us every day – and the True Heroes online slot could soon be taking care of you with a huge casino jackpot! Answer the winning call and log on to play today – it could be the best decision you ever make!
Happy Spinning 🙂