Winsanity!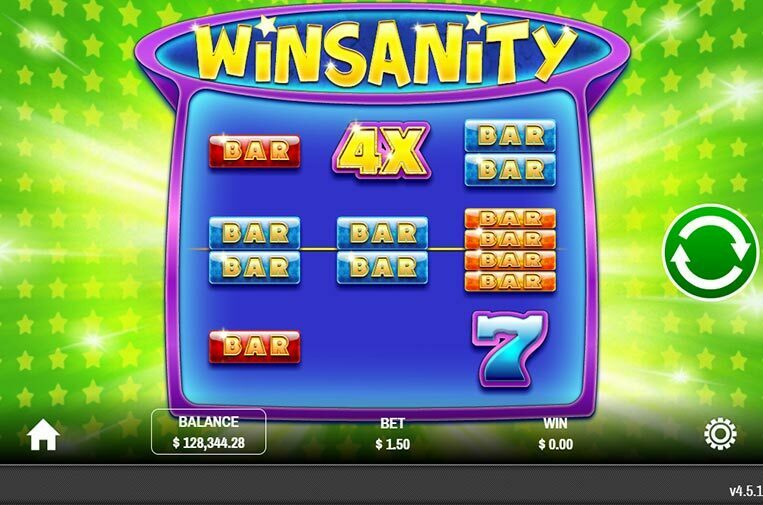 Online slot review: Winsanity
Forget plain old winning – try Winsanity instead, the all-new classic online slot from Rival Gaming! If you're all about traditional game play with a new modern twist, then Winsanity is the slot for you, with all the adrenaline, and all the winnings too!
Log on and you'll find a simple 3-reel structure that offers one winning combination on each round, with one active payline. While that may not sound particularly adrenaline-packed, just wait – because with wins of up to 3 000 coins (or up to $30 000) as well as wild multipliers of up to 6x your original bet, there's plenty to get excited about when it comes to winning. And remember, it's not just winning – it's Winsanity!
Ready, set, win!
The first element you'll notice in Winsanity is how closely it sticks to the classic theme from pub games of old. Nostalgia is the aim of the game here, with well-loved symbols like single, double, and triple Bar logos, and blue 7 symbols as well. Equally as familiar is the betting structure, which offers 1, 2 or 3 coins per bet on the game's single active payline. Choose your coin size from between $0.01 to $10 for a max bet of up to $30 per spin.
When it comes to big payouts, you'll want to be keeping a lookout for the wilds – in this case the 2x, 4x, and 6x symbols. These you'll find on reels 1, 2 and 3 respectively. As usual, any winning combinations you make that include a wild will have its multiplier applied – and if you find all three wilds on the reels at the same time, you'll be paid out 1 000x your original bet, which means if you can afford to bet max, then go for it.
What makes the wilds even more unique in Winsanity is that they act as scatters when not part of a winning combination. So while they might not pay out according to their multiplier in this case, they're still a valuable find whenever you see them on the reels, and one that's worth looking out for!
While Winsanity might not offer the bells and whistles of other, more complex slots, such as bonus features, free spins or random jackpots, it more than makes up for this with its unique brand of classic slots fun – not to mention its old-school charm too. So if you're in the mood for something a little different, or are after a return to simpler slots play, then Winsanity is a great bet for your next gaming session!
Remember – to get the most fun out of your online gambling, always keep a close eye on your bankroll, and never bet with more than you can afford to lose. Winsanity is a great game for helping you do this, as with a max bet of only $30, it's easier to keep an eye on your cash than it would be with a max bet of $200 or more. So keep your cool, keep your wits about you, and keep enjoying good gaming fun with Winsanity!
Happy Spinning 🙂