Xmas.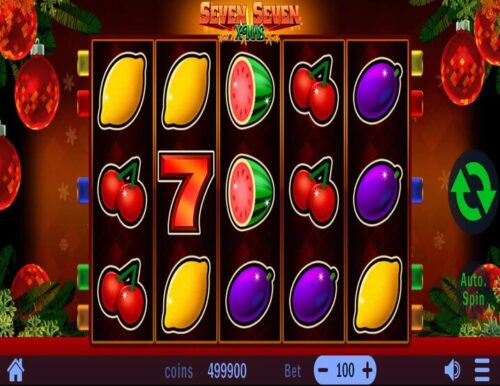 Xmas. Seven Seven Xmas. What's better than a classic online slot? A classic Christmas-themed online slot of course! That's exactly what Swintt is bringing to the reels this season with their festive new release, Seven Seven Xmas.
As you can guess from the title, Seven Seven Xmas is bringing the retro feel and then some. Look out for all your favourite symbols from lemons, plums, oranges and cherries to flaming ball scatters and of course, the 7 itself. Although this time they're set against a holiday backdrop for some extra Christmas cheer. Will you find a jackpot in your stocking come Christmas morning? You'll have to place your bets to find out!
Are you ready for Holiday spins?
If you're a seasoned slots player, you may find Seven Seven Xmas a little too simple for your tastes. But if you're a beginner who wants to take things slow, then it's right up your alley. While the game doesn't bring all the bells, whistles and bonus rounds that some more sophisticated slots offer. What it does provide is classic slots entertainment, which is exactly what new players need to get into the swing of things. No complex slots play here. Just simplicity all the way, and a fun Christmas theme to celebrate.
With a 5×3 game area to play in this xmas slot, a minimum bet of just $0.05 is all it takes to get the reels spinning. Or if you're feeling more generous round the holidays. Go all the way up to the max bet of $100 instead. Just choose whichever bet size suits your bankroll best, and get your wager on!
With an RTP of 94.35%, you'll be playing for a top jackpot of 1,000x your original bet. Which means if you're able to make a max bet, you're looking at a potential payout of $10,000. Just what you need to get the holiday season off to the best start possible!
Or you can go for this option
If your bankroll's looking a little lean though, don't go for broke. Instead manage your finances responsibly in Seven xmas and settle on a bet size you can sustain throughout your entire gaming session. Rather play a few spins that you can afford and come back another day. Than spend all the money in your account in one go. Play responsibly and you'll always be a winner, no matter what the outcome!
As we said before, Seven Seven Xmas is a classic slot. Which means it's all about actual game play and winning combos rather than flashy bonus rounds and extras. What that means is that all you'll have to help you on your way to winning. Other than Lady Luck, is a flaming ball scatter. Get this high value symbol on the reels either 3, 4 or 5 times simultaneously and you'll win 2x, 10x, or 50x your original bet respectively!
You'd better watch out, you'd better not cry. Seven Seven Xmas is coming to town and it's bringing festive fun with it. So if it's Christmas excitement you're after, we know right where you'll find it. Good luck, merry Christmas and happy jackpot hunting!