Anaconda Uncoiled online slot review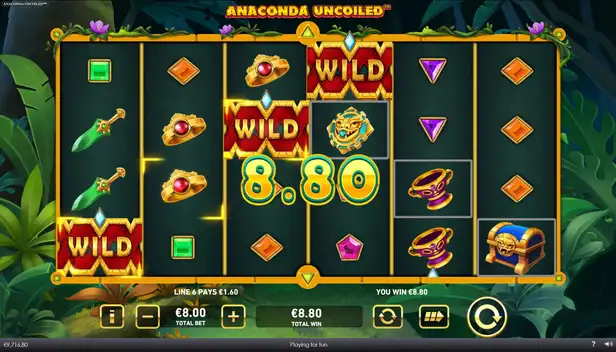 You may not be the biggest fan of snakes, but we know you're a huge fan of slots! That's why we're bringing you the latest in the Playtech anaconda series, Anaconda Uncoiled. Following on from its predecessors Anaconda Wild I and II, Anaconda Uncoiled is set to unleash even more thrills and more jackpots too, so take a deep breath and make sure you stick around for this wild ride!
As with the first two slots in the series, Anaconda Uncoiled uses the same Mayan graphics for its look and feel, with a Mayan princess, gemstones, goblets, treasure chests, rings and more making an appearance as symbols on the reels. Speaking of reels, Anaconda Uncoiled offers a generous 6×4 reel game area, with a massive 50 active paylines, giving you a wealth of winning opportunities with every spin. Along with two different wilds, respins, and an RTP of 95.94%, Anaconda Uncoiled also offers a top payout of 1,729x your original bet – so even if you do suffer from ophidiophobia (a fear of snakes) we know you'll want to stay and stake your claim to greatness!
If your bankroll's looking a little thin, no need to worry – Anaconda Uncoiled caters for all budgets with minimum bets of $0.10 and maximum bets of up to $10. Just choose a bet size you can afford, and then it's time to brave the Mayan jungles and go in search of glittering winnings!
The first bonus feature you might be lucky enough to come across could be the regular wild – a symbol that'll substitute for all others in order to create winning combos and boost your bankroll with a well-deserved payout. The more wilds you find, the more combos you'll create, and the healthier your account balance will become!
That's not all though – there's a second wild that you could come across as well, and while it might not be quite as easy to land as the first, it'll be well worth it when it finally does make an appearance. That's because when this wild lands, it'll instantly trigger wild respins for you, and cause snakes to slither out of every wild, and move randomly across the reels.
With each respin, the snakes will move across a single space on the reels, eventually finding their way back to the original wild they came from. Once this happens, the repins round will be over – although if you were lucky enough to have the snakes move outside the game area, you'll see them create an extra set of reels for you, with even more jackpot opportunities. Even better, the snakes will create wilds as they move too, giving you even more ways to add to your winning total.
We know that snakes aren't everyone's cup of tea, but in Anaconda Uncoiled, they could soon bring you that heart-pounding slots jackpot you've always dreamed of! So the next time you're ready to spin the reels, why not give Anaconda Uncoiled a try? You'll soon see that there's so little to fear, and so much to be won!
Happy Spinning 🙂