Are you making these online slots mistakes?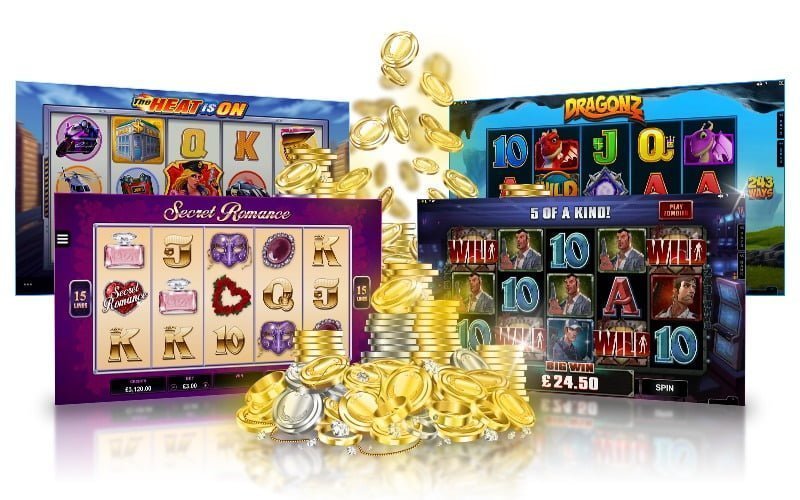 There's just something so enticing about spinning the reels on slot machines. The lights, the sounds, the promise of huge jackpots with every spin… it's a defining part of casino entertainment and one that thousands of players enjoy, both at land-based casinos and online.
If you're a slots fan yourself, you already know about the allure of the reels and the thrill of winning – but did you know that there are some mistakes you could be making along the way as well? While slots play relies entirely on chance, and there's no strategy for winning, these slots mistakes could be preventing you from fully enjoying your slots experience, and making the most of every spin. So take a look at our list of what not to do, and start taking your own slots play to the next level!
1. You're making too many spins
We didn't think this could actually be a thing (it's possible to spin the reels TOO often?) but it turns out that it is. And in fact it's a pretty big mistake too. If you're just blindly hitting the spin button over and over without waiting to see what you've won or lost, there's only one definite outcome, and that's a huge hole in your bankroll.
As we've already mentioned, there's no way to strategize a win when it comes to slots – every single roll of the reels is completely random and is dependent entirely on luck. So if you're spinning the reels like a whirlwind, hoping to fit in as many lucky wins as you can in a certain time, you'll soon be out of luck, and out of money as well.
With the house edge on slots being what it is, over a long period of time the house is always going to win. So how do you counteract this? By waiting until you've got a few slots wins to your name, and then cutting your losses and moving on. You can't play strategically, but you can play smartly, and that involves protecting your bankroll at all costs. You don't want to give the casino all your money, and you don't want to wind up with a giant zero as your account balance. So once you've had enough spins to have fun, and you've had a few wins too, take a step back and move to a different game. There's no rush, and there's no reason to keep hitting the spin button like a maniac – just breathe deep, play at a measured pace, and enjoy every moment of it!
2. You're not playing with a bonus
You know the importance of managing your bankroll, particularly when it comes to slots – but do you know how bonuses can help you manage your money effectively? As we touched on in the previous point, if you're not careful with your slots play, you could end up wiping out your account balance in just a few spins. And while keeping an eye on your bankroll can help you protect it, there's another method that's equally as effective – playing with bonuses.
Ah, one of the biggest perks of gambling online – the casino bonus. Whether it's a welcome bonus, a reload bonus, a loyalty bonus, payment mechanism bonus or any one of the many bonuses that casinos routinely offer to their players, there's always some type of bonus up for grabs at a reputable online casino. And if you're not taking advantage of all of them, you're missing out.
Quite simply, claiming casino bonuses is by far one of the easiest ways to make your money go further. Because why play with your own money when you can play with the casino's instead? So whether it's a no deposit welcome bonus or a reload deposit bonus on offer, say yes, meet the requirements, and get spinning! Not only will you have extra money to play with, you'll also strengthen your status as a loyal, regular player – which could qualify you for even better bonuses down the line. There's no down side here, only thrilling bonus money to play with!
3. You're only playing one type of slot
We get it. You love your 5×3 reel, 20 payline video slots. But are you missing out on all the action in the 3-reel classics or the multi-reel progressives while you're playing? There's nothing wrong with having a preference for a certain type of slot, and there's nothing wrong with only playing the same two or three games every time you log on. But if you find your sessions are going nowhere and you're not boosting your bankroll with any type of slots win, it might be worth spreading your wings and seeing what else is out there.
So the next time you're feeling stuck in a session, browse your casino's slots selection and see what else is out there. It'll stop you from being bored with your regular games, and it could help open you up to new titles, new ways of playing, and hopefully some new wins at the same time. All the slots entertainment you love, and all the thrills too – it's a win-win!
4. You're not playing by the rules
Or to be more precise, you're not reading the rules, so you're not aware of all the ins and out of the particular slot you're playing, or the particular bonus you're claiming. When it comes to slots bonuses, reading the rules is paramount, to ensure you're meeting all the wagering and play-through requirements correctly before requesting a withdrawal. Neglect these rules, and you could find yourself being disqualified from receiving your bonus, or having to pay it back. So when it comes to slots bonus terms and conditions, reading the rules isn't just a 'should do', it's an absolute 'must do'!
Then there are the rules relating to the actual slot machine you're playing. When it comes to making wins in the base game, triggering special features or playing for bonus prizes, there are always rules governing wins, features and bonus rounds – and the more you know, the more informed your game play decisions will be. What do you need to do to trigger a win? What do you need to activate to play for the grand prize jackpot? If you can answer all these questions and more about your slot before you hit the spin button, you'll already be a better player without having placed a single bet.
5. You're using a betting system
How many times do we have to tell you? Slots rely entirely on luck – there's literally no way to strategize a win when it comes to spinning the reels. Yes there are ways to limit your losses, and yes there are ways to maximize your enjoyment of slots as a whole, but when it comes to winning, it's just you and Lady Luck – no systems or strategies to be found.
What this means is that if you've spent money on a 'get rich quick, 100% guaranteed' slots betting system, we're sorry to say that you've wasted your hard-earned cash. Also if you're relying on the premise of a slot being 'hot' (paying out) or 'cold' (not paying out), these concepts don't actually exist. All that exists when it comes to slots is the algorithm that ensures each outcome is completely fair, and completely random as well. So don't waste any more time and don't throw good money after bad. Instead enjoy slots for what they are – a hugely entertaining pastime – and put any and all strategies behind you.
6. You're not betting max
Don't misunderstand us. If you can't afford to wager the maximum amount on your chosen slot, then only wager what you can. Betting too much on slots will wipe out your bankroll in minutes, so in order to manage your money effectively, you'll need to work out what you can afford to spend, and stick to that limit.
However, if you CAN afford to bet max, and you're not, then you're missing out on huge winning opportunities. That's because not only will wagering the maximum activate all the slot's paylines, it'll qualify you for the top payout as well – which, if you're playing a progressive slot, could be in the millions! Wagering less will qualify you for less, wagering more will qualify you for more. Which means if you can afford to make those max bets, then don't hold back – the jackpots are waiting!
7. You're chasing big wins
So you've won a very decent amount on slots? Well done to you! Another question. Why are you still playing? As we said back in the very first point, the point of playing slots isn't to cram 500 spins into one gaming session – it's to have fun, enjoy a few wins, and then leave before you make too big a dent in your bankroll. If you've been lucky enough to hit on a big win, that's fantastic – but don't follow it up by staying in the game and chasing another big win. Because chances are all you'll end up doing is losing everything you've just won, and more besides.
Instead, you know what the right course of action is? To get out while the going's good. Decide which portion of your big win you'll keep in your bankroll, how much (if any) you'd like to withdraw from your casino account, and then leave the game. Don't be tempted into chasing another big win, and don't fall into the trap of blowing through your entire bankroll in minutes. Be sensible about it, be responsible with your money, and you'll always be able to come back and play another day – and perhaps repeat your electrifying winning experience all over again. Good luck!
Happy Spinning 🙂