Binge-worthy TV gambling shows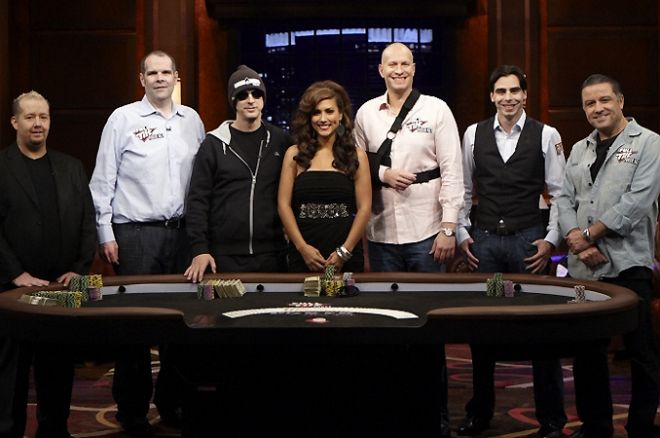 We don't know about you, but as much as we love gambling, we also love sitting down to a good series and watching 3 or 4 (ok, 8) episodes in a row. With snacks, obviously.
Of course with gambling being such a popular pastime, there are plenty of TV shows that dial into that same glamour, suspense and drama – because if nothing else, it makes for gripping viewing. So grab that remote and settle down with some popcorn. We've got some binge-watching to do!
Sneaky Pete
You may know Giovanni Ribisi as Phoebe's ditzy brother from Friends, or as Nicolas Cage's tattooed brother from Gone in 60 Seconds, but in Sneaky Pete, this versatile actor comes into his own as a con artist with some interesting tricks up his sleeve.
Telling the story of an ex-con who assumes the identity of his former cellmate in order to outrun a gangster, Sneaky Pete takes us into the heart of casino gambling as the titular character uses his gaming skills to outsmart his enemies – and of course there's plenty of crime, drama and action to be enjoyed as well!
If you're a fan of Breaking Bad, the fact that Bryan Cranston is one of the show's co-creators could be of particular interest to you. And while Sneaky Pete is no longer onscreen, having aired from 2015 to 2019, you can still take a look at all three seasons on Amazon Prime – perfect viewing for whenever you have some downtime between gambling sessions.
Poker After Dark
Less of a serialized TV drama and more of a real-life look at actual game play, Poker After Dark aired for seven seasons on NBC from 2007, before being cancelled in 2011 and subsequently rebooted in 2017.
Showcasing all the drama and strategy of real life Texas Hold'em, the show followed the fortunes of a group of poker players as they took part in a week-long tournament, with a top prize of $120,000 to be won on the final day. With microphones on each player, Poker After Dark was able to give viewers an up close and personal look at professional poker from the inside, real stakes and bluffing included.
Although the show went through a period of cancellation due to a criminal case in 2011, it was picked up again in 2017, and can now be streamed on PokerGo. So if you're after actual poker tips and tricks that work in the real world, get a pen and paper and sit down to Poker After Dark. Who knows – what you learn now could end up paying off later in a big way!
Las Vegas
If you like a little glitz and glam with your gambling, then Las Vegas is where you need to be – literally, as the series Las Vegas brought all the sophistication and then some.
Following the lives and loves of a group of workers at a fictional Las Vegas casino, the series propelled its leading man Josh Duhamel into the spotlight and instantly captured the attention of audiences. Featuring big name actors like James Caan, an ex-CIA operative turned head of operations, Las Vegas was slick, polished, and hugely watchable.
While the show's plot points were obviously more on the sensational side, Las Vegas did give viewers a reasonable behind-the-scenes look at casino operations, while showcasing the town of Vegas at the same time. Although it was eventually cancelled after five seasons, it's still a very decent watch, and once you start with episode 1, it's likely you'll find yourself instantly riveted. You have been warned!
Stan Lee's Lucky Man
If you're a Marvel fan, you'll know exactly who Stan Lee is – world-famous comic book creator, writer and publisher. But while he's more known for the superhero stories he put to paper, he was also responsible for bringing a different kind of hero to the silver screen – a homicide detective with the power to control luck.
Titled Stan Lee's Lucky Man, the story centres on Harry Clayton, a gambling addict who comes across a bracelet that turns him into a very lucky man indeed. Deep in debt and having lost his family, he sets about using his super powers to change his life – and the ensuing events make for gripping watching. Starring veteran Irish actor James Nesbitt as the main character, Stan Lee's Lucky Man ran for two seasons from 2016 to 2018, and aired on Britain's Sky 1. If you can find it to stream, it's well worth a watch.
Breaking Vegas
Here's a series that sounds like fiction, but is actually fact. Titled Breaking Vegas, this insider look at gambling tips and tricks aired on the History Channel in 2004, and put the spotlight on gamblers who used extraordinary means to come out on top.
While Ocean's Eleven put together a series of elaborate hoaxes to take money from the house, the gamblers featured in Breaking Vegas were shown to do things a little differently – and it's here where the show sparked viewers' interest, breaking down the various techniques and strategies used to gain an edge over the casino.
While some mechanisms used were outright cheating, such as illegal scams, card marking and sleight of hand, others were no more than advantage gambling, such as card counting, and controlling the dice in a certain way. So if you've ever wondered what it actually takes to beat the house at its own game, Breaking Vegas could be the show for you. Just don't try any of the tricks yourself at an actual casino – you don't need that kind of drama in your life.
Ready to get your binge on? Then get your watch list all set up, get those snacks in place and settle in for non-stop excitement. Also close the blinds and put your phone on silent while you're at it. Because gambling is fun when you're at the tables yourself, but when you can watch others play and learn from their mistakes without risking any money of your own? Now that's what we call top quality entertainment!