Break the bank with Pork Knox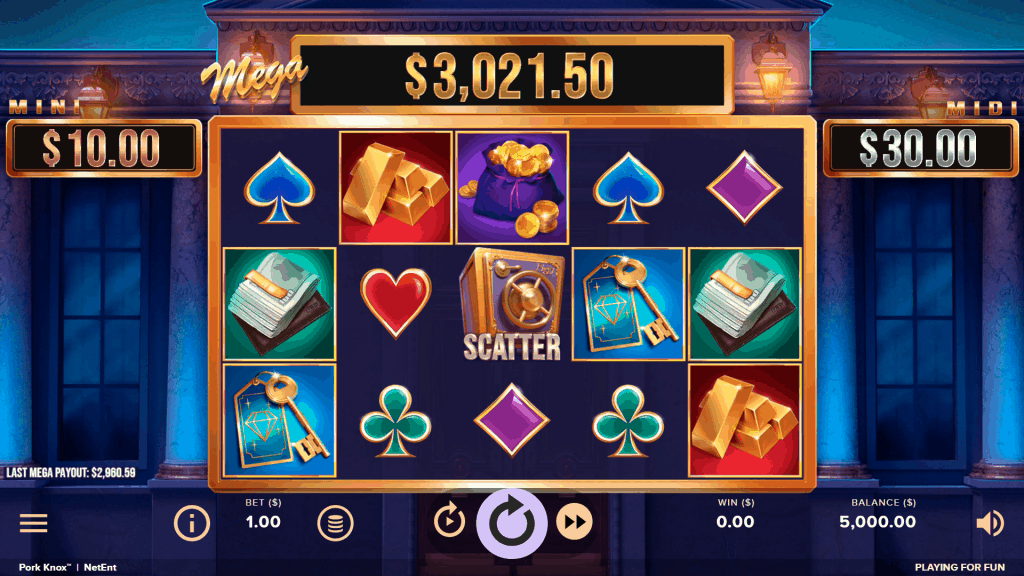 You've heard of Fort Knox right, the US Army installation in Kentucky that houses the USA's gold reserves? Now get ready for Pork Knox, the brand-new slot from NetEnt that could soon be bringing piles of gold your way!
Taking the concept of the piggy bank one step further, Pork Knox is all about glittering gold and fantastic treasure, with gold bars, coins, cash, keys, and a safe all rolling around the reels, ready to line up in the most rewarding way possible.
So what does the Pork Knox piggy bank have in store for you when you crack it open? An entertaining 5 reel format, 20 paylines, an RTP of 96.02%, two fixed jackpots, plus a progressive jackpot too! Not to mention thrilling features like scatters, free spins, multipliers and a Cash Stacker besides.
Usually you'd fill your piggy bank with your allowance, and it's sort of the same with Pork Knox – except here you'll be placing bets instead. No weekly allowance needed; instead a wager anywhere from $0.20 to $100 will be enough to get those golden reels rolling!
Once you've placed your bet, keep an eye out for the symbols that'll help to boost your bankroll – starting with the all-important scatter, in this case, a safe symbol. Find 3 of these when the reels come to a stop, and you'll have instant access to the Pick Me bonus round, one that'll either take you to the Cash Stacker bonus game, win you instant free spins, or reward you with an awesome cash prize!
If you're lucky enough to have the cash come your way, your reward will depend on the number of scatters you find, with your prize being anywhere between 7.5x and 250x your original bet. That's if you trigger the game with 3 scatters – get 4 or 5 and your instant cash prize will automatically be doubled or quadrupled! So if you find the max number of scatters, you'll get the max payout of 1,000x your wager – which, if you can afford to bet max, could mean a hugely rewarding payday for you!
When it comes to free spins, the number you're awarded will also depend on the number of scatters you find to trigger the Pick Me game. 3 scatters will win you 10 spins, 4 will win you 15, and 5 will win you the max of 20. Even better, no matter how many free spins you win, you'll have a 3x multiplier applied, so all your wins at the end of the round will be instantly tripled!
Finally, if you're directed to the Cash Stacker bonus game, you'll have a shot at either the two fixed jackpots, Mini and Midi, or the amazing Mega progressive jackpot itself! Activate this game and you'll be taken to a new game area with 5 reels in a variety of sizes. Keep your eyes at the top of the game area as that's where the symbols will drop down from – either special Cash Stacker symbols that will drop to the lowest point on the reels and stay there, or blank symbols. You'll start your round with 3 spins, and every time you find a Cash Stacker symbol, your total will reset to 3 again.
Fill a whole row with Cash Stacker symbols and you'll be rewarded with a multiplier of 2x to 5x. Fill reel 2, and you'll win the Mini jackpot of 10x your original bet, or fill the whole of reel 4 to win the Midi jackpot of 30x your initial stake. And finally, fill all 7 positions on the middle reel with Cash Stacker symbols and you'll win the big one that everyone's after – the progressive Mega jackpot!
It's called Pork Knox because it's full of golden winning opportunities! Make this your next slots choice, and the rewards could soon be yours!
Happy Spinning 🙂