Cleopatra: Eye of Cleopatra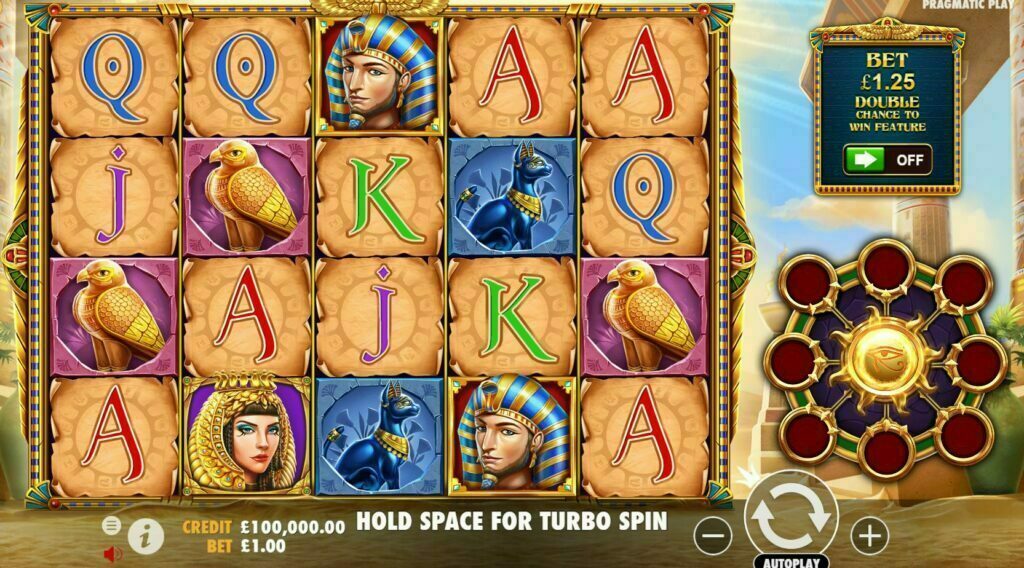 Eye of Cleopatra – as slots themes go, ancient Egypt is always a popular choice. Spectacular scenery, gods, hieroglyphics, and an era shrouded in mystery. We're always up for a good Egyptian-themed slot. Which is why we've got our eye on this pick:
Search for jackpots with the Eye of Cleopatra
It's safe to say that almost everyone has heard of Cleopatra. Queen of Egypt, known for her stunning beauty, an affair with Mark Antony, and tragic death by asp. Her legend still lives on centuries after her passing. Which makes it no surprise that she's the feature focus of Pragmatic Play's new title, Eye of Cleopatra.
With its eye-catching graphics, Eye of Cleopatra brings ancient Egypt to life. Making use of themed symbols such as the gods Horus and Bastet, a pharaoh, cobra, an eye of Ra wild, and Queen Cleopatra herself.
Laid out on a 5×4 reel game area with 20 active paylines, Eye of Cleopatra promises huge rewards. In the form of a top 4,000x jackpot, with free spins, scatters and wilds helping you along the way. Place your bet anywhere from $0.20 and $100 and see exactly what kind of treasures Cleopatra has in store for you!
Start the reels rolling on your Egyptian Adventure!
If you come across any wilds, they'll immediately lend a helping hand as they substitute for other symbols in order to create winning combos. However, the wilds play another important role too – that of wild patterns.
An innovative new feature from Pragmatic Play, wild patterns trigger randomly, lighting up a pattern in the eye on the right-hand side of the game area. Once the eye begins to light up, it'll take any wilds currently on the reels, and move them into the positions shown by the lights. These patterns could take the form of an X or a diamond, or show up as rows or columns. It's all random, and it could be just the winning boost you're looking for!
Speaking of winning, Eye of Cleopatra could have plenty in store for your bankroll with its free spins feature. Either take advantage of the ante bet feature that allows you to pay an extra 25% in return for better chances of triggering the free spins. Or activate them the regular way by finding 3 to 5 scatters on the reels.
Free Spins are crucial!
However you get to the free spins feature though, the way you play it depends on the number of triggering scatters found on the reels. With wild patterns playing a role too:
10 to 30 free spins with patterns of 4 wilds
8 to 24 free spins with patterns of 6 wilds
6 to 18 free spins with patterns of 8 wilds
A number of spins and patterns decided upon randomly
So take a trip down the Nile with Eye of Cleopatra at your nearest online casino today. She could be watching you, and she could deliver huge jackpots as a result!