Cubee or not Cubee, that is the question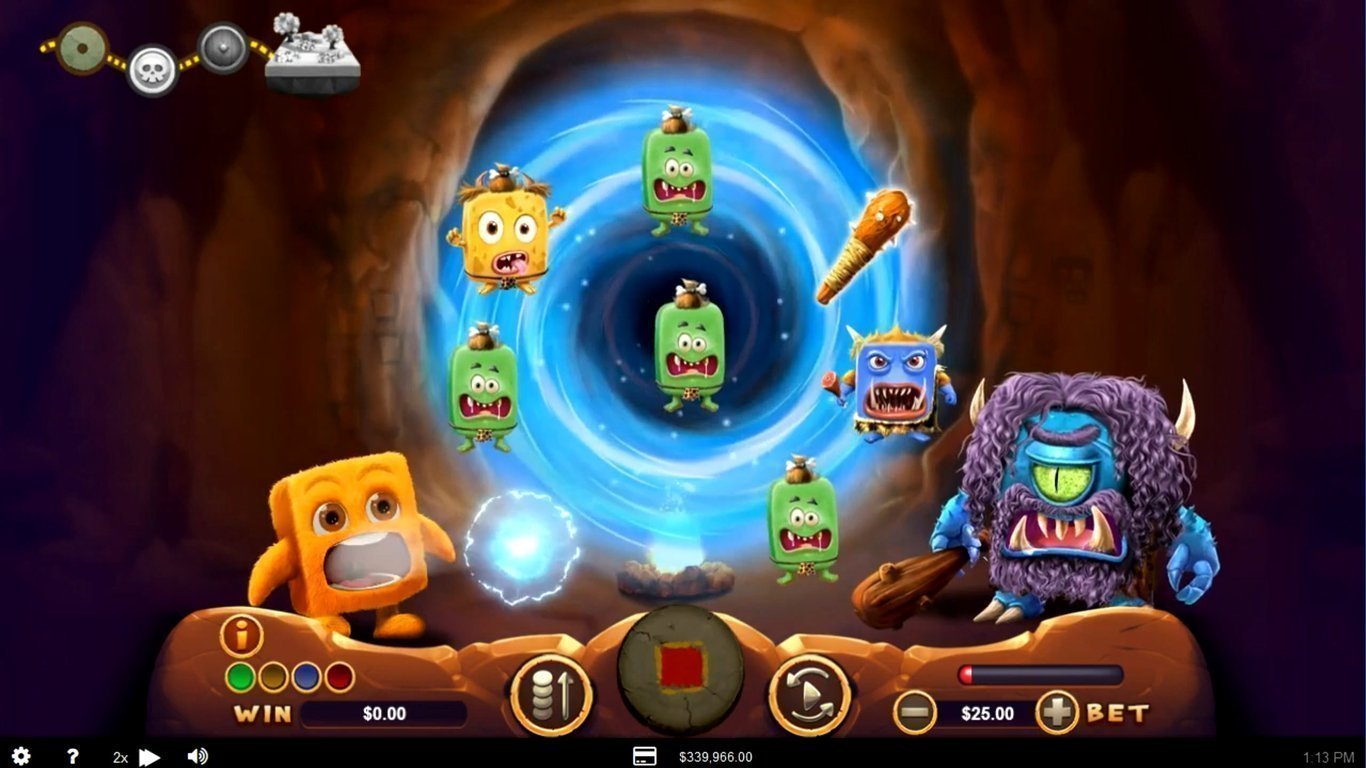 Apologies to William Shakespeare but we literally could not resist! And things just get weirder the more you look at this wacky online slot – something we can promise you that you've never seen before!
If you're tired of the same old reel and column slots, then this unusual offering from RTG is one you'll want to sit down with, and most likely return to again and again. Never heard of orbital reels? You're about to – and you're about to experience what online slot innovation looks like!
Fight alongside Cubee and win
Introducing Cubee, the cube-shaped character whose job is to fight monsters and win. In total he has four monsters to go up against – green, yellow, blue and red, each colour one level higher than the last. Cubee also has energy balls and weapons to contend with too, which will appear on the reels along with the other symbols. With us so far? Then let's continue.
If you're looking for regular reels in this game, you'll be looking for a while. That's because the Cubee slot makes use of what are known as orbital reels (reels arranged in a circular formation) on which you'll need to match 3 to 8 scatters in order to win. Move up the different levels, win different prizes, find different multipliers, and you could be playing for that top line bet payout of 50,000x your original bet!
With no individual active paylines, all bets you make will be for the whole reel play area, giving you a betting range of $1 to $20 per spin. And while the ultimate jackpot is set at 50,000x, Cubee's volatility is set at medium to high to compensate, which means you'll have to be patient if you're in search of a big win.
Decide on your bet size, hit the spin button, and the game's Time Travel Portal will instantly be activated, with 8 monsters on the screen to fight. Cubee will be able to battle successfully against enemies of the same strength or weaker – so the more energy balls you find, the more monsters Cubee will be able to overpower. Find any weapons along the way however, and Cubee's strength will diminish – which could see him be defeated, and having to transition to a different era.
Different eras in the game mean different powers, with free spins being available to collect in the Piracy Era, multipliers up for grabs in the Viking Era, and both being used in Cubeland to help you accumulate huge winnings. What's more, in Cubeland all weapons will be removed from the reels, giving you a better chance of a fantastic winning combination.
Sure Cubee is a different kind of game, and may take some serious getting used to, but after playing hundreds of similar-looking and similar-performing slots, it might just be the welcome break you need. Remember to familiarise yourself with the rules before you start, set your betting and gaming limits, and off you go! The monsters might seem more fluffy than scary, but they've got the potential to bring huge winnings and huge excitement your way. So let's hear it for Cubee, and let's hear it for original slots play and gaming exhilaration!
Happy Spinning 🙂