Dare to brave Smugglers Cove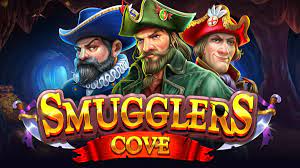 From mermaids to pirates, and the soon-to-be-released Smugglers Cove from Pragmatic Play. Pirates are always a popular draw for slots, and this time Smugglers Cove does something a little different with the theme, focusing on privateers rather than regular pirates.
What's the difference between privateers and pirates you ask? Well it's right there in the name – 'private'. Essentially privateers were pirates with papers – private individuals commissioned by their government to carry out certain activities, usually taking the form of robbing, pillaging or fighting rival countries. So pirates, but in the private sector.
Taking this new spin on an old theme, Smugglers Cove does feature pirates on its reels, but here you'll see each of them affiliated to a different country by way of the flags on their hats, namely England, France and Portugal. So it's clear to see which superpowers are calling the shots, literally. As well as pirates, you'll also find themed wooden royals on the reels, plus coins, wilds, and a skull too – because you can't have a pirate slot without having a skull appear somewhere, right?
What you can have in Smugglers Cove is a sizable game area to play in, with a 5×3 reel layout and 20 active paylines. Even better, you'll have an RTP of 96.50% to work with, and an amazing top payout of 10,000x your original bet. Now that's our kind of pirate treasure!
Of course, as you're a privateer in Smugglers Cove, you'll have to work for that treasure, which means looking at the riches you have in hand, and deciding how far you'll be able to go for that 10,000x bounty. A minimum bet of $0.20 will get you in the game and be forgiving to your bankroll, but it won't get you to where the ultimate jackpot is. On the other hand, a maximum bet of $100 will put the top payout in your sights, but it could leave your bankroll on the slim side if you're not careful – so you'll have to judge how much you can afford to invest in this action-packed adventure.
Once you've got your bet amount set though, it's time to board your pirate ship and start your swashbuckling! England, France and Portugal are all in it to win it, and so are you. Which nation will be the victor, and which pirate will reign supreme? Only the reels will tell, but you'll need to be in it to win it if you want to make off with the supreme prize. Just log onto your online casino and let the privateering begin!
Happy Spinning 🙂