Dark Red!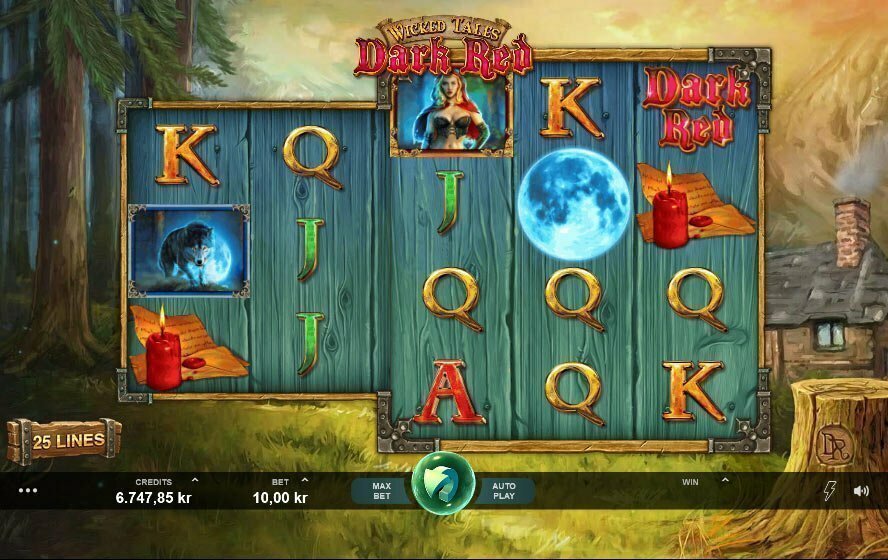 Live happily ever after with huge jackpot winnings from Dark Red
We all know the tale of Little Red Riding Hood – young girl goes to visit grandma, meets a wolf instead, a woodcutter rescues her and everyone lives happily ever after. This month however, Microgaming is putting a new spin on this fairytale classic – literally.
Taking Little Red Riding Hood as its inspiration, the gaming giant has used the children's tale to create its own fable of fame and fortune – in the form of Wicked Tales: Dark Red. Don't be fooled though – this fairy story isn't suitable for children!
If you remember being read the traditional tale at bedtime, you're sure to recognise some elements from the original story in Dark Red's graphics, namely the forest, and grandma's cottage, complete with iron, timber, and softly billowing smoke right from the indoor hearth. You'll also hear the chirp of crickets and the howl of wolves, deftly woven into the background ambience in order to create a true-to-life slots version of the tale – although this time it's designed to get your heart racing from winnings, rather than fear!
Once upon a time there were winnings…
Want to start exploring the reels? Then let's go for it! As you'll see right off, the game offers a regular 3 x 5 reel formation, although with a slight twist – its uneven 'wandering reels'. Spin the reels and a block of three will expand horizontally to become four symbols, wandering across the reels and settling in one of three pre-determined positions. If the reels wander onto a winning payline, you'll reap the rewards right in your bankroll – and of course the more you can afford to bet, the more you'll ultimately win. Start off at the minimum bet of £0.25, and add more to it if you're able – all the way up to the max bet of £200 if your bankroll is healthy enough!
We've already told you about the wandering reels; what we haven't told you is that in addition to moving around the reels, they also play host to jumbo blocks – high value symbols that can help bring huge winnings your way if they line up in your favour. Of course you'll have wilds to look forward to as well – Dark Red symbols that substitute for other symbols and have the potential to create enormously rewarding combinations for you and your account balance. And don't think Dark Red's forgotten about scatters – because if you find three of the full moon symbols on the reels, you'll find the Wolf Wheel bonus round too, where terrifyingly fabulous winnings await!
Make your way to the Wolf Wheel if you're lucky enough, and you'll find three bonus games waiting for you. Spin the wheel and depending on where it lands, you'll win a multiplier of 20x your original bet, a free spins round with 9 spins of up to 5000x your bet, or a Forest Fortune round where you'll look for cash from a selection of purses hidden in the forest. Take advantage of the winning opportunities the bonus rounds present, and you could be leaving grandma's cottage with a definite spring in your step!
Little Red Riding Hood might have needed courage to survive her own fairytale, but all you'll need in Dark Red is a sense of adventure and a willingness to have fun! Spin the reels, rake in the winnings, and you could soon be living happily ever after!
Happy Spinning 🙂