Expensive Brandy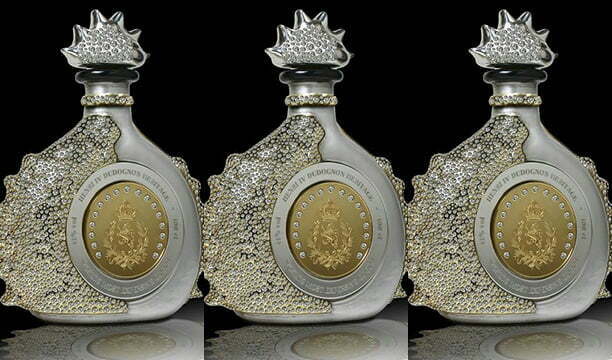 Expensive Brandy. If you're a fan of spirits, chances are you've tasted brandy or cognac at least once before. And whether or not it's to your specific taste, brandy, and particularly cognac, has always been revered as a premium drink. In fact the famed French writer Victor Hugo once referred to cognac as the "liquor of the gods".
While expensive brandy can be distilled from fermented grape or other fruit juices, cognac can only be made from the white grapes from six certain terroirs in southwest France, and must be distilled twice between October and March.
Nothing like a good glass of brandy.
With brandy having been distilled as far back as the 1300s, it's one of the world's oldest drinks. And is often used for its medicinal properties and health benefits. Today its popularity is just as widespread, with the market for artisanal brandy growing bigger every day. In fact, with the price of certain exlcusive brandies and cognacs starting to climb just as rapidly. It might be worth investing in a bottle or two for yourself. Athough after just one look at the world's most expensive brandies. You may want to win a casino jackpot for yourself first, just in case.
1. Henri IV Dudognon Heritage Cognac Grande Champagne – $1.5 to $2 million
What would you do with $2 million? Buy a house or a car. Or take your family on a five-star holiday perhaps? Perhaps buy an expensive brandy. If you're a brandy enthusiast, there's only one answer though. And that's to purchase a bottle of one of the rarest brandies in the world – the Henri IV Dudognon Heritage Cognac Grande Champagne. What makes it so outrageously expensive? First of all, the fact that the brandy inside each bottle has been aged for no less than 100 years. A phenomenal feat on its own. Then there's the bottle itself. A masterpiece of craftsmanship, weighing in at 8kg. And liberally embellished with 6,000 diamond crystals, 24-karat gold. And sterling platinum as well. Who needs to buy a villa on the French Riviera when you can just buy a single bottle of brandy instead? At that price we're hiring it its own bodyguard as well.
2. Hennessy Beauté du Siècle Cognac – $195,000
Far more affordable but still hugely extravagant is the Hennessy Beauté du Siècle Cognac. One that commands a price tag of "just" $195,000. A far cry from $2 million but still a fortune to spend on cognac nonetheless. Translating into English as 'Beauty of the Century'. This Hennessy cognac comes with its own treasure chest as well. One containing four glasses, and designed by Jean-Michael Othoniel. As a rare eaux-de-vie, a term used to describe young brandies that will eventually become cognacs once old enough. Only 100 bottles of Beauté du Siècle Cognac were ever made. Giving it a wholly unique, opulent status. Share it with a loved one or keep every sip for yourself. At $195,000 a bottle, no one would blame you for doing the latter! Expensive brandy for the win.
3. Cognac Brugerolle 1795 – $149,943
We can't mention cognac without mentioning Napoleon. In fact, cognac was one of his favourite indulgences. As someone who took great pleasure from the finer things in life. Napoleon was known to have enjoyed the Cognac Brugerolle on more than one occasion. Even going so far as to take it with him into battle. A favourite choice of the 18th-century military, Cognac Brugerolle is dark in colour, and has an alcohol content of 40%. So you know it's not messing around. Personally we wouldn't drink it before going into battle. But then what do we know about military manoeuvres? What we do know is that if it was good enough for Napoleon, it's definitely good enough for us. Expensive brandy it is. And it was good enough for the buyer who purchased the very last bottle at auction at Christie's for $149,943. A little out of our price range, but we can certainly understand the appeal!
4. 1762 Gautier Cognac – $144,000
Another cognac sold at auction, this time at Sotheby's in 2020, the 1762 Gautier Cognac was bought by a private collector for $144,000. And earned the Guinness world record as the oldest cognac ever purchased. How old you ask? Over 250 years in fact. Distilled when the first president of the USA, George Washington, was 30 years old. Now that's a cognac that's seen some history. It's said that the 1762 Gautier Cognac is one of just three bottles still in existence. All still with their original labels. We don't know where the other two are, or if we'd ever open them if we were lucky enough to by one of them. But we can imagine just how special holding a piece of history in your hand could be. Lock this one away during parties, that's our only piece of advice! Expensive brandy is coveted.
5. Louis XIII de Remy Martin Rare Cask Grande Champagne Cognac – $35,000
If rarity is what you're looking for in your cognac or expensive brandy, you'll find it in the Louis XIII de Remy Martin Rare Cask Grande Champagne Cognac. One of just 20 bottles ever produced. With a higher-than-usual alcohol content of 42.6%. Autumnal flavours and its distinctive aging in a unique cask, this cognac is a cut above the rest. And has a price tag above the rest too, coming in at $35,000 a bottle. In fact it's the bottle itself that's also worth talking about. Having been crafted from Baccarat black crystal with tiny buds along the sides, and a fleur de lis stopper. All of which make the Louis XIII de Remy Martin Rare Cask Grande Champagne Cognac a showstopper in its own right. And one that you would be privileged to taste, if you were ever lucky enough to afford a bottle. Expensive brandy.
If a sip of one of the world's most expensive brandies or cognacs is what you're after, an online casino jackpot could be just what you need to turn your dream into a reality. Just play your favourite games, place your bets, and you could soon be toasting to Lady Luck and life-changing jackpots!