Fat Cat Cafe!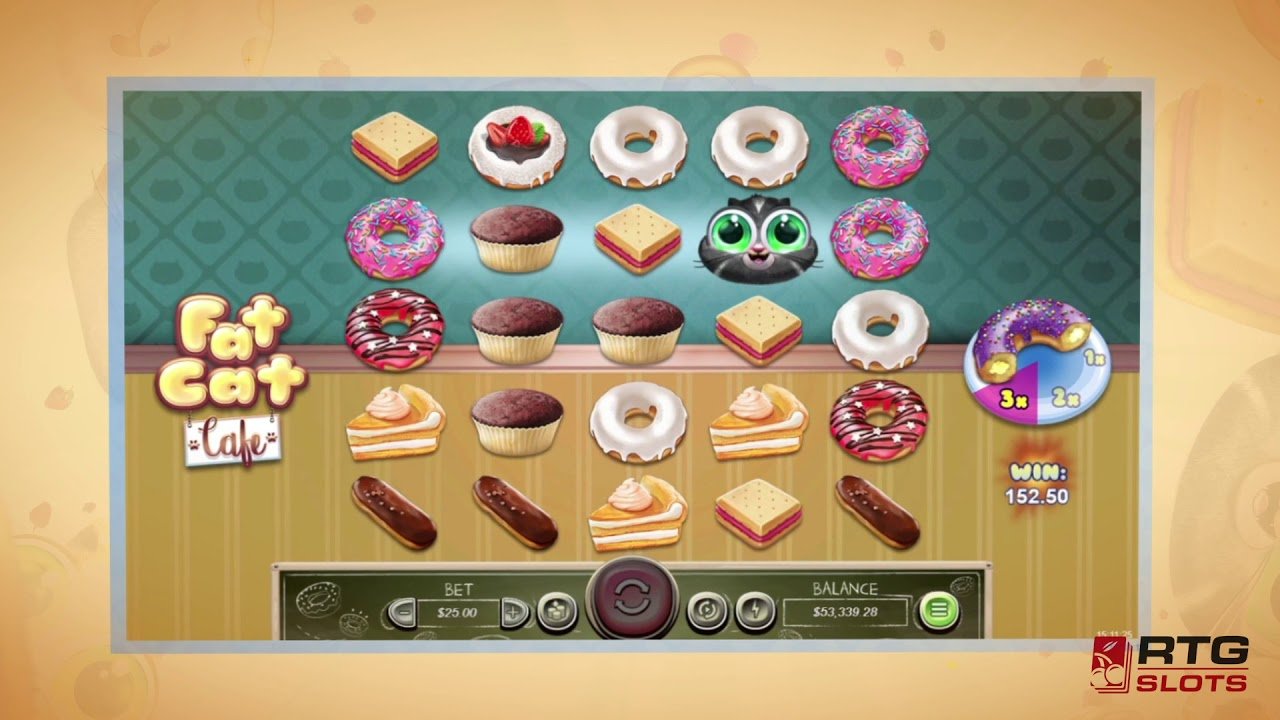 If you like purring cats and tasty treats then you'll love this delicious new slot from Real Time Gaming. Called Fat Cat Café, the aim of the game is to keep the kitties nice and fed, and to get your real account nice and fat at the same time! With fun graphics, a delightful soundtrack and fantastic winnings too, it's wonderfully entertaining, and a charming new addition to the RTG stable.
With reels filled with cats and mouth-watering pastries, you'll love every spin of this slot. Look out for all the delectable baked goods you'll find, from doughnuts and cakes to eclairs and cupcakes, as well as four different types of cats, and a wild coffee cup too. With a 5×5 reel structure, Fat Cat Café offers a top payout multiplier of 3 000x, as well as wilds, cascading reels and multipliers too, giving you something to look forward to with every slice of the action.
Rather than having set paylines, Fat Cat Café works on clusters of symbols, so the more symbols that touch each other vertically and horizontally, the more you'll win! Bets start at $2, and clusters form with four or more symbols of the same kind, so choose your wager and wait for the reels to spin scrumptious payouts your way.
Once you find matching symbols, the cascading reels feature will trigger, removing the winning symbols and replacing them with different ones. Each time new symbols cascade down, the multiplier will increase, all the way up to 6x! So the more matching symbols you find, and the more cascades you trigger, the more yummy payouts you'll activate along the way.
Don't forget about the coffee cup, because finding this wild symbol will help you create even more winning clusters, and give you access to more multipliers too. With the fifth cascade being the highest paying one, this will be the level you'll want to reach, so the more coffee cups you find to get you there, the better!
Of course it's not just coffee cups you'll want to look out for – it's the fat cats themselves. These furry friends can appear on the reels at any time, and each one will bring a different feature your way:
Black cat – will clear a row
Red cat – will clear a column
Gray cat – will clear both its row and column
Yellow cat – will clear all the symbols that surround it
Find as many cats as you can, and you'll find more winnings too!
So if you're all about fur babies and luscious pastries, pay a visit to Fat Cat Café. Just decide how much you can afford to spend with each wager, stick to your limits, and enjoy every appetising minute of your online casino play. Log on and you'll be able to fill up on sinful treats with zero calories to worry about, and you might just fill your bank account with scrumptious winnings at the same time. What's not to love?