Online slot review: Fat Drac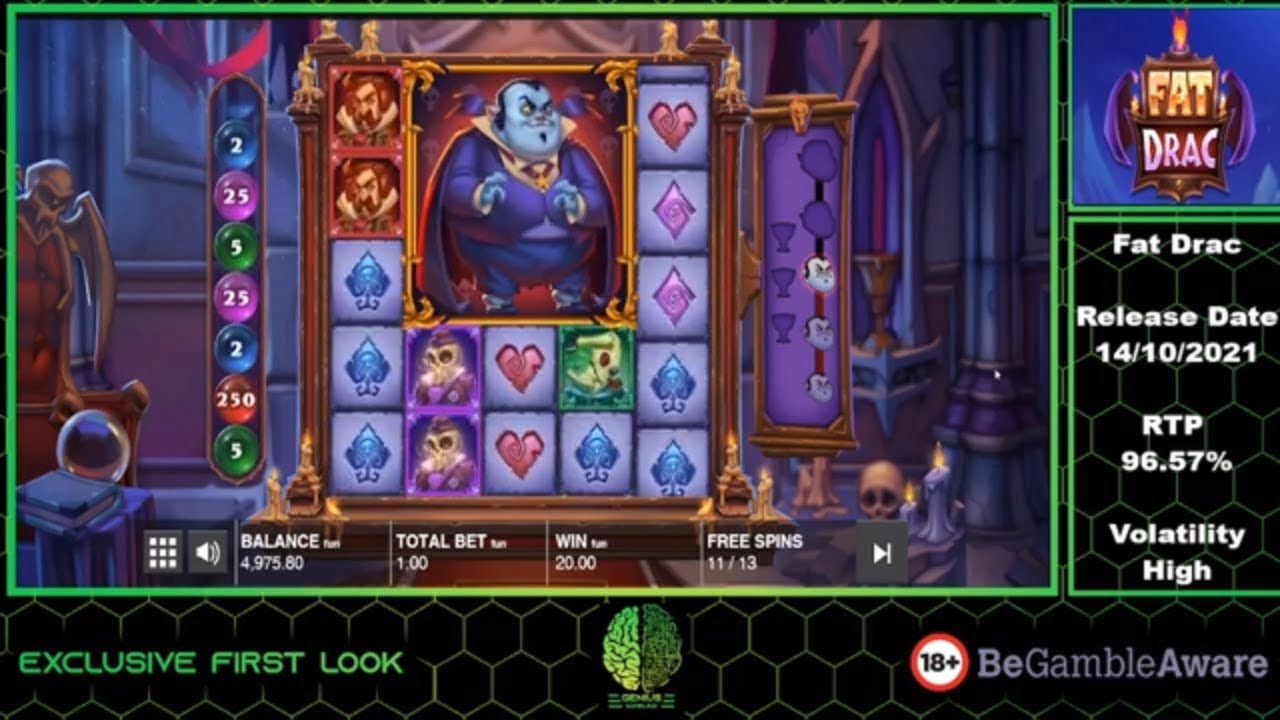 Forget about Bram Stoker's Dracula, Twilight, Interview with the Vampire and the Lost Boys. This here is the real vampire deal, and it's coming to you just in time for Halloween! It's Fat Drac from Push Gaming, and it's set to deliver blood-curdling chills and huge jackpot thrills!
If you love slots, vampires and Halloween, then Fat Drac is the game for you – although this bat-loving monster is more comedy than horror. Plus he's a little on the chubby side, so he's a cutie pie too. Welcome to the lighter side of vampire lore, hosted by a fat Dracula, and filled with spooky symbols like skulls, goblets, and creepy card suits too.
No need to suck any blood here – instead, all you'll need to play the game is a bet between $0.10 and $100. In return, you'll have a 5×5 game area to play in, along with 20 active paylines, an RTP of 96.57%, and a terrifyingly huge jackpot of 50,000x your original bet! Of course the bigger your bet size, the bigger your potential winnings, but remember to always keep your bankroll in mind at the same time. Rather play more moderately and keep your bankroll going, than go all in and blow your bankroll in just a few bets. Besides, Fat Drac is such an endearing character, you'll want to stay in his company for as long as possible!
Why? Well, just look at what he's got to offer you in the way of bonuses and special features. First you'll find 7 instant prize bubbles next to the reels – and the more of them you collect during your gaming session, the more you'll get paid, with the potential to score the top jackpot at the same time!
Find the randomly triggered Fat Bat, and it'll fly around the reels collecting the prize bubbles for you, and paying them out to you instantly! Look out for the Coffin as well, because when you find it, you'll have the chance to score up to 5 Fat Bats, and even more instant prizes as a result.
Don't forget about Fat Drac himself – he'll appear on the reels as the scatter, bringing free spins your way as soon as he lands at the same time as at least one goblet symbol. This winning blend of Fat Drac and goblet symbols could soon bring huge rewards your way as you roll the reels on your free spins – plus if you find a Coffin during your bonus round, you could win even more free spins for yourself, or up to 5 more Fat Bats, or more goblets too. Plus, the more goblets you find during your free spins, the bigger Fat Drac will become, and the more of the game area he'll take over. As Fat Drac grows, so will your free spins, and hopefully your bank account too. Which just goes to prove that bigger IS better!
So make this Halloween a thicc one with Fat Drac, and your bankroll could soon be bursting at the seams. No tricks here, just huge Halloween treats!
Happy Spinning 🙂