Genie: Make a wish with Rise of the Genie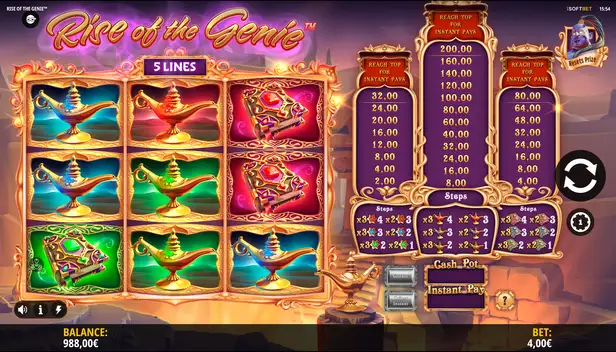 Genie in a bottle. Want to have all your jackpot wishes granted? Then Rise of the Genie could be just the slot to help you out! While it relies on a classic 3-reel design, it's no ordinary slot. Instead it's one with an alluring Arabian Nights theme. Featuring symbols like flowers, magic lamps, spell books, and the genie too. Although this time it's an evil genie, not the fun Robin Williams friend from Aladdin. So beware!
Genie in a bottle
With a 3×3 layout, Rise of the Genie has a top payout of 500x your original bet in store for you. As well as wilds on reel 2 to help boost your winnings. Choose a bet anywhere from $0.20 and $20 and let's see if your jackpot wishes come true!
Get the reels rolling! As soon as you find 2 to 3 of the same type of symbols, you'll form a winning genie combo. Depending on the type of symbol that lands, and the number of the same symbols you find on a payline, you could get a boost up one of the three prize ladders on the right-hand side of the game area. Going up anywhere from 1 to 4 steps in a single spin.
You gotta climb those ladders
Once you start making your way up the ladders, you'll be able to cash out your prizes at any time. Either press Collect to have all your prizes paid out and reset the ladder. Or press Collect Instant to have the smaller prizes paid out. Without your progress being reset. It's up to you to choose which collection method you'd like. However watch out for the Evil Genie. As soon as he arrives, he'll reset the ladders. And you'll lose all the prizes you haven't claimed. We told you to beware!
There's jackpot magic in the air with Rise of the Genie. It could be just what you need to make your winning dreams a reality. Just cross your fingers for a little luck, say 'Abracadabra', and the genie could soon be granting you your heart's desire!