Get Free Spins with Snakes & Ladders Megadice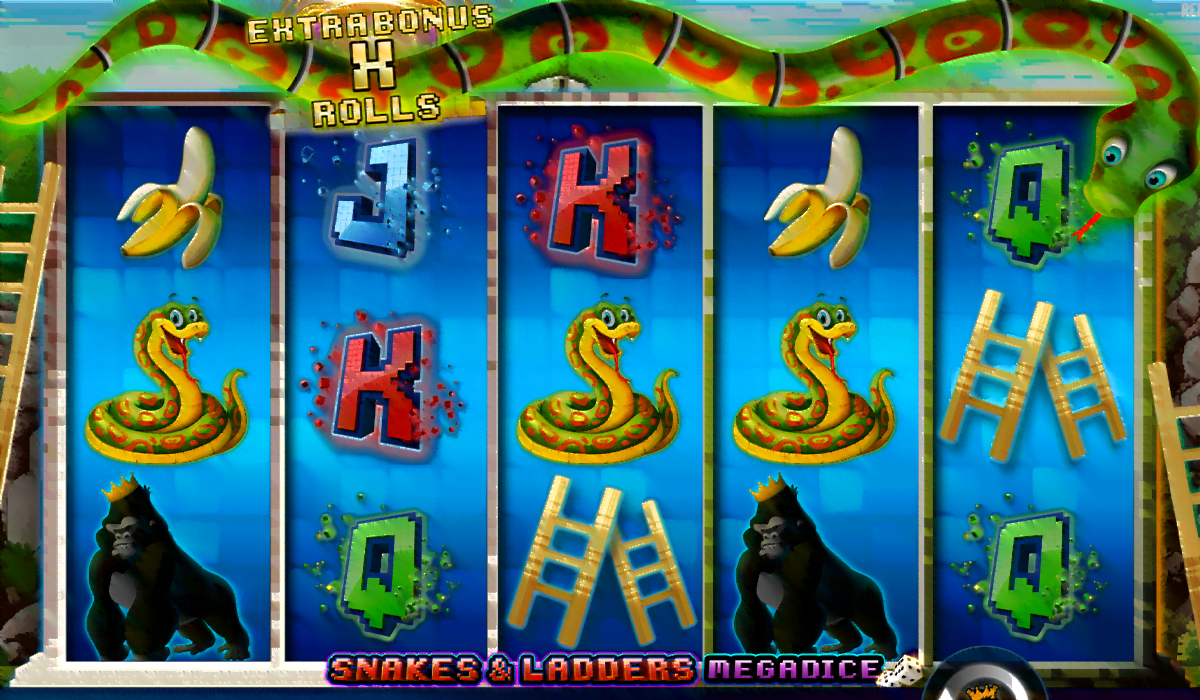 How much do you love free spins and no deposit bonuses? One minute I am up at the top (thanks to a ladder,) and the next minute I'm back at the bottom again courtesy of a hissing snake. It's a rollercoaster of emotion and exhilaration, and that's exactly what Pragmatic Play has tapped into with their slots version of the game – Snakes & Ladders Megadice.
There's no plain background here. Instead you are in the middle of the jungle right from the get-go. With fun cartoon graphics, the expected snakes and ladders, and other playful icons like gorillas, bananas, dice, royals and bonus symbols.
The jungle also has 5 reels and 10 paylines waiting for you. And a top payout of 5,300x, an RTP of up to 96.68%. Thrilling features like wild dice, a bonus board, bonus symbols, and a progression mechanic too. All it takes is a bet of between $0.10 and $50 per free spin, and you could soon be in the money! In fact, if you can afford to place the max bet of $50, you could be looking at a top jackpot win of $262,500.
so let's hope that luck is on your side!
If you're ready to get started, then Snakes & Ladders Megadice is ready to roll the dice. In the form of wild dice symbols. Find these on the reels and they'll instantly substitute for all other regular symbols. By doing this, you will complete winning combos as they go. Even better, depending on whether the dice show 1, 2 or 3 dots, you could have a 1x, 2x or 3x multiplier applied to your winnings, for a very welcome boost!
Something else you'll find super welcome is the progressive feature. One that you'll trigger by activating all 11 sections of the snake on top of the game area. In order to activate each section, you'll need to throw the wild dice. With the dots on the dice corresponding to the number of sections, they'll activate. Once you've activated all the sections, you'll trigger the bonus round for yourself.
This will instantly take you to the Snakes & Ladders bonus board. Which you'll also be able to activate by finding 3 or more bonus scatters on the reels at the same time. Once you've triggered the bonus round, you'll be given anywhere from 12 to 16 rolls on the dice. Get your rolls on and you'll advance along the 12×12 game board. Finding a range of special symbols and exciting prizes along the way, including:
Wins of up to 100x your original bet and grab some free spins!
Multipliers that'll be added to your winnings.
Ladders to help you advance along the board.
Snakes that'll take you back across the board.
Bananas that'll add prizes to random spaces on the board.
Skyscrapers that'll act as hidden shortcuts, appearing randomly on the board.
When the bonus round ends and you haven't won at least 20x your original bet, you'll instantly trigger the rage mode. This is where you'll go to the final position on the board and collect all the prizes available along the way. So in fact it could be to your benefit not to benefit at first. If you see what we mean! What's more, as soon as you finish the board, you'll be given the chance to roll the dice and retrigger the round. You'll be able to do by rolling a double. And then all the prize awesomeness will begin all over again!
Hurry up and grab your free spin codes!
I love the energy of this game, and the nostalgia it brings back. We know you will too. So hop onto Snakes & Ladders Megadice and see if you can find your slots jackpot buried deep in the jungle!
Happy Spinning 🙂