Get lost in this week's Industry News!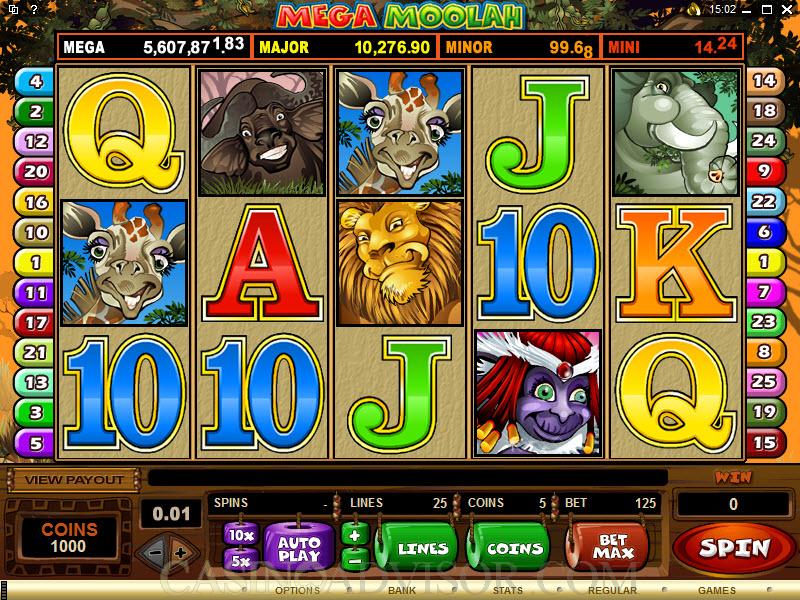 What's happening in the world of online casinos? It's been a while since we've taken a look at the latest industry news – here's a brief overview of what's been making headlines in the gambling world over the past month.
Mega Moolah pays out CA$4.7 million at Yukon Gold
It's always fun to start out with some good news – and what could be better than a fantastic online casino win! Yes, Microgaming's Mega Moolah progressive jackpot has done it again, this time paying out a gigantic CA$4.7 million to one lucky online slots player!
We don't know the name of the winner as yet, but what we do know is that they placed one seriously lucky bet on 5 September this year – one that led to a life-changing seven-figure jackpot win! Even more surprising is that September has generally been a slow month for the Mega Moolah slot, which makes this win even more exhilarating!
After paying out at Canadian online casino, Yukon Gold, in the amount of CA$4 746 748.54, Mega Moolah went straight back to another seven-figure jackpot for other potential winners, resetting back to $1.8 million – just as impressive as its huge September payout. This marks the second consecutive month of jackpot wins for Mega Moolah, having paid out an unbelievable eight times so far in 2019 – and there's still plenty of time left for even more winnings this year! So far 2019 has been the progressive's second-best year to date, and it shows no signs of slowing down. In fact, it seems that every time we report on a progressive slot win, it seems to be Mega Moolah doing the paying.
Obviously we can't guarantee that if you play the Mega Moolah slot, you're going to ring in a multi-million win – only Lady Luck knows that for sure. But what we can tell you is that if you choose to play it, you're guaranteed to be in for an electrifying gaming session – and that's what gambling online is all about. Good luck!
Microgaming to close down its poker network in 2020
We were just as surprised to hear about this as we're sure you are, but it turns out it's absolutely true. Come the new year, Microgaming will be closing its poker network for good, after 16 years of providing quality online poker services to players round the world.
The shock news follows a comprehensive review of the software provider's portfolio and strategy, and will soon be given complete exposure on the Microgaming Poker Network blog, along with all details relating to players, such as funds removal and more. In the meantime, players will still have access to certain services, such as tournaments, games and promotions.
Until such time as Microgaming releases full details of the closure, the provider had the following to say: "The network model no longer fits with our strategic vision for poker, and this is the right time to announce the closure as we focus on redistributing key resources and personnel across the business," states CEO John Coleman. "While the network will be closing, this is not the end for poker at Microgaming, which is driven to create the most enjoyable entertainment experiences, leading the way with world-class gaming content. Ultimately, this move will help the business to achieve that vision as we follow a new strategic direction for the vertical, details of which will be revealed in due course."
Since 2013, the Microgaming Poker Network has supplied a range of online poker games and services to enthusiasts around the world, winning both awards and acclaim for its efforts and its contribution to internet gaming. While Microgaming's poker offering will be sorely missed, the software provider clearly has bigger and better things in store for the industry, and we're looking forward to seeing what the future holds, both for the organisation and for its players.
Red Tiger Gaming signs with NetEnt
The Microgaming poker shutdown isn't the only movement that's happening in the casino industry – top software provider NetEnt is growing even larger, now having acquired popular slot supplier Red Tiger Gaming Limited. Given NetEnt's fast-growing popularity, this agreement comes as no surprise, building even further on its brand, and its vision of becoming the world's leading online gambling software provider.
Not only does the acquisition of Red Tiger Gaming extend NetEnt's portfolio even further, it also gives players the opportunity to place bets on an exciting new range of innovative casino games, including daily jackpot plays. More than this, it also allows NetEnt to extend its reach and growth, firmly solidifying its status as a key player within the online gambling software space.
Both Red Tiger Gaming and NetEnt CEOs are positive about the move forward for both companies – and so are we, as the acquisition looks set to bring more games, more fun and more excitement to the industry as a whole, and that's something you can never have enough of!
It doesn't pay to scam the lottery
Just in case you were wondering. In fact, it still doesn't pay even if you have someone on the inside – as Edward Putnam found out, after trying to claim a fraudulent lottery ticket that Giles Knibbs, an employee of lottery operator Camelot, helped to create.
In 2008, Putnam attempted to claim a win for a draw in March just days before its expiry date – however it later emerged that lottery worked Knibbs helped to make the fraudulent claim. While the £2.5 million in winnings was initially paid out to Putnam, who paid Knibbs a portion for his part in the scheme, the ticket was eventually deemed to be a forgery – thanks in no small part to its being badly damaged, and missing its bottom section.
The case against the fraudulent ticket and its perpetrators is currently being heard, and while Knibbs has unfortunately since passed, Putnam is still on trial for his part in the fraud. The case is set to continue for another two weeks, a sad ending to what should always be a joyous occasion – winning the lottery. But while tragic, it also serves as a lesson – the number one rule of gambling is to always have fun. Entertainment first, winning second, every time.
Happy Spinning 🙂