Get on the highway to winnings with Mad Road!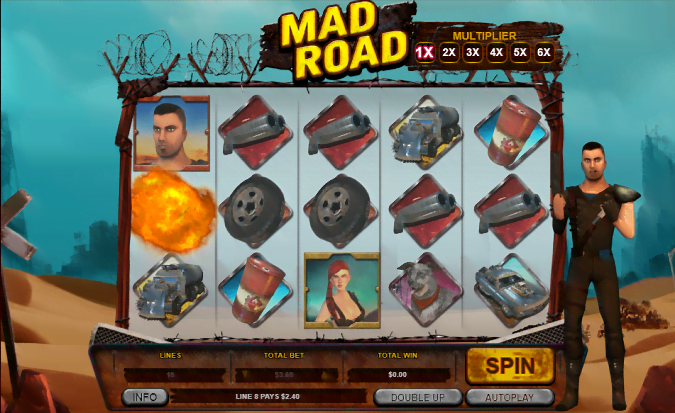 Pros
Unique theme
Entertaining features
Fancy a knock-down drag-out race through the blisteringly hot desert? Then get into the driver's seat with Mad Road and race towards huge jackpot winnings! On the way you'll have to avoid other drivers and obstacles too, but if you stay the course, you could win not just the race, but huge prizes too. With 5 reels and 15 paylines, Mad Road isn't just another slot, it's adrenaline-packed winning at its best!
Put the pedal to the metal and the first thing you'll notice is that Mad Road doesn't do things like other slots. Instead of symbols spinning on the reels, in this adventure they'll tumble down from above – and every time a winning combination is formed, the symbols will explode, with more dropping in to fill their place. Just slip into cruise control, sit back, and watch win after win explode on your screen. Best road trip ever! What's more, every time a winning combo explodes, the multiplier will increase from 1x to a max of 6x, giving you high octane winnings to propel your prize winnings forward.
There's more where that came from though. Get three or more scatters on the reels, and you'll trigger the bonus game, with a massive nine levels to get through. On each level, you'll have a choice between a cash prize, a multiplier, or another pick, and you'll have three chances to make your choice throughout the game. How far will you get? Only Lady Luck knows!
If you're looking for an even bigger boost to your bankroll after a win, the double up feature could be your shortcut. After every payout, you'll have the chance to guess which side a spinning coin will land on. Get it right, and you'll instantly double your money, plus you'll have the chance to play again, and win up to a max of $25 000 in total. Get it wrong, however, and you'll lose everything – so you'll need to play smart in order to keep what you've earned.
Feeling the need for speed, and for huge winnings too? Then Mad Road is the route you need to travel. Play for the 2 000 coin top payout, the random progressive jackpot, or the bonus games and features, and drive off with exhilarating rewards today!
Top slots tips
While spinning the reels can be hugely exciting, and one of the most fun ways to spend your online gaming session, it's worth keeping a few guidelines in mind to help you make the most of your casino play:
Never bet with more than you can afford to lose. Keep your account balance in mind at all times, set yourself strict wagering and loss limits, and stick to them for the duration of your online gaming sessions.
Don't drink and bet. While it might seem natural to have a glass of something while you're gambling, in fact drinking while playing online can cause you to make poor decisions, and have a negative impact on your bankroll. Rather stick to soft drinks while you're gambling, and toast with your favourite tipple afterwards.
Have fun! Remember that playing online is all about having fun and being entertained. If you start focusing too much on the outcome of every spin, you're doing it wrong. Rather keep it light, play the games you love, gamble responsibly, and no matter which way the reels spin, you'll always be a winner at the end of the day!
Happy Spinning 🙂