Get your jackpot formula from Dr Winmore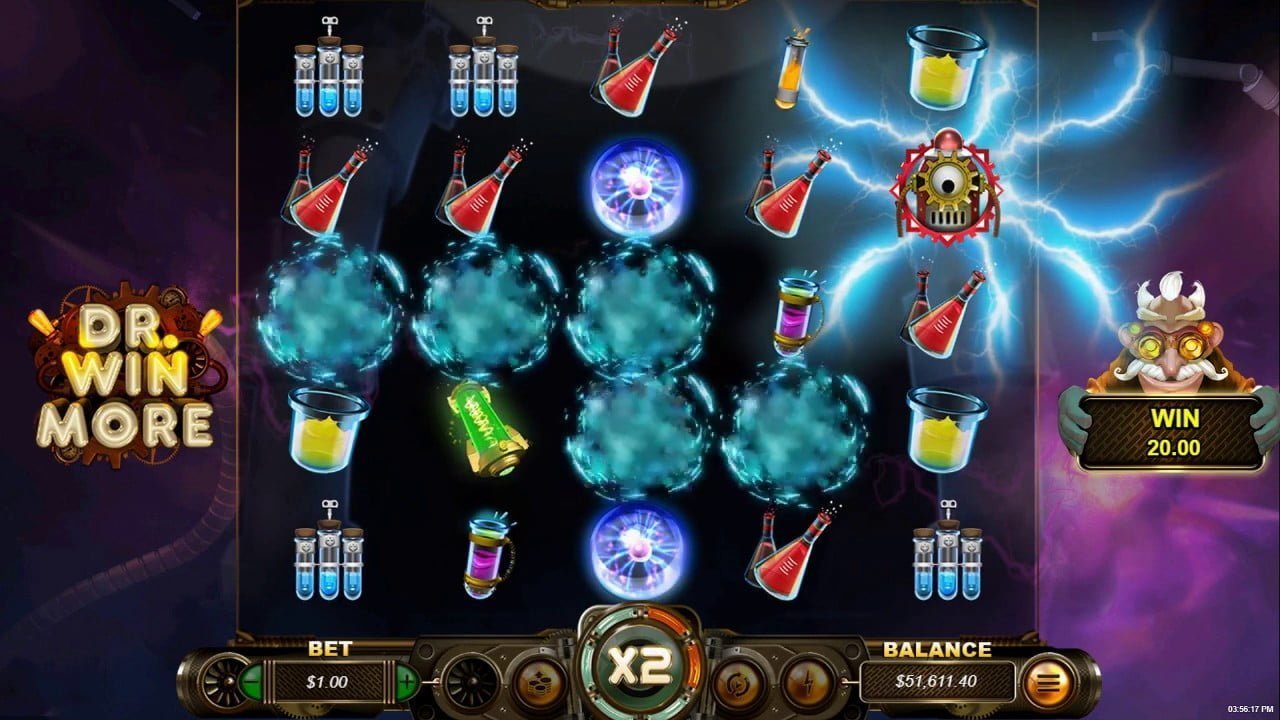 RTG is going all out with its latest online slot, Dr Winmore, the game that takes jackpot science to the next level. If you're mad enough to play and can come up with some explosive winning combos, then this is exactly the game for you!
Take one look at Dr Winmore and you'll know instantly that while he might be crazy, he's something of a genius too. Looking completely the part with his outlandish white hair, moustache and goggles, this robot-building whizz could soon be helping you build huge jackpots too. The graphics are outstanding, the music adds to the atmosphere, and the user-friendly interface makes it easy and fun to play – so what are you waiting for?
Packed full of lab equipment and glassware, the 5×5 reels use a cluster system to pay out wins, with features like wilds, cascading reels and multipliers adding to the excitement with every spin. Low volatility means you can expect more wins along the way, although at a lower value, with a top jackpot of 300x to be won. That doesn't mean there aren't plenty of thrills along the way though, so get ready, because Dr Winmore is about to deliver!
The science of winning
While Dr Winmore's top 300x jackpot multiplier might not be as sky-high as others you've played for, its cluster formation gives an added element of excitement to every spin, paying out when groups of four or more matching symbols appear on the reels. Provided all the symbols touch, whether horizontally or vertically, you'll be a winner.
Even better, once the clusters form, they'll instantly disappear from the reels, allowing more symbols to cascade down in their place and potentially creating winning combinations at the same time. What's more, each time the cascading reels are triggered, the multiplier will keep increasing by one with every consecutive win, all the way up to a max of 6x your original bet. Look out for Dr Winmore along the way as well, as with his symbol acting as the wild, he'll help complete all the combinations you make for an even bigger winning boost.
Finally, Dr Winmore's robots will also make an appearance, clearing winning symbols and opening up space for the cascading reels to appear, hopefully making way for fantastic winning combos as they go.
Dr Winmore may not be the biggest-paying slot out there, but what it lacks in huge five or six-figure payouts, it more than makes up for in innovation and excitement. So if you're ready to win more, you know what to play and where to place your bets!
Happy Spinning 🙂