Glory and Britannia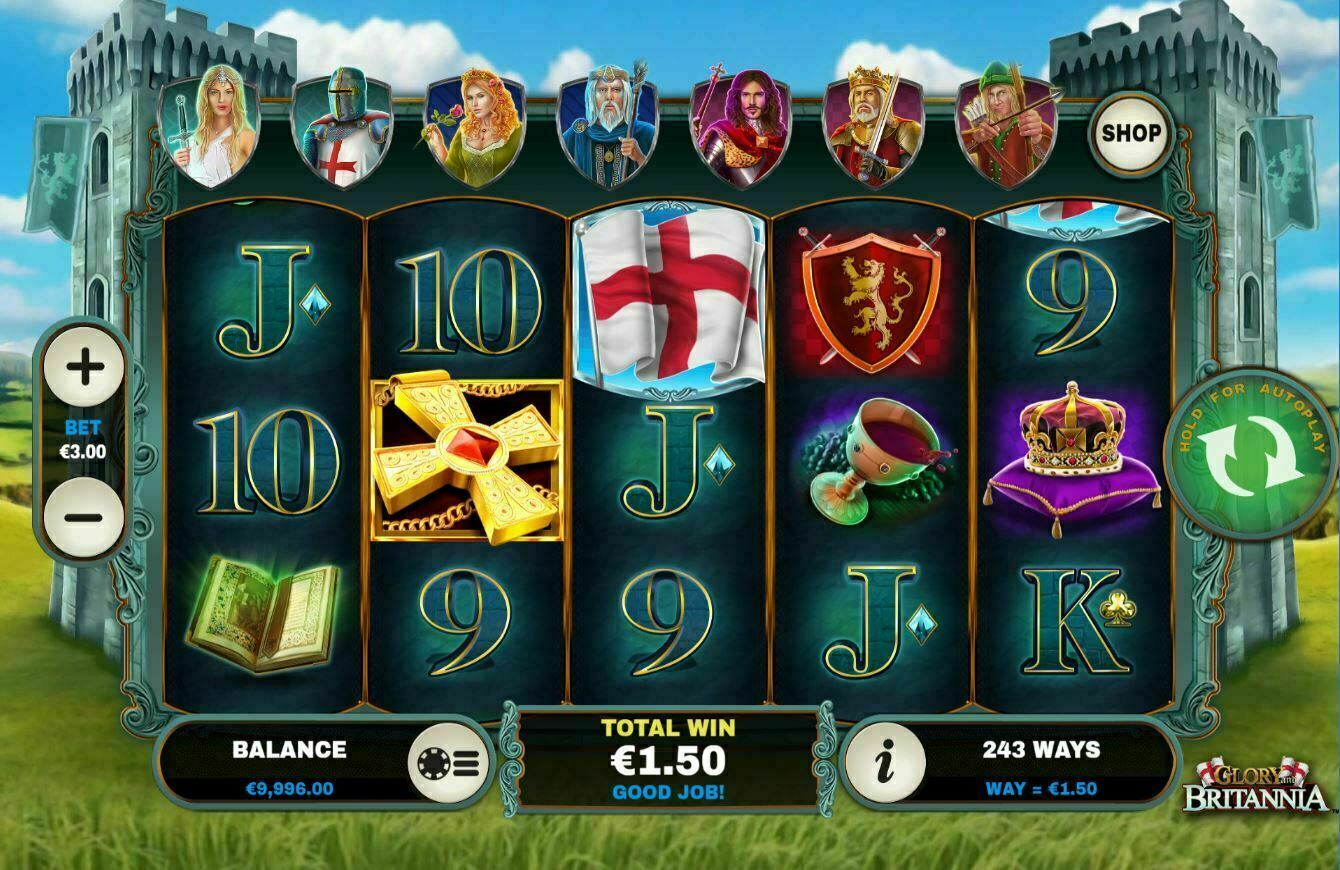 Don't just rule Britannia – rule the jackpot leaderboard too with this new slots release from Playtech. Featuring some of Britain's most famous personalities throughout history, Glory and Britannia isn't just an online slot – it's a homage to some of the world's most beloved legends.
With 243 ways to win on 5 reels, Glory and Britannia is packed full of winning opportunities – and revered characters as well. Keep an eye out for folklore icons like King Arthur, Guinevere, the Lady of the Lake, Merlin, the Duke of York, a Knight Templar and of course Robin Hood too, as each mythological legend brings its own fantastic feature with as well. So log on, place your bets, and get ready to win not just for glory, but for Britannia too!
A tale of great jackpots!
As one of the world's leading online gaming operators, Playtech is known for its 243 ways to win feature, which is showcased prominently in this newest slot game. Featuring 5 reels and payouts of up to 500x per line, Glory and Britannia offers a lucrative RTP of 95.94% as well, making it a solid player investment.
Featuring symbols such as shields, crowns, goblets, books and the usual card symbols, Glory and Britannia uses 30 coins for its bets, taking a minimum wager of $0.30, and a maximum of $300, with a top betting value of $10 per coin. While the game's big money comes in the form of bonuses, the base game has enough to make it worthwhile too, with a top payout of $5 000, paying out 500 coins for every combination you land.
As for symbols to keep an eye on, the Wild Cross acts as a substitute throughout the game, present on the three middle reels and completing any combinations it forms as a result. Then there's the Saint George's Cross, or English flag, acting as the distinctive red and white scatter. Find this patriotic symbol and you'll be taken straight to the free spins feature, with 15 spins waiting for you and a multiplier of up to 20x.
Then finally there are the seven thrilling personalities to match up with, each one available through the Side Bet Shop. Access this feature by wagering extra (up to $100 more per side bet) and you'll be able to take advantage of some electrifying bonus features, from free spins and re-spins to multipliers, extra wilds and many more!
An original idea and an exciting one at that, Glory and Britannia might demand more than usual from you in the form of side bets, but it delivers a lot more in terms of payouts and gaming quality as well. Just remember the golden rule at all times – to never play with more than you can afford – and you'll always come out on top. Ensure your wagering and loss limits are in place, that you're clear-headed and alert at all times, and you'll be in the position to make informed, and hopefully life-changing decisions too! So get ready – Glory and Britannia awaits, and so do the jackpots!
Happy Spinning 🙂