How to Master Three Card Blackjack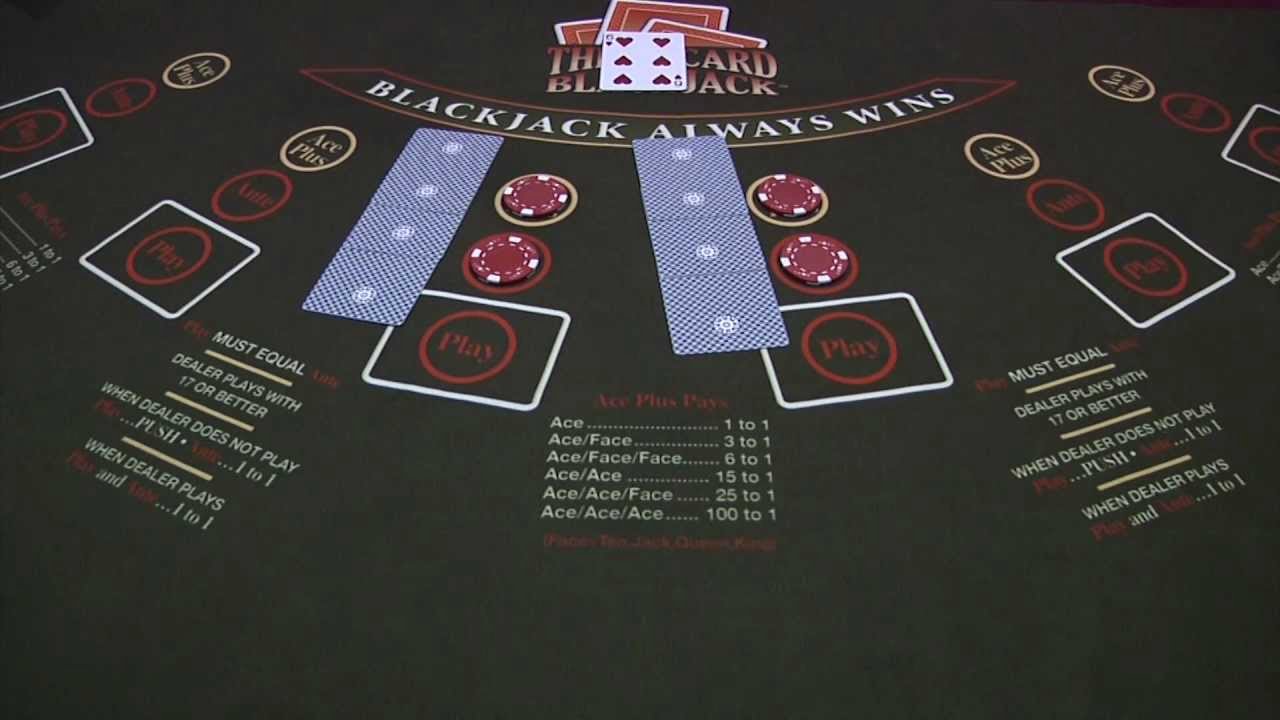 Enjoy three times the fun with Three Card Blackjack
They say that good luck always comes in threes, and what better way to test that theory than with a hand of Three Card Blackjack? As Blackjack games go, this popular variation brings even more excitement to the table – literally – with its one unique differentiator. Not only does it offer the type of Blackjack excitement that fans are sure to love, it adds in a Poker element too, giving you the chance to enjoy all kinds of different casino action at the same time. One player, two games, three cards, and unlimited winning potential!
Mastering Three Card Blackjack
So what's all the fuss about Three Card Blackjack and how do you actually play it? Well if you're a Blackjack enthusiast, you'll be glad to know that the game is still all about reaching that magic number of 21. Get as close as possible to 21 without going over, and if your hand beats the dealer's, you'll walk away a winner as always.
The difference between Three Card and regular Blackjack is that, aside from being dealt three cards at the beginning of each hand, you'll also be able to place a bonus bet on whether or not you'll have a three-card Poker hand as well. What this does is give you three winning options – either on your Blackjack hand, your Poker hand, or both. Obviously placing a bonus bet will cost you extra money at the beginning of a hand, but that's your decision to make – and if it pays off, it could be well worth the additional investment.
So how exactly does the order of play work in Three Card Blackjack? Let's take a look:
Just as you would place a bet at the beginning of a regular Blackjack game, you'll need to do so at the beginning of Three Card Blackjack too. In this case however, the bet is known as an Ante bet, and you'll be able to raise it throughout the game just as you would in a game of Poker.
As we mentioned, you'll also be able to make a bonus bet, known as an Ace Plus Bonus side bet, which effectively means you'll be betting on the odds of your having a three-card Poker hand, which, crucially, MUST contain an Ace to qualify.
Once you're happy with your bets, the game will begin.
Using a single 52-card deck, the dealer will deal three cards to you, all face down (which you will be able to look at), and three cards to themselves, one face up and two face down.
At this point you will only be able to see one of the dealer's cards, and based on the strength of this, and what you think the rest of their hand might be, you'll need to decide whether to fold or raise your hand. You'll also be able to examine your own three cards in order to make your decision.
Obviously if you fold, you'll be out of the game, and you'll lose your original Ante bet.
If you choose to raise, however, you'll stay in the game, and you'll need to increase your original bet by the same amount you originally wagered, in effect doubling your opening bet.
After you've raised your bet, the dealer will make their move. In Three Card Blackjack, the dealer will need to show a hand of at least 17 in order to play. If their hand is less than 17, they will immediately bust, and you'll win the game. Should their hand be equal to or more than 17, without going over 21, whoever has a better hand between you or the dealer will be the ultimate winner.
It's worth noting that should you choose to fold, rather than raise your bet, you'll still be able to play for the Ace Plus Bonus side bet, should your hand meet the qualifying criteria. Bear in mind however that side bets are often risky bets with a higher house edge, so if you think your bankroll might not be able to support the additional betting, rather play it safe and bet on Blackjack alone.
Boosting your bankroll with Three Card Blackjack
So that's how you play – now how do you win? The payout structure is everything in online casino gambling, so take a look at how payouts are tallied in Three Card Blackjack and find out which hands are the most rewarding:
If the dealer's hand totals less than 17 at the beginning of a hand and they don't qualify to play, you'll be paid out even money on your Ante bet, and your raise bet will be pushed.
Should you have Blackjack, or 21, your hand will instantly beat the dealer's, and both your Ante and your raise bets will be paid out at even money.
If the dealer's hand is worth 17 or more, the best hand between yours and theirs will win. If the dealer wins, you'll forfeit your Ante bet. If you win, you'll be paid out even money.
That's it for the Blackjack side of things – when it comes to the Poker side, it's all about the Ace Plus Bonus side bet, which as we've said, needs to be placed at the beginning of each game at the same time as the Ante bet. Remember however, that while the Ante bet needs to be placed in order to progress with the game, the Ace Plus Bonus side bet is 100% optional, and is your choice entirely.
If you do choose to place a side bet, it's worth noting that the house edge on the bet comes out at 2.75%, a somewhat higher percentage than the 2.09% house edge on Ante bets only. Is it a risk worth taking? That's up to you to decide, based on the strength of your hand and the one card of the dealer's that you'll be able to see at the beginning of the game. If it pays off though, you'll be paid out 1:1 for an AXX hand, all the way up to 100:1 for an AAA hand – so putting your faith in your cards could pay out handsomely in the end!
So what are you waiting for? There's a hand of three cards with your name on it, and three thrilling ways for you to win! Place your bets and see just how well you can harness your Blackjack and Poker skills to go after an exhilarating casino win!
Happy Spinning 🙂