In-Depth Review of Spinfinity Man!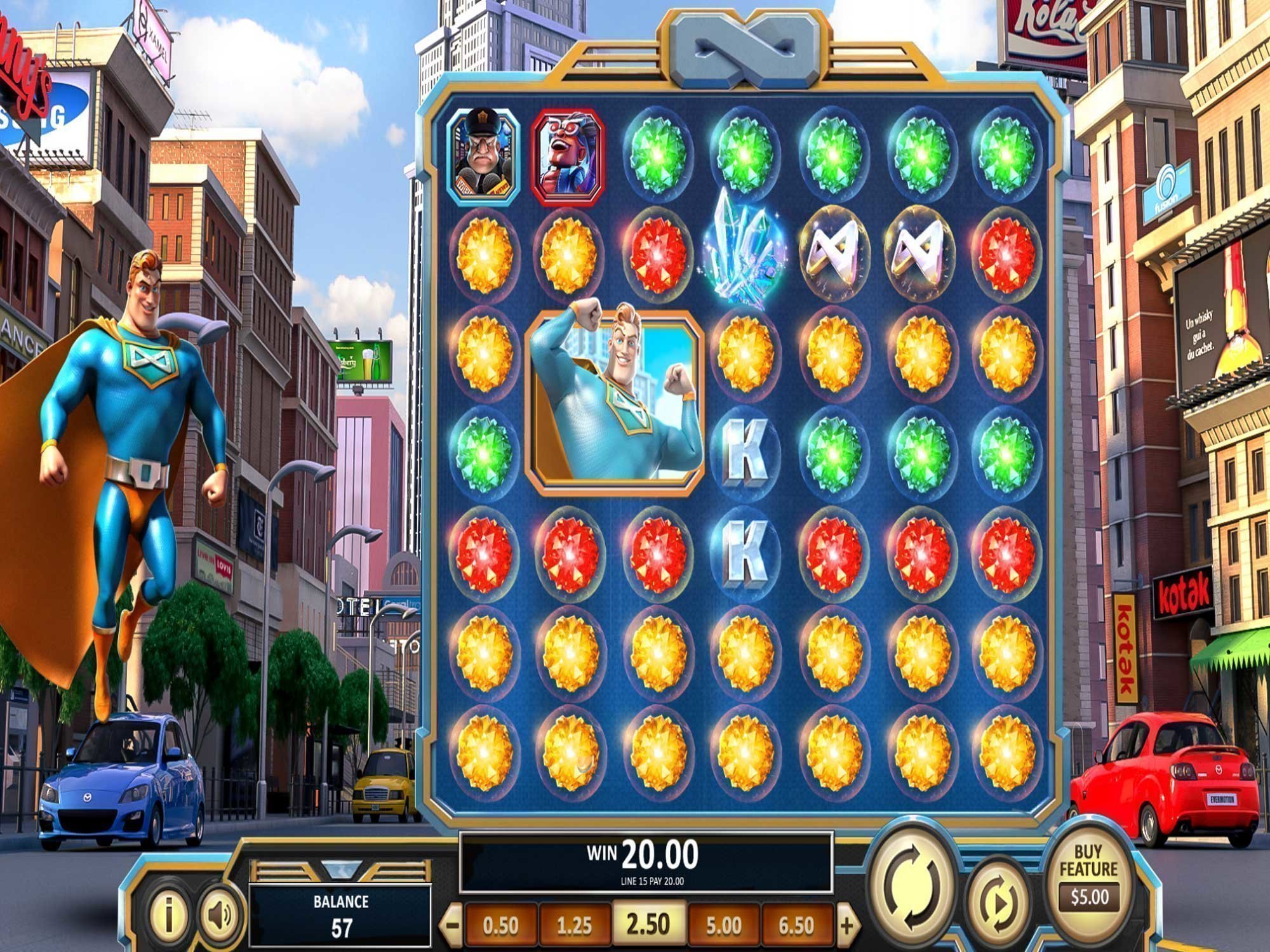 Save the day and the winnings with Spinfinity Man!
So, Avengers: Endgame has come and gone, and Spider-Man: Far From Home has yet to hit our screens. How are we supposed to get our superhero fix in the meantime? By playing Spinfinity Man, of course!
That's right, Betsoft has gotten in on the superhero act with its all-new slots release, Spinfinity Man, a game that takes the idea of hero versus villain and throws some thrilling jackpots into the mix as well. So if you want good to triumph over evil, and payouts to triumph above all, then this is the game for you!
Get your cape and your winnings on
Set in the city of Metropolis, Spinfinity Man follows our hero as he does battle against his arch-nemesis, Mr X. With a unique 7×7 grid featuring cluster pays, Spinfinity Man is a new (ahem) spin on a traditional format, with wilds, free spins, and super powers thrown in for extra excitement!
Place your bets, and once you form a cluster of 4 or more matching symbols, they'll instantly explode and shoot winning prizes your way. New symbols will then drop into the grid in their place, giving you even more ways to win. Plus, find any super wilds on the reels, and you'll be able to create even bigger clusters, as they'll substitute for any other symbols in the game (other than Spinfinity Man and Mr X).
Just like any other famous superhero, Spinfinity Man also has his own set of super powers – and while he can't shoot spiderwebs or teleport, he can use:
Laser Eye Beam to burn away two rows or columns
Double Laser Eye Beam to burn away two rows and two columns
Icy Blast to shatter a small symbol cluster
Double Icy Blast to shatter a large symbol cluster
To use any of the super powers, all you'll need to do is find Spinfinity Man on the reels. Simple, right?
The bonuses don't stop there – that's because you'll also have access to features like:
Fan Girl – blast away 6 or more clusters in one spin, and the Fan Girl feature will trigger, exploding random symbols for instant wins.
Mr X – find the Mr X symbol and look for the Villain Trail, which will then disappear, allowing more symbols to drop into the grid. Complete the trail, and you'll then advance to the free spins round (or if you want to get there quicker, simply buy access to the game directly).
Free spins – it's Spinfinity Man vs Mr X in this round, with 10 free spins to be played. Every Spinfinity Man symbol you find on the reels will transform into a Mr X symbol, unleashing super combos along the way, including the Laser Arm Cannon, Destruction Bomb and the X-Ray. Look for Mr X symbols, and you'll be rewarded with one free spin for every symbol you find. Free spins and super combos too – what's not to love?
Finally there's the gamble feature, where you can choose to double the amount you've won by correctly guessing the outcome of a coin toss. Guess correctly and you'll win twice your accumulated bonus total. Guess incorrectly and you'll lose the gambled amount, and return immediately to the base game.
We love superheros and we love jackpots, and we're betting you love both as much as we do too. So if you're game for some action, then log on and start your winning spree today – no secret identity needed!
Happy Spinning 🙂